The war in Ukraine is the war you've heard about the most over the past year.
A war over Taiwan is the war you may hear about next.
The conflict in Ukraine certainly carries geopolitical implications. There are issues of grain for Western Europe. Oil from Russia. And, there's speculation over possible Russian designs on locales besides Ukraine.
But a battle over Taiwan could make Ukraine appear like a neighborhood skirmish.
It would all start with a Chinese invasion of Taiwan.
"Everybody thinks it's going to happen," said Rep. Carlos Gimenez, R-Fla., on Fox. "The only difference of opinion is when it's going to happen."
Gimenez notes that many Chinese and intelligence analysts believe war comes by w.
But Gimenez is skeptical of that hypothesis.
"I think it's going to be earlier than that," said Gimenez.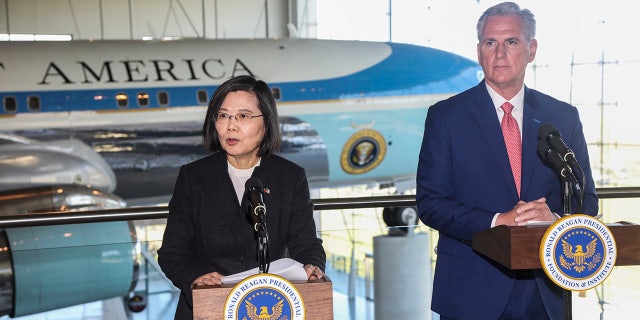 House Speaker Kevin McCarthy, R-Calif., right, and Taiwanese President Tsai Ing-wen deliver statements to the press after a Bipartisan Leadership Meeting at the Ronald Reagan Presidential Library in Simi Valley, Calif., Wednesday, April 5, 2023. China's military sent several dozen warplanes and 11 warships toward Taiwan in a display of force directed at the self-ruled island, Taiwan's Defense Ministry said Monday, April 10, after China launched large-scale military drills in retaliation for a meeting between the U.S. House of Representatives speaker and Taiwan's President.   (AP Photo/Ringo H.W. Chiu, File)
What does this mean for the United States?
"In all likelihood, the U.S. would be involved in a shooting war," said longtime China observer Gordon Chang. "If China were to invade Taiwan or invade some other country in the region, I think that you would see the United States coalesce very quickly to defend those countries."
Where does that leave the U.S.?
"We should be making it very clear that we will defend Taiwan," said Rep. Guy Reschenthaler, R-Penn.
Would that mean sending troops? Or would the U.S. engage in a form of proxy warfare like what it's done for the past 14 months with Ukraine?
"I would be willing to fight for Taiwan," said Sen. Lindsey Graham, R-S.C., on Fox. "I'd be very much open to using U.S. forces to defend Taiwan because it's in our national security interest to do so."
TAIWAN AIR FORCE MOCKS CHINESE PRESIDENT XI JINPING WITH PATCH OF WINNIE THE POOH BEING PUNCHED
"My stomach's been upside down since we started to hear of potential blockades of the Straits of Taiwan because of our dependency on Taiwan for so many things," said Rep. Debbie Dingell, D-Mich., a former General Motors Executive. "When I started in the auto industry, 40 percent of the chips in the world were made in this country. Now we're down to less than 12 percent."
A Chinese blockade of Taiwan could reverberate globally, sparking market shocks. It could even cripple trade with Japan, South Korea and Australia. That's to say nothing of what a war could mean should North Korea – a Chinese ally – move provocatively against its neighbors.
"We could see the North invade South Korea or it could cause provocations that would create a diversion that would require us to divert our assets to the Korean Peninsula," warned Chang. "What we're talking about is global war. War can spread from Ukraine, both east and west, across the Eurasian landmass and in North Africa, because we can see the proxies of China and Russia."
House Speaker Kevin McCarthy, R-Calif., just met with Taiwanese President Tsai Ing-wen at the Reagan Library in California. House Foreign Affairs Committee Chairman Michael McCaul, R-Tex., recently led a bipartisan Congressional delegation on a visit to Taipei.
In retaliation, China launched a series of dramatic military exercises.
"They're coming very close to Taiwan," said Taiwanese Foreign Minister Joseph Wu. "And any accident might spark an uncontrollable war in between Taiwan and China. And if other countries are trying to intervene, it might be the start of a war of great scale."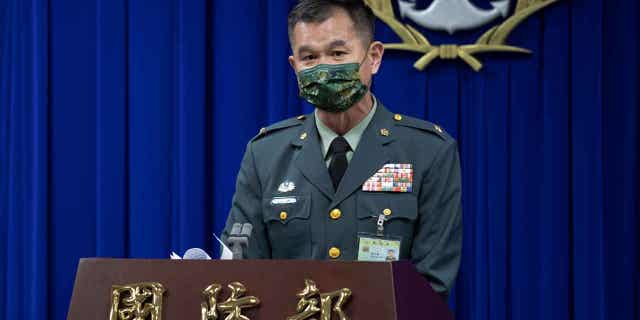 In this photo released by the Taiwan Ministry of National Defense, Major general Huang Wen-chi, the assistant deputy chief of general staff for intelligence speaks during a press conference in Taipei, Taiwan, Tuesday, Feb. 14, 2023. Amid speculation over alleged Chinese spy balloons, Taiwan's Defense Ministry said Tuesday it would shoot down any suspected military object coming close to its shores from mainland China.  (Taiwan Ministry of National Defense via AP)
Beijing may be physically aiming its exercises at Taiwan.
But in reality, the target is Washington.
"It's one of the larger provocations they've done," said McCaul to colleague Bret Baier. "Taiwan is very nervous and they should be."
But lawmakers are urging calm.
"We've got to be very careful to not make inflammatory statements that in any way put kerosene on fires," said Dingell.
Rep. Ami Bera, D-Calif., accompanied McCaul on the bipartisan trip to Taipei.
"The goal here is not to go to war," said Bera. "The goal here right now is really economic deterrence. It's not always just military deterrence and making sure China understands that were they to go that route, it would be incredibly disruptive. Not just to Asia. But the entire world."
Bipartisan lawmakers want Congress to make sure Taiwan receives $19 billion in weapons it bought from the U.S. as soon as possible. But the U.S. hasn't filled the order yet.
"What we need to do is be able to speed that up in the process to make sure Taiwan has the weapons they have to defend themselves," said McCarthy to colleague Ashley Soriano.
"U.S. support is very critical for Taiwan to deter the war from happening," said Wu, specifically calling for American weapons and training.
McCarthy previously declared that Ukraine does not have a "blank check" from the U.S. treasury. But how about Taiwan?
"Noting in American government has a blank check," said McCarthy.
There's no talk of sending U.S. troops to the region to assist Taiwan. But that scenario remains a possibility.
"It'll be highly welcomed," said Wu.
The U.S. hasn't formally "declared war" since 1942. And that was against Romania. However, the Constitution requires Congress approve an authorization to dispatch U.S. troops into hostilities abroad. Lawmakers greenlighted such approvals in 1991 for the Gulf War, in 2001 after 9/11 and again in the fall of 2002 for the Iraq war in 2003. All three of those wars were generally popular with the public – although support for the Iraq campaign diminished significantly by 2006.
However, there's now a coalition of bipartisan, anti-interventionist lawmakers in Congress. The number is growing on the Republican side of the aisle. Plus, the public is suffering from "war fatigue." It's unclear where public sentiment lies on sending troops abroad for a showdown over Taiwan.
CHINESE AIRCRAFT, SHIPS LINGERING AROUND TAIWAN FOLLOWING MILITARY DRILLS
That said, the president could use his own, Constitutionally-afforded "war powers." But Congress has ceded war powers to the executive since the Truman Administration.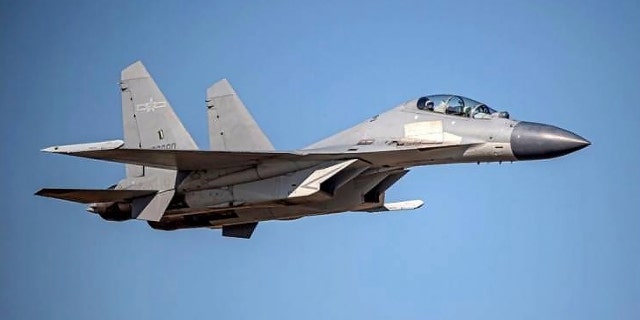 In this undated file photo released by the Taiwan Ministry of Defense, a Chinese PLA J-16 fighter jet flies in an undisclosed location. China's military sent 71 planes, including J16 fighter jets, and seven ships toward Taiwan in a 24-hour display of force directed at the island, Taiwan's defense ministry said Monday, Dec. 26, 2022, after China expressed anger at Taiwan-related provisions in a U.S. annual defense spending bill passed on Saturday. (Taiwan Ministry of Defense via AP)
"There are some Members of Congress who are concerned about this, but they don't seem to have the full support of a committee to challenge the President," said Constitutional scholar and war powers expert Louis Fisher. "We have some ambiguity and it's all in favor of independent, exclusive, presidential power over external affairs. And that's not what the framers wanted. That's not what the text of the Constitution says."
Still, it's possible China could force America's hand when it comes to troops.
"You have a Chinese military that is just emotionally wanting to fight. They know that they shouldn't. But there is a bloodlust and we have to take that into account," said Chang.
That's what concerns policymakers about China. The U.S. has prepared for decades to wage a "two theatre" war. In other words, wage simultaneous conflicts in Europe and Asia. Congressional Republicans are now in a budget cutting mode. But what would the cost of war over Taiwan mean to the Pentagon budget? That's to say nothing of lawmakers fretting about the debt ceiling this summer.
Chang notes that few Americans tuned in to a specific episode three decades ago which led to another global conflict.
"Islamic terrorists detonated a bomb under the North Tower of the World Trade Center in 1993 and killed six Americans. And we couldn't have cared less," said Chang. "Until of course, on one day when Osama bin Laden killed 2,977 Americans. Then we understood the significance of what happened in 1993."
CLICK HERE TO GET THE FOX NEWS APP
Chang believes there is a similar lesson for Americans to learn from the Chinese spy balloon which floated across the U.S. this past winter.
Americans were angry that it happened. But Chang says most didn't understand the implications of it.
That could be the case. Unless there's a war over Taiwan which draws in the U.S.