A man in North Florida was bitten by an alligator while snorkeling in a spring that was deemed safe for swimming this week.
The man, whose name hasn't been released to the public at the time of publication, was bit on Monday, July 17, in the Alexander Springs Recreation Area at Ocala National Forest, according to a news release issued by the U.S. Forest Service (USFS).
The news release states that the incident happened around 12:30 p.m. and the man "suffered puncture wounds and lacerations."
12-FOOT ALLIGATOR ATTACKS DOG AT FLORIDA PARK, OWNER REPORTEDLY FREES PET BY JUMPING ON GATOR'S BACK
Fox News Digital reached out to the U.S. Forest Service for comment.
The Florida Fish and Wildlife Conservation Commission (FWC) was called to the scene and removed an alligator that fit the man's description Monday afternoon, which measured 7.5 feet in length.
ALLIGATOR FOUND IN LOUISIANA HOME REPORTEDLY SNEAKED IN THROUGH DOG DOOR: 'I JUMPED BACK'
"In most cases, the alligator is processed for its hide and meat, which is the primary source of compensation for their services," the FWC wrote in an email. "Occasionally, a nuisance alligator is sold alive to an alligator farm, animal exhibit or zoo."
HUGE 3-LEGGED ALLIGATOR WEIGHING 1.2K POUNDS WRANGLED IN TEXAS NEIGHBORHOOD
FOX 35 Orlando reports that the trapper who handled the removal had to dispatch the animal.
The agency went on to say temporary closures are necessary after "aggressive wildlife encounters."
Last week, the Alexander Springs swim area was briefly closed for a different alligator encounter and removal, which marked a first for Ocala National Forest this year, according to USFS.
In May, a Florida man had to have his right arm amputated after a 10-foot alligator bit him outside of a bar in Port Charlotte, a census-designated place in Southwest Florida, Fox News Digital previously reported.
"All reptiles are more active and need to eat more during this hot season," the USFS wrote in a statement. "Please use caution, in and around water (including on shoreline). Follow all posted and prescribed safety guidance."
CLICK HERE TO SIGN UP FOR OUR LIFESTYLE NEWSLETTER
The USFS added that alligators can easily camouflage with their environment and cannot be easily detected in water.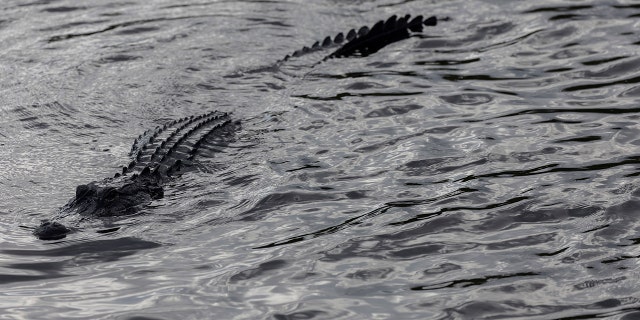 An alligator swims in the Florida Everglades on May 4, 2022, in Miami, Florida. Wildlife authorities say alligators can be hard to spot in water. (Photo by Joe Raedle/Getty Images)
"Every body of water has the potential to have an alligator," the FWC wrote to Fox News Digital. "Floridians and visitors should take precautionary measures when in or near the water to reduce the chances of conflicts with alligators."
The statement went on, "FWC encourages people not to swim early in the morning or late at night when alligators are more active. If you see an alligator, keep a safe distance and do not feed them."
CLICK HERE TO GET THE FOX NEWS APP