The community of Independence, Missouri, is rallying around a 93-year-old veteran whose last remaining asset — his car — was stolen by a teenager in a brazen act as the young person pretended to be interested in buying the vehicle.
"It was a gut punch," said Monte Nordeen, 38, who was helping his grandfather sell the SUV and had posted it on Facebook Marketplace.
"You're just in total disbelief," Nordeen also told Fox News Digital. "Time kind of slows down and you're like, 'What just happened?'"
ARIZONA ARMY VET, 91, IS ROBBED OF $7K CASH WHILE PUMPING GAS. NOW, HIS COMMUNITY IS STEPPING IN
Nordeen and his father were helping Ret. Army Sgt. Bill Marsh sell his 2011 grey Dodge Durango.
They planned to meet the potential buyer at a centrally located public place with lots of cameras, to be safe.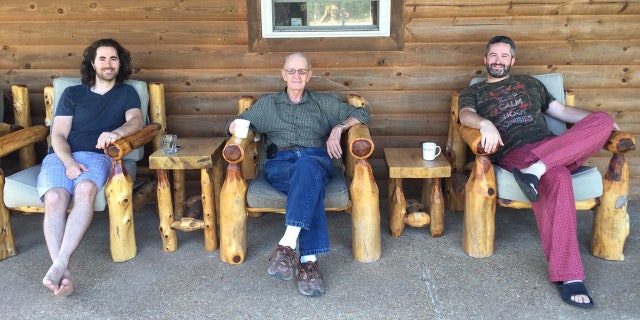 Monte Nordeen (left) tried to help his grandfather, retired Army Sergeant, Bill Marsh, 93, sell his last remaining asset, his car. Pictured at far right, Jeremy Stayton. (Monte Nordeen)
The buyer suggested the parking lot of the Target store at E. 39th Street in Independence, where he said he worked.
"He was really polite. Even in the messages to me, he always said, 'Drive safe,' and 'We'll see you soon' and all these things — so you just completely have your guard down," Nordeen said. "I'm thinking this is a really nice young man."
ALABAMA FAMILY LEARNS VETERAN DAD SECRETLY PAID NEIGHBORS' PHARMACY BILLS FOR A DECADE: 'WANTED NO CREDIT'
After answering some questions about the vehicle — and letting the young man know that they were selling the car for their family member, a 93-year-old Korean War veteran — the pair agreed to let him test drive the car around the parking lot.
"My grandpa is a man of honor."

— Dorinda Stayton
They handed the man the keys and Nordeen started to open the door so he could get in and ride along with him.
"I went to reach for the handle and the door locked and the car sped off," Nordeen said. "I looked up and I saw my dad standing across from me and my heart sank. I said, 'Dad, he just stole Grandpa's car.'"
As they watched the car speeding down 39th Street, reality sank in.
TEXAS ARMY VET SURPRISED WITH TOWN PARADE FOR HIS 95TH BIRTHDAY: 'I'M NOT A HERO, I JUST SERVED MY COUNTRY'
"I felt like I'd let Grandpa down," Nordeen said. "I felt really bad for Grandpa, and I was just very angry … How could someone do that?"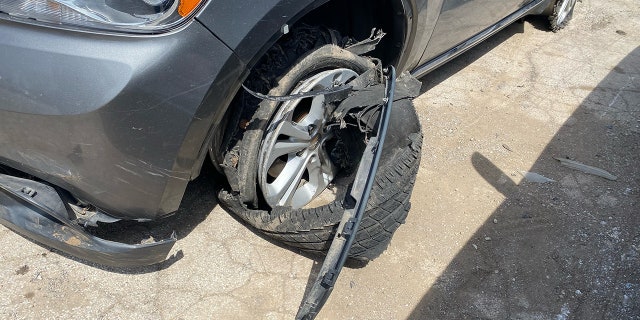 Pictured is the car in the aftermath of the high-speed chase by police to recover it. (Dorinda Stayton)
They called the Independence Police Department — which arrived on the scene, searched the area and took the report. The suspect was gone.
Two weeks later, however, Officer Drew Wurtz recovered the car.
He was the same officer who responded to the theft on March 20, as Kelley Rupert, an Independence Police Department public information officer, told Fox News Digital.
In the ensuing police chase, the tires of the car were left shredded and his car was impounded by a tow company.
WORLD WAR II VETERAN CELEBRATES 102ND BIRTHDAY: 'BLESSED' AND 'GRATEFUL' FOR COMMUNITY SUPPORT
"The suspect is still in custody," said Rupert of the police department. "He is a minor, so they are working on charges, but it looks like this is part of a ring and someone we have been dealing with for a while."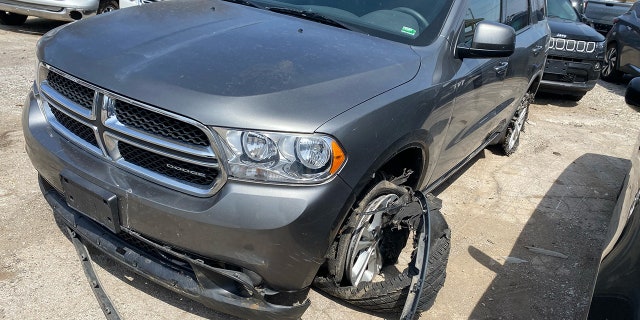 The tires on Marsh's vehicle were left shredded after the police chase. (Dorinda Stayton)
In the time that the car was gone, financial worries took over. Marsh had been offering his car for sale in order to pay his property taxes on his house, which is on a reverse mortgage.
"My grandpa is a man of honor," Dorinda Stayton told Fox News Digital. "He has lots of grit. This is a wonderful trait that all of us have inherited. We believe in earning a hard day's work and earning our keep."
NEW JERSEY MAN WALKS ACORSS US TO RAISE NEARLY $100K FOR HOMELESS VETERANS: 'RESPECT AND REVERENCE'
She added, "And we have a lot of pride. We've never asked for money from anyone. That all started with Grandpa."
'Loves his independence'
Stayton said that at age 93, Marsh still enjoyed puttering around town in his Dodge.
"He loves his independence because he was a truck driver for many, many years," Stayton said.
"We pray that everyone would have goodness in their hearts. I even pray for the kid that got caught … I hope he turns his life around."

— Dorinda Stayton
"He would always joke that he could drive his 18 wheeler better in reverse than most people could drive a sedan going down the highway."
Stayton set up a GoFundMe account for her grandfather, something she said she'd never done before.
Within just one week, the fundraising goal of $7,000 — which is what Marsh was asking for his car — was nearly reached.
GIVING BACK: ORGANIZATION RAISES SCHOLARSHIP MONEY FOR KIDS OF MILITARY FAMILIES
"I just knew I needed to do something and that was where I ended up," Stayton said.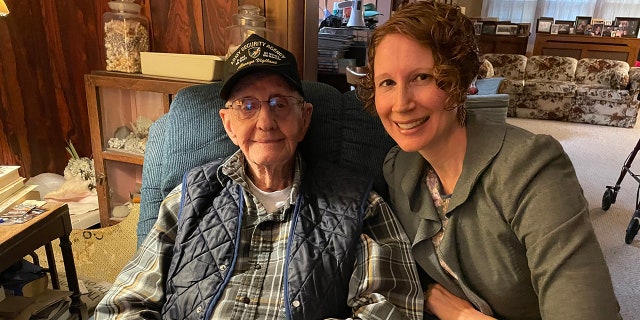 Bill Marsh is pictured with his granddaughter, Dorinda Stayton — she organized a Gofundme fundraiser for him. "I just knew I needed to do something," she told Fox News Digital.  (Dorinda Stayton)
"It really took us swallowing our pride a little bit, being a little vulnerable and putting it out to the universe to see what might happen. We are just overwhelmed with all of the amazing people that are still in this world and who care," she also said.
When the owners of the tow company that had impounded the car heard Marsh's story, they immediately offered to put new tires on it.
The body shop next to the tow company, Stayton said, also has offered to fix up the car and make sure everything is in good condition.
GOFUNDME FOR TEXAS WOMAN PARALYZED FROM ON-CAMERA ROBBERY RAISES $80K IN 3 DAYS; NO ARREST MADE MONTH LATER
"We're honest people," Stayton said. "We pray that everyone would have goodness in their hearts. I even pray for the kid that got caught. You know, he stole a dozen other cars. I'm glad that he's not doing this anymore. I hope he turns his life around."
"We're looking to really bless the community in the way that they have blessed us."

— Dorinda Stayton
With the car now back in his driveway, Marsh and his family are making decisions about how to use the money that was raised for him, plus whatever money they make once the car is finally sold.
"Grandpa has some longer care needs," Stayton said. "He's hard of hearing. He doesn't cook anymore. We were looking at some longer care solutions to keep him in his natural environment as long as possible. It's like this blessing is coming back twofold."
Rupert of the Independence PD said she "loves the way the community has stepped up" to help Marsh.
CLICK HERE TO SIGN UP FOR OUR LIFESTYLE NEWSLETTER
"The reverse mortgage and the medical bills and everything else that this gentleman has on his plate, never mind the sacrifices that he made for all of us so that we could live the lives that we do today — this speaks volumes about Independence and its citizens," Rupert said.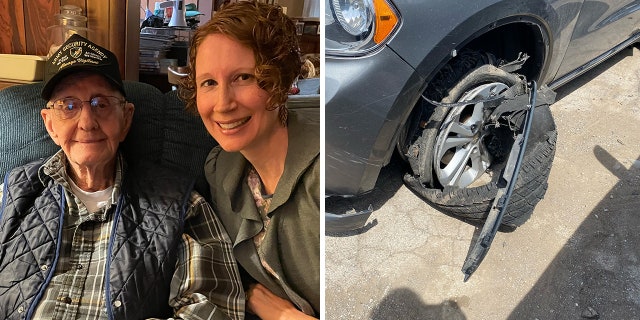 Stayton has helped raise of $7,000 on the GoFundMe thanks to the efforts of the community. (Dorinda Stayton)
Marsh's family is already looking at ways they can pay it forward.
CLICK HERE TO GET THE FOX NEWS APP
"We're even contemplating donating the vehicle to a veterans group so that a veteran who needs a car would have one," said Stayton.
"We're looking to really bless the community in the way that they have blessed us."