U.S. Central Command forces over the weekend captured an ISIS operative and his associates in a helicopter raid that the command believes will help further destabilize the terrorist group.
CENTCOM said the helicopter raid was carried out in Syria late Saturday evening. The forces captured Hudayfah al Yemeni – an "ISIS attack facilitator" – and two of his associates.
No civilians were killed or injured in the raid, CENTCOM said.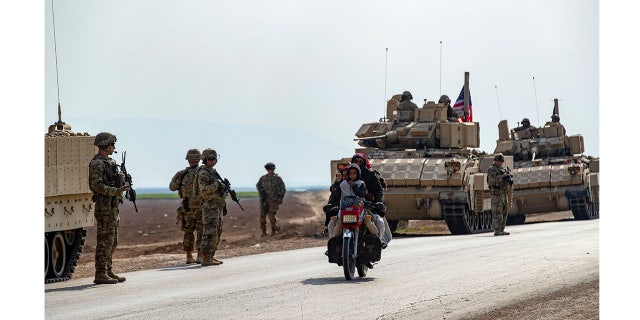 FILE: Members of a family ride a motorcycle as a US military convoy patrols the area near the town of Tal Hamis, southeast of the city of Qameshli in Syria's northeastern Hasakeh governorate, on January 26, 2023.  (DELIL SOULEIMAN/AFP via Getty Images)
"Operations against ISIS are important for the security and stability of the region," CENTCOM spokesman Col. Joe Buccino. "ISIS remains a threat to the region and beyond – the group retains the capability to conduct operations in Iraq and Syria with a desire to strike beyond the Middle East, and its vile ideology remains a threat."
Buccino added that such operations reaffirm the U.S.' commitment to the "enduring defeat of ISIS."
AFGHANISTAN ONCE AGAIN TERRORIST SAFE HAVEN AS US 'OVER THE HORIZON' CAPABILITY FACES LIMITATIONS: EXPERT
Around 900 U.S. forces remain inside Syria, with an undisclosed number of contractors. U.S. Special Operations forces also move in and out of the country but are usually in small teams and are not included in the official count.
American forces are trying to prevent the re-emergence of ISIS, which swept through Iraq and Syria in 2014, taking large swaths of territory before their near-total defeat in Syria in 2019.
In March, CENTCOM, along with coalition and other partners, carried out more than three dozen operations against ISIS, resulting in nine operatives killed and 18 detained.
CLICK HERE TO GET THE FOX NEWS APP
CENTCOM said those targeted were responsible for planning attacks inside Iraq and Syria, including plans for attacks on ISIS detention facilities.
The Associated Press contributed to this report.