The United Nations Security Council held its first discussion on artificial intelligence (AI) and associated risks, with a number of leaders highlighting the dangerous potential the technology possesses in the wrong hands.
"The malicious use of AI systems for terrorist, criminal or state purposes could cause horrific levels of deaths and destruction, widespread trauma and deep psychological damage on an unimaginable scale," U.N. Secretary-General Antonio Guterres said in his remarks at the meeting. "Generative AI has enormous potential for good and evil at scale."
"Its creators themselves have warned that much bigger, potentially catastrophic and existential risks lie ahead," he added. "Without action to address these risks, we are derelict in our responsibilities to present and future generations."
Guterres previously called for the creation of a U.N. watchdog to monitor AI development and use around the world, and he welcomed calls from some member states to follow that path.
"We, therefore, welcome this discussion to understand how the Council can find the right balance between maximizing AI's benefits while mitigating its risks," he stressed, urging collaboration with private industry and activists, as "experiences have taught us success comes from working with a range of actors."
DeLaurentis pointed to the work the U.S. has already undertaken to tackle the problem, highlighting the Biden administration's 2022 blueprint for an AI Bill of Rights as well as military integration.
NEW AI TECHNOLOGY FIGHTS AGAINST SEXTORTION SCAMS, DETECTS REAL OR SEXUALLY EXPLICIT IMAGES
"That's why we urgently need to shape the global governance of transformative technologies," he added. "Because AI knows no borders."
HOW ARTIFICIAL INTELLIGENCE COULD REVOLUTIONIZE FULL-BODY SCANS AND CANCER DETECTION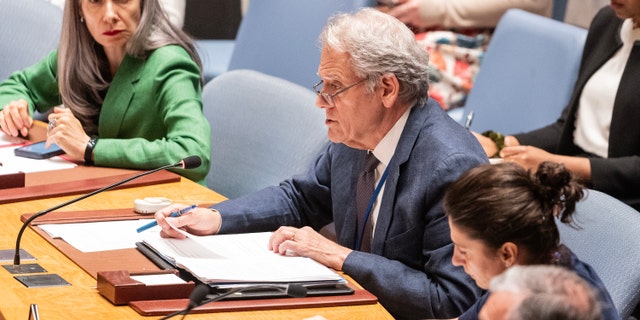 Amb. Jeffrey DeLaurentis speaks during the Security Council meeting at U.N. headquarters. (Lev Radin/Pacific Press/LightRocket via Getty Images)
Cleverly pointed to what he called four "irreducible principles" the U.K. was founded on that he believes could serve the U.N. as well, namely a desire to see AI support freedom and democracy, to remain consistent with rule of law and human rights, to remain safe and predictable by design, and to maintain public trust.
"Certain developed countries, in order to seek technological hegemony, make efforts to build their exclusive small clubs and maliciously obstruct the technological development of other countries and artificially create technological barriers," Chinese Ambassador Zhang Jun said. "China firmly opposes these behaviors."
Other speakers included representatives from Japan, Mozambique and the United Arab Emirates.