Astronomers in the U.K. have discovered one of the largest black holes ever found.
The team, led by Durham University, used gravitational lensing to find the ultramassive black hole.
Gravitational lensing occurs when a celestial object has such a massive gravitational pull that it warps time and space around it, bending the light from a more distant object and magnifying it.
They also used supercomputer simulation on the DiRAC integrated supercomputing facility, enabling researchers to examine how light is bent by a black hole inside a galaxy located hundreds of millions of light-years away.
WEBB TELESCOPE CAPTURES WARPED SPACE, GALAXIES BILLIONS OF LIGHT-YEARS AWAY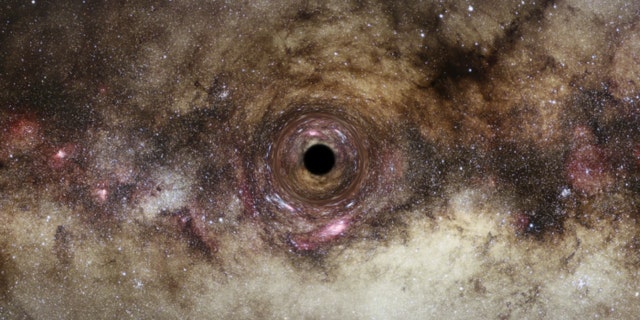 An artist's impression of a black hole, where the black hole's intense gravitational field distorts the space around it. This warps images of background light, lined up almost directly behind it, into distinct circular rings. This gravitational "lensing" effect offers an observation method to infer the presence of black holes and measure their mass, based on how significant the light bending is. The Hubble Space Telescope targets distant galaxies, whose light passes very close to the centers of intervening foreground galaxies, which are expected to host supermassive black-holes over a billion times the mass of the sun. (ESA/Hubble, Digitized Sky Survey, Nick Risinger (skysurvey.org), N. Bartmann)
A university release said that the group simulated light traveling through the universe hundreds of thousands of times, with each simulation including a different mass black hole – changing light's journey to Earth.
By including an ultramassive black hole in one of their simulations, they found that the path taken from the light from the galaxy to reach Earth matched one seen in real images captured by the Hubble Space Telescope.
They found an ultramassive black hole in the foreground galaxy – an object that is more than 30 billion times the mass of the sun.
NEIL DEGRASSE TYSON SAYS JAMES WEBB SPACE TELESCOPE IS WINDOW TO UNIVERSE 'NEVER BEFORE ACHIEVED'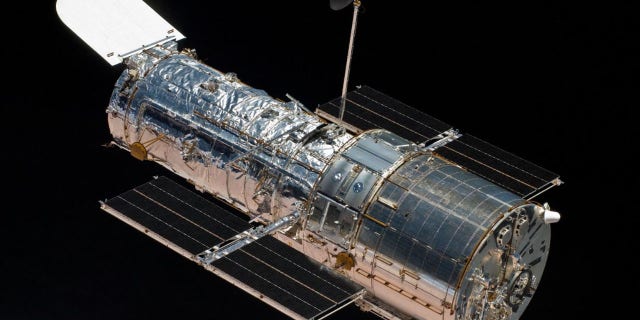 An astronaut aboard the space shuttle Atlantis captured this image of the Hubble Space Telescope on May 19, 2009. (NASA)
Durham University said this is the first black hole found using gravitational lensing. Durham University astronomer Professor Alastair Edge first noticed a giant arc of a gravitational lens when reviewing images of a galaxy survey in 2004.
"Most of the biggest black holes that we know about are in an active state, where matter pulled in close to the black hole heats up and releases energy in the form of light, X-rays, and other radiation," Lead author Dr. James Nightingale said in a statement.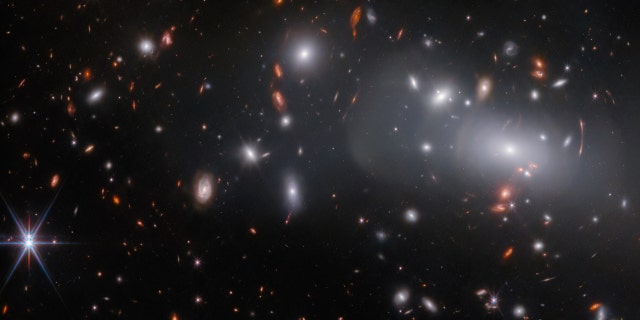 This observation from the NASA/ESA/CSA James Webb Space Telescope features the massive galaxy cluster RX J2129. Due to Gravitational lensing, this observation contains three different images of the same supernova-hosting galaxy, which you can see in closer detail here. Gravitational lensing occurs when a massive celestial body causes a sufficient curvature of spacetime to bend the path of light travelling past or through it, almost like a vast lens. Gravitational lensing can cause background objects to appear strangely distorted, as can be seen by the concentric arcs of light in the upper right of this image. (ESA/Webb, NASA & CSA, P. Kelly )
"However, gravitational lensing makes it possible to study inactive black holes, something not currently possible in distant galaxies. This approach could let us detect many more black holes beyond our local universe and reveal how these exotic objects evolved further back in cosmic time," the physics department professor said.
The findings were published in a study – which also includes Germany's Max Planck Institute – in the journal Monthly Notices of the Royal Astronomical Society.