Three New York City teens were wounded after heated words turned into gunfire in iconic Times Square Monday night.
New York police said officers responded to a call about a male victim shot at West 42nd Street and 7th Avenue at approximately 11:47 p.m. Monday near Red Lobster.
The heavily trafficked area was designated as a "gun-free zone" by the city in October. Nevertheless, responding officers found a 15-year-old mailed with a gunshot wound to the leg and an 18-year-old male who was also shot in the leg at the scene, the New York Police Department said.
Emergency Medical Services were sent to the crime scene and transported the two victims to NYC Health and Hospitals/Bellevue, officials said.
"A preliminary investigation determined that the three male victims were engaged in [a] dispute with an unknown individual in front of 5 Times Square," an NYPD spokesperson said. "The suspect discharged a firearm striking the victims. The suspect fled on foot."
NEW YORK CITY SHOOTING LEAVES TWO VICTIMS WOUNDED, SUSPECT AT LARGE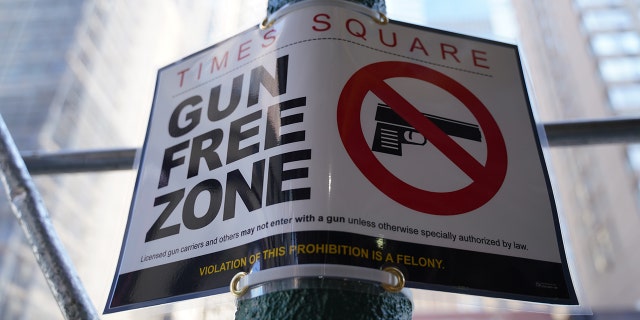 Signs announcing a "gun-free zone" are posted at every entry and exit point of the Times Square, where three teens were shot after an argument Monday night, according to police. (Lokman Vural Elibol/Anadolu Agency via Getty Images)
The NYPD said the suspect who shot the three teens was wearing dark clothing and a brown backpack, FOX 5 NY reported.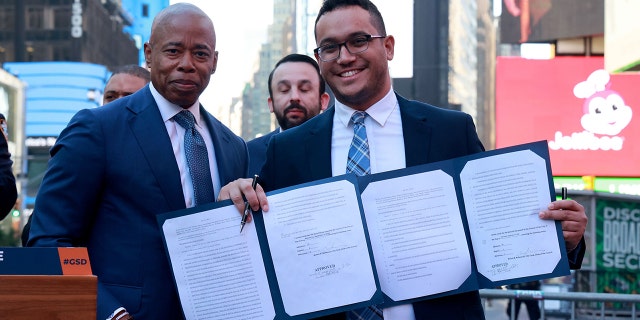 New York City Mayor Eric Adams, left, and City Councilman Shaun Abreu hold up the bill signed into law during a ceremony declaring Times Square a "gun free zone" on Tuesday, Oct. 11, 2022, in Manhattan, New York. (Luiz C. Ribeiro/New York Daily News/Tribune News Service via Getty Images)
The shooting in the middle of Times Square comes after NYPD took credit for a decrease in shooting incidents overall in New York City. On July 6, NYPD reported a 16.8% decrease in shooting incidents for June 2023 compared to the same month last year (104 v. 125). The declining numbers extended a 24.7% decrease in shooting incidents citywide for the first half of calendar 2023 compared to the same period last year, with 196 fewer people being shot (482) this year compared to last year (636).
The police department credited its gun violence reduction strategies and New York City Mayor Eric Adams' policies with the overall decrease in shootings.