Tom Cruise's newest "Mission: Impossible" movie was nearly an impossible mission itself, as the film's writer director Christopher McQuarrie told EW.
The first roadblock came as the film was about to go into production in Italy in February 2020, just as the country was being hit hardest with the COVID-19 pandemic and the world was shutting down.
"We were in Venice, Italy, two days away from shooting in February 2020," McQuarrie said. "We were at ground zero for the pandemic."
Once they were finally underway, filming around the world in countries like England, Dubai and Norway, they ran into another problem.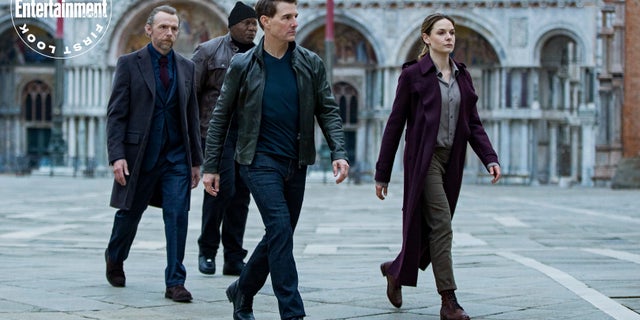 Tom Cruise leads castmates Rebecca Ferguson, Simon Pegg, and Ving Rhames on set in an exclusive first look from EW. (EW)
TOM CRUISE PAYING FOR 'MISSION: IMPOSSIBLE 7' CAST, CREW TO LIVE ON CRUISE SHIPS AMID CORONAVIRUS PANDEMIC
Nicholas Hoult had been cast as the villain, but had to drop out due to commitments to his Hulu series, "The Great." He was replaced with Esai Morales.
McQUarrie noted the one of the film's stars, franchise newcomer Hayley Atwell, "might have been on this movie for well over 100 days before she had her first dialog scene, owing to the chaotic nature of the production."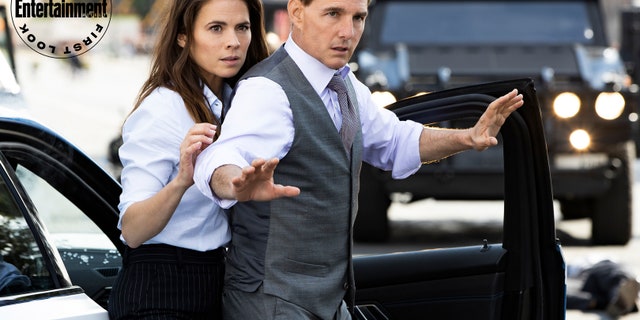 Hayley Atwell, left, is a newcomer to the "Mission: Impossible" franchise with Tom Cruise. The film's director says she may have worked on the film 100 days before filming anything due to production delays. (EW)
Even with all the "chaos", McQuarrie never doubted finishing the film, especially with Cruise on board.
"When you're making a movie with Tom, that's not really a factor," he told the outlet. "And on these movies, we like to say, 'Disaster is an opportunity to excel.' We lean into the chaos. We don't invite it, but we accept it as part of the process."
TOM CRUISE PERFORMS THE 'MOST DANGEROUS STUNT' HE'S EVER ATTEMPTED IN BEHIND-THE-SCENES CLIP FROM 'M:I 7'
McQuarrie directed previous installments in the series, 2015's "Mission: Impossible – Rogue Nation" and 2018's "Mission: Impossible – Fallout," as well as serving as a producer on "Dead Reckoning." He also co-wrote last year's Cruise mega-hit and Oscar nominee "Top Gun: Maverick."
The outlet noted that when they spoke with McQuarrie, he was already prepping "Mission: Impossible – Dead Reckoning Part Two," due in theaters June 28, 2024.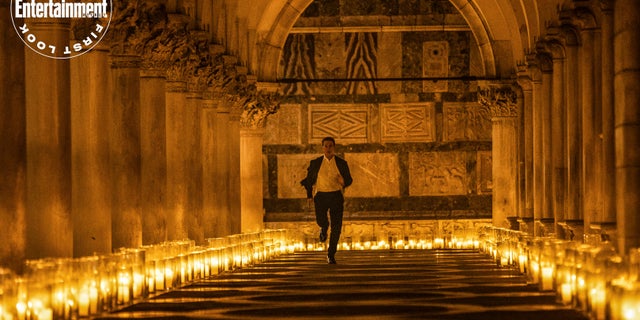 "Mission: Impossible—Dead Reckoning Part One," is the seventh film in the Tom Cruise-led blockbuster franchise. (EW)
CLICK HERE TO SIGN UP FOR THE ENTERTAINMENT NEWSLETTER
"This has been the most unbelievable adventure and the most unbelievable continuum between, in some state or another, working on 'Top Gun,' 'Mission 7,' and 'Mission 8,' all simultaneously," McQuarrie said. "'Top Gun' is now behind us, and we're in a place where 'Mission 7' is almost out in theaters, and it's so surreal to think that, in July, I will be working [on] one movie at a time. I don't know what I'm going to do with myself!"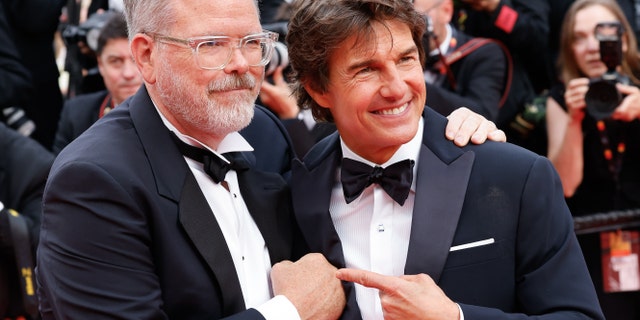 Christopher McQuarrie, left, said "you learn to accept" Tom Cruise taking on dangerous movie stunts. (Toni Anne Barson/FilmMagic)
CLICK HERE TO GET THE FOX NEWS APP
McQuarrie also spoke about the action packed sequences and intense stunts in the film.
As for Cruise's taking on dangerous stunts like riding a motorcycle off a cliff and base jumping into a ravine, the filmmaker said "It's par for the course."
"It's what you learn to accept. It's what keeps the lights on!"
"Mission Impossible: Dead Reckoning Part One" is set to release in theater July 14 after a two-year delay from its original release date.