One of America's oldest feuds between the Hatfields and the McCoys still lingers in the hollers of West Virginia more than a century after the last shots were fired.
Intertwined by their bloody past, the families have engaged in some less-aggressive exchanges in this century – but the lasting disdain for each other is proof that some things never die.
"It's like a bad marriage you can't get out of," Chris, a Hatfield, said of the feud.
AMERICA IS FASCINATED WITH 'HATFIELDS AND MCCOYS' FEUD
Now, fans can follow along with the family drama in Fox Nation's new reality series, 'The Real Hatfields & McCoys: Forever Feuding.' marking the app's next step into reality TV following the release of 'Duck Family Treasure' – a spinoff of 'Duck Dynasty' – last year.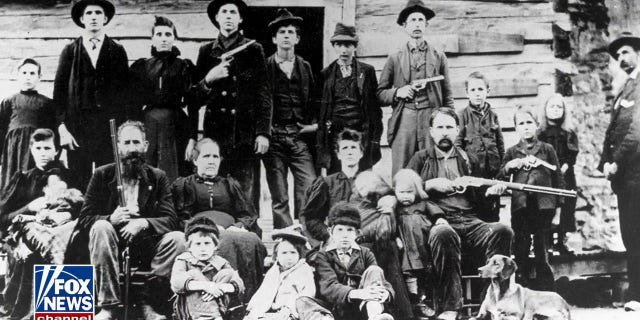 The Hatfileds & McCoys feud still lingers to this day, over 100 years after most would believe the feud ended. (Fox & Friends/Screengrab)
Over 100 years ago, the cross-border West Virginia and Kentucky war raged between the two families, catapulting them into the history books by marking the series of killings driven by a series of disagreements – some over land disputes, and even one involving a pig.
This time, the iconic dispute stems from competition. The Hatfields own a distillery while the McCoys own an entertainment complex, and both are determined to see each other fail.
"The McCoys that we're feuding with, trying to beat us, are using our name to try to make a dollar," Chad, another Hatfield, said during the series.
ARTIFACTS HELP PINPOINT KEY HATFIELD-MCCOY BATTLE
Two other Hatfield family descendants, Amber and Chad Bishop, sat down with the hosts of "Fox & Friends" early Tuesday to give viewers an idea of what to expect from the Fox Nation series showcasing the feud.
During the segment, Amber shared why filming the series is so important to her.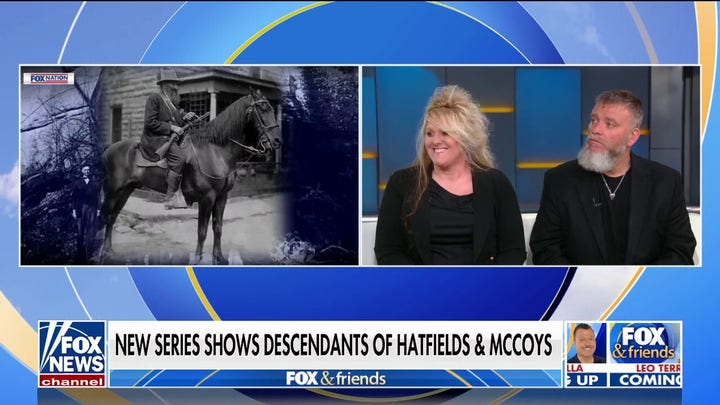 Video
"It was important for people to see the truth, and I know that they might have read about this in some news articles, and I know a lot of people, they don't believe it, but it's a true story. It's a very true story between the two families," she said.
"You're going to see our family versus their family," she explained. "My cousin Christopher marries a McCoy… and my aunt Nancy was not having it."
Fox Nation's new reality series treads the rough patches of the Appalachian mountains where the cross-border feud between the two families still exists, albeit in a more lighthearted way.
HATFIELDS AND MCCOYS HELP PINPOINT KEY BATTLE SITE IN FEUD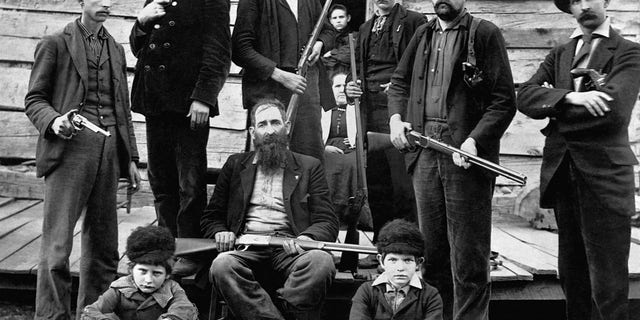 The Hatfields of West Virginia were led by William Anderson 'Devil Anse' Hatfield while the McCoys of Kentucky were under the leadership of Randolph 'Ole Ran'l, McCoy.  (Photo by: Pictures From History/Universal Images Group via Getty Images)
McCoy descendants Jim McCoy and Courtney Quick also joined "Fox & Friends" on Tuesday to share their side of the story.
McCoy said he wanted to do the show to help his business or, in his words, build his "dynasty."
"The Hatfields have been trying to undercut us for over 200 years," he said. "They might as well figure out that they don't have a snowball's chance in hell when it comes to us."
Quick said the show also gives viewers a glimpse of the Appalachian lifestyle.
Video
"[McCoy] wants them to see how we live because a lot of people don't know. They don't know what it's like to be in the mountains, be in the hills, be able to ride in the wilderness. We're really lucky," she said.
To watch the new Fox Nation reality series "The Real Hatfields & McCoys: Forever Feuding," click here.