Well-known doughnut chain Krispy Kreme was founded in North Carolina on this day in history, July 13, 1937.
Company founder Vernon Rudolph "bought a secret yeast-raised doughnut recipe from a New Orleans French chef," said the website for Krispy Kreme.
Rudolph set up a doughnut factory in present-day Old Salem in Winston-Salem, North Carolina, and began to sell doughnuts to area grocery stores, says the chain's website.
ON THIS DAY IN HISTORY, JULY 12, 1862, ABRAHAM LINCOLN SIGNS BILL CREATING US ARMY MEDAL OF HONOR
"Our iconic Original Glazed® doughnut is universally recognized for its hot-off-the-line, melt-in-your-mouth experience," they said.
GEORGIA BAKERY PUTS 'URGENT ALERT' ON FACEBOOK TO FIND CUSTOMER ACCIDENTALLY SOLD A DONUT WITH GLUTEN
Far removed from its beginnings as a literal hole in the wall in North Carolina, the company now has operations in more than 30 countries, said its website.
"Krispy Kreme built a mix plant and developed a distribution system that delivered the perfect dry doughnuts mix to each Krispy Kreme store," said the company's website.
"Then Rudolph and his equipment engineers invented and built Krispy Kreme's own doughnut making equipment. From the 1950s on, they focused on improving and automating the doughnut making process."
NATIONAL DONUT DAY: FASCINATING AND PATRIOTIC HISTORY BEHIND THIS DELICIOUS OBSERVANCE
"A renewed focus on the hot doughnut experience became a priority for the company," it also said, along with expansion outside its roots in the southeastern United States.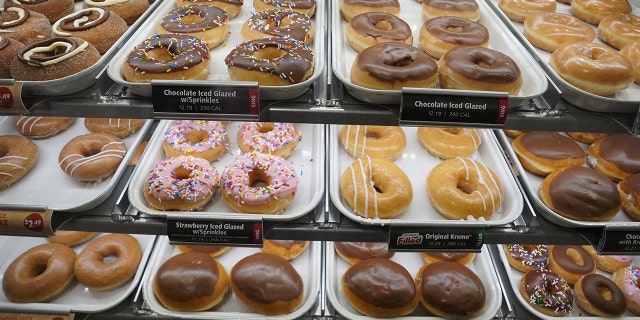 Krispy Kreme's flagship store is located in New York City. The 4,500 square-foot doughnut shop includes a glaze waterfall, a 24-hour street pick-up window, and a system that can make more than 4,500 doughnuts an hour.  (TIMOTHY A. CLARY/AFP via Getty Images)
Krispy Kreme opened its first store in New York City in 1996.
The city is now home to the Krispy Kreme Flagship store, which sells an exclusive "Big Apple Doughnut" with an apple cream filling.
Krispy Kreme's first international store opened in December 2001 in Ontario, Canada, its website also noted.
In 2003, Krispy Kreme opened locations in Sydney, Australia, and London, England, its first locations outside of North America.