Sen. Ted Cruz, R-Texas, fired back at San Antonio Spurs coach Gregg Popovich over his remarks at the end of the NBA season in which he called for tighter gun laws and likened the Second Amendment to a "myth."
Popovich specifically called out Cruz's plan for safer schools in wake of the Uvalde shooting last year in Texas. The senator's plan, which he unveiled with Sen. John Barrasso, R-Wyo., last fall, called for more security in schools along with school-based mental health counselors.
"But they're going to cloak all this stuff [in] the myth of the Second Amendment, the freedom," he said, in part. "You know, it's just a myth. It's a joke. It's just a game they play. I mean, that's freedom. Is it freedom for kids to go to school and try to socialize and try to learn and be scared to death that they might die that day?"
CLICK HERE FOR MORE SPORTS COVERAGE ON FOXNEWS.COM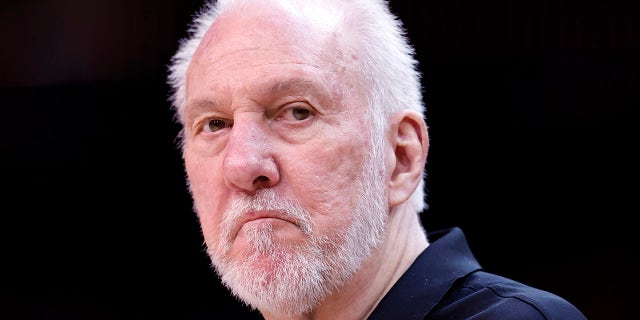 Gregg Popovich (Chris Coduto / Getty Images / File)
"But Ted Cruz will fix it because he is going to double the number of cops in the schools. That's what he wants to do. Well, that'll create a great environment. Is that freedom? Or is it freedom to have a congressman who can make a postcard with all his family holding rifles, including an AR-15 or whatever. Is that cool? Is that like street cred for a Republican? That's freedom? That's more important than protecting kids? I don't get it."
Cruz, along with co-host Ben Ferguson, spoke about Popovich's remarks in the latest episode of his podcast, "Verdict with Ted Cruz."
"We've seen for a long time that there are a lot of institutions in sports that don't really like their fans very much, don't really like their customers, don't respect their customers, that look down on them. Popovich is someone who has been a partisan for a long time. He's a liberal Democrat," Cruz said, adding that the Spurs are a great team and that he's watched the team win championships.
"But you know, I do wish you see this at the NBA, you see at the NFL, these incredibly rich athletes who hypocritically disdain their fans and customers and who lecture them almost inevitably from a point of ignorance. So, Gregg Popovich is telling you that 'It's a myth that the Second Amendment protects your rights. It's a myth that the Second Amendment protects your freedoms,'" Cruz added. "I mean, that's a fairly astonishing proposition."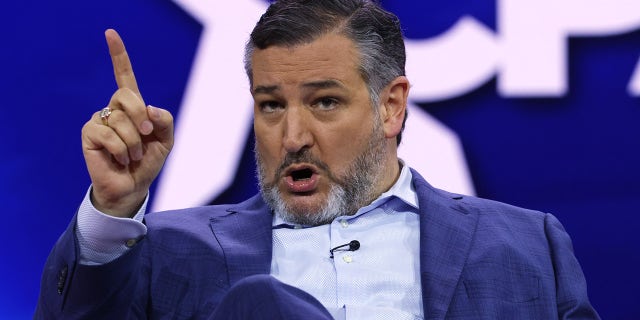 Sen. Ted Cruz (Alex Wong / Getty Images / File)
RICHARD JEFFERSON SNAPS BACK AT PAUL PIERCE'S OVERRATED REMARK IN SINCE-DELETED VIDEO
Cruz noted that it is armed police officers or security who generally guard the tunnels and private aspects of the sports arenas to keep players from fans and to stop anyone from running out where they're not supposed to be.
"You know what, there are a lot of NBA games. Police officers, armed police officers with weapons strapped in their holsters," Cruz said. "You know, Popovich is surrounded by armed security most of the time. And this is true with so many Hollywood liberals that have armed bodyguards protecting them, and they say, 'You little people, you don't have a right to defend your family. You don't have a right to defend your children. But me, I'm going to be surrounded [in] perfect safety and take away your rights to defend yourself.' … Unfortunately, that kind of condescension is all too common."
Cruz specifically answered Popovich's question about having more police officers in schools.
"Let me be clear: Yes, I want that," Cruz added. "Look, I don't get this recent conceit of leftists that police officers don't make us more safe. Like, it is a bizarre view. Listen, it is horrific, the rise in violent crime that we've seen across this country. But leftists like Popovich put none of the blame on George Soros DAs that are releasing murderers, they put none of the blame on the leftists that they support who are calling for abolishing the police. Instead, they put the blame on you for exercising your right to keep and bear arms to protect your family and your children."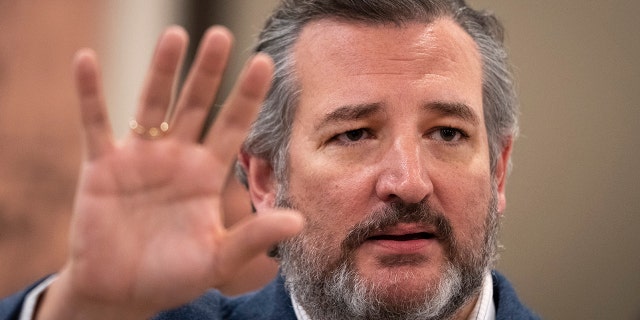 Sen. Ted Cruz said that it is armed police officers or security who generally guard the tunnels and private aspects of sports arenas to keep players from fans and to stop anyone from running out where they're not supposed to be. (Drew Angerer / Getty Images / File)
CLICK HERE TO GET THE FOX NEWS APP
"And it is, look, if you look at the No. 1 factor that stops a violent crime, it is an armed police officer who stops that crime. And look, I got to say, it's a very strange thing for the left that they just have decided cops are bad. Let me tell you this right now: I guarantee you if someone stood up and said, 'We're going to pull all the police officers from Gregg Popovich's neighborhood,' he'd be horrified. I'll tell you, I'd be horrified. Someone announced they were pulling the police officers from my neighborhood, I'd be like, 'That's a terrible idea.' I want officers to keep my family safe. I want officers to keep his family safe. But there's a political talking point now that if you want to keep our kids safe, clearly police officers are not going to do anything to help. That's just weird. And it's stupid. And it's counterfactual."