A couple squatting at public housing in the Bronx, New York, was indicted on criminal charges for allegedly abusing and neglecting their young daughters to the point they began eating a foam mattress in an effort to survive.
"The situation is beyond the pale," Bronx District Attorney Darcel Clark said in a statement on the indictment of Stephanie Grabowski, 40, and her boyfriend Mark Russel, 45.
Grabowski and Russel were squatting in the "house of horrors" at New York City Housing Authority's Mitchel Houses with Grabowski's daughters, ages 4 and 5. Police were able to rescue the girls on May 3, when they were assigned to vacate the apartment, with the DA citing it was a known squatter residence.
"The defendants allegedly kept these little girls in a house of horrors," Clark said, according to the New York Post.
Police found the apartment was littered with urine, feces and dirty diapers – including in the room where the girls were allegedly locked away. Clark's office said the apartment appeared to lack basic amenities such as food or clothing.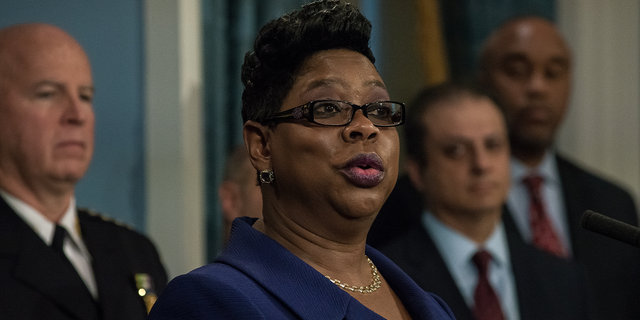 Bronx District Attorney Darcel Clark offers remarks at the City Hall press conference in 2016. (Getty Images)
"Fortunately, police rescued the girls and a nurse discovered signs of abuse for which they are being treated," Clark said.
MOTHER, STEPFATHER ACCUSED OF TORTURING CHILDREN IN HOUSE OF HORRORS AS MISSING CHILD FEARED DEAD
CLICK HERE TO GET THE FOX NEWS APP
Grabowski is detained at Rikers Island, and Rusell is being held at the Vernon C. Bain Center, according to the Bronx Times. They are both due back in court on Sept. 13, while Russell is scheduled for another court appearance on July 27.