Australian rock icon Nick Cave said going to church and being a conservative is the modern equivalent of "f—–g" with people.
Cave, best known for forming the bands Birthday Party and Nick Cave and the Bad Seeds in the early 1980s, was considered an anti-establishment punk rock bad boy at the height of his fame. He sat down with "UnHerd" host Freddie Sayers to discuss his book, "Faith, Hope and Carnage," which is billed as a look at his life "from his early childhood to the present day, his loves, his work ethic and his dramatic transformation in recent years."
Cave explained that he sees human beings in a completely different way than he did early in his career, and said he is now a "more complete person." Sayers noted that the punk rocker turned "church-going person" might seem unrecognizable, but Cave said he simply gets a delight by "f—–g with people" and "living outside the expectation" of others. The singer-songwriter said he sees the world in a completely different way, which included being aware of both the "brokenness" and "value" of human beings after the tragic death of his 15-year-old son changed his views.
"I didn't have that political fury, but I was much more concerned with f—–g with people on a different kind of level, a different kind of thing," Cave told Sayers. "I was always sort of at odds with my peers, I would say."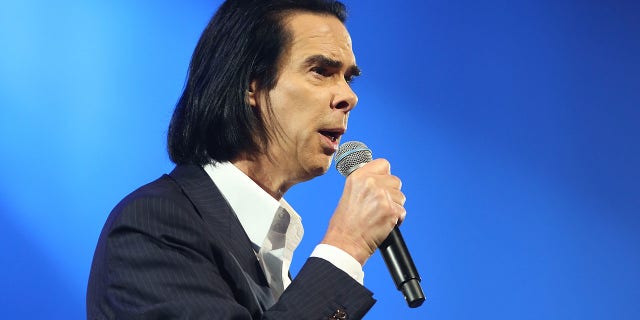 Rock icon Nick Cave said going to church and being a conservative is the modern equivalent of "f—–g" with people. (Harry Herd)
NICK CAVE SPEAKS OUT ON CANCEL CULTURE'S LACK OF 'MERCY,' SAYS IT MAY AFFECT ARTISTS
Sayers then asked Cave how he "f—s" with people in 2023.
"You be a conservative," Cave quickly responded, drawing laughter from the audience.
"It that today's equivalent?" Sayers asked.
"Yeah, you go to church and be a conservative," Cave responded.
ROCKER NICK CAVE SLAMS FELLOW ARTISTS' BOYCOTT OF ISRAEL AS 'COWARDLY AND SHAMEFUL'
In 2020, Cave spoke out against "cancel culture" when a fan asked for his opinion on the growing tide of political correctness.
"Mercy ultimately acknowledges that we are all imperfect and in doing so allows us the oxygen to breathe — to feel protected within a society, through our mutual fallibility. Without mercy a society loses its soul, and devours itself," Cave wrote on his website, The Red Hand Files, where he invited people to ask him questions with no moderation.
"Mercy allows us the ability to engage openly in free-ranging conversation — an expansion of collective discovery toward a common good," he continued. "If mercy is our guide we have a safety net of mutual consideration, and we can, to quote Oscar Wilde, 'play gracefully with ideas.'"
Cave went on to note that the growing tide of cancel culture, in which people's careers and reputations are diminished sometimes due to proven bad behavior in the past and sometimes due to mere accusations, is flying in the face of the concept of mercy.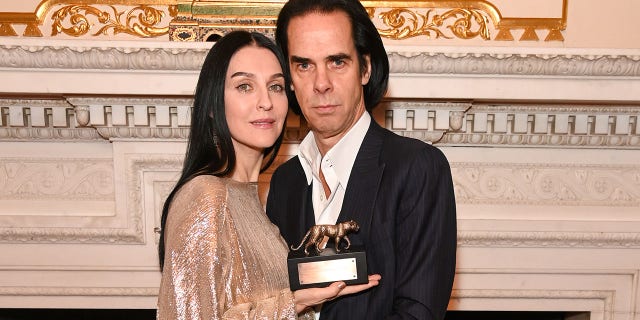 Susie and Nick Cave attend the Leopard Awards in aid of The Prince's Trust and supported by the Natural Diamond Council at Goldsmith Hall in London on Nov. 2, 2021. (David M. Benett)
CLICK HERE TO GET THE FOX NEWS APP
"As far as I can see, cancel culture is mercy's antithesis," Cave wrote. "Political correctness has grown to become the unhappiest religion in the world. Its once honourable attempt to reimagine our society in a more equitable way now embodies all the worst aspects that religion has to offer (and none of the beauty) — moral certainty and self-righteousness shorn even of the capacity for redemption. It has become quite literally, bad religion run amuck."
Fox News' Tyler McCarthy contributed to this report.