Progressive scholar and philosopher Cornel West is throwing his hat in the ring for the 2024 presidential race, announcing a third-party bid on Monday to stand against both Democrats and the GOP.
While he is a long-shot candidate, the left-wing media personality's third-lane campaign appears to be a clear knock on President Biden and the Democratic Party.
"In these bleak times, I have decided to run for truth and justice, which takes the form of running for President of the United States as a candidate for the People's Party," West, 70, announced in a video posted to social media. "The presidency is just one vehicle to pursue the truth and justice I've been trying to do all my life."
WHY PENCE, HALEY, AND DESANTIS ARE TAKING AIM AT TRUMP
"I come from a tradition where I care about you. I care about the quality of your life. I care about whether you have access to a job with a living wage, decent housing, women having control over their bodies, health care for all, the escalating destruction of the planet, the destruction of American democracy," he added.
He swung at both Republicans and Democrats, continuing, "Neither political party wants to tell the truth about Wall Street, about Ukraine, about the Pentagon, about big tech."
CHECK OUT THE LATEST FOX NEWS POLL IN THE 2024 GOP PRESIDENTIAL NOMINATION RACE
West outlined some of his campaign trail priorities in a statement posted to Twitter alongside his video, "I am running for truth and justice as a presidential candidate for the People's Party to reintroduce America to the best of itself – fighting to end poverty, mass incarceration, ending wars and ecological collapse, guaranteeing housing, health care, education and living wages for all!"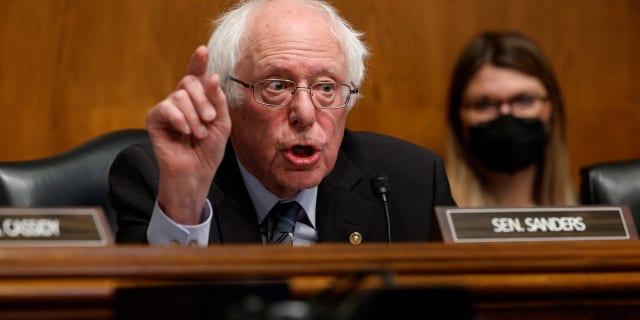 The People's Party is chaired by a former Bernie Sanders 2016 campaign staffer   (Chip Somodevilla/Getty Images)
His announcement came the same day as former Vice President Mike Pence filed paperwork to run for the White House against Trump, his former boss.
Robert F. Kennedy Jr. has launched a long-shot bid for the Democratic nod against President Biden.