Panama City Beach in Florida is now the deadliest beach in America after three more tourists died swimming in the Gulf of Mexico over the weekend.
Police said three separate "fatal water incidents" happened Saturday off the coast of Panama City Beach, though it was unclear if the victims drowned or had another medical emergency while in the water. The tourists were swimming behind different resorts, according to the Panama City News Herald.
A total of seven people have died at the beach in the past nine days as rip currents have created dangerous swimming conditions. This death toll is the highest of any U.S. beach for 2023, according to data tracked by the National Weather Service.
Another person died on Thursday in similar conditions at nearby Blue Mountain Beach and another died Saturday at Miramar Beach, the second this year on that beach, the News Herald reported.
ARIZONA HIKERS WITH NO WATER RESCUED AT CATALINA STATE PARK AS SCORCHING TEMPS EXPAND ACROSS SOUTHWEST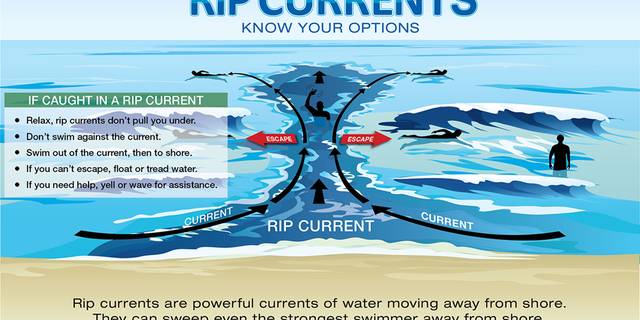 This graphic from the National Weather Service shows what to do when caught in a rip current. The best way to escape is to swim parallel to the shore out of the current's flow. If possible, always swim near a lifeguard. (National Weather Service)
There were 69 deaths reported last year. There have already been 60 surf zone fatalities nationwide in the U.S. this year.
The three tourists who died Saturday in Panama City Beach were caught in rip currents, police said. In two instances, double red flags were posted at the beach, signaling the gulf was closed to swimmers, who could face a $500 fine for swimming when the beach was closed, according to the News Herald.
Authorities said there have been 70 reports of distressed swimmers over the past 10 days, with about 40 of them on Saturday alone.
"Double red-flag conditions have existed on the beach for the last week," authorities reminded tourists. "Double red flags mean you are not allowed in the Gulf."