Singer and guitarist Otis Redding III, the son and namesake of the legendary 1960s soul singer, has died from cancer at age 59, his family said Wednesday.
Redding was just 3 years old when his father, Otis Redding, perished along with several band members in a plane crash on Dec. 10, 1967. More than a decade later, the younger Redding and his brother, Dexter, formed the funk band The Reddings, which recorded six albums in the 1980s.
"It is with heavy hearts that the family of Otis Redding III confirms that he lost his battle with cancer last evening," said his sister, Karla Redding-Andrews, in a statement posted on the Facebook page of the Otis Redding Foundation, the family's charity in Macon.
Though singles "Remote Control" and "Call The Law" by The Reddings made appearances on the Billboard music charts, the Redding brothers never matched their father's success. Redding continued playing and performing after the band recorded its final album in 1988.
He was once hired for a European tour as guitarist for soul singer Eddie Floyd, under whose guidance the younger Redding became comfortable performing "(Sittin' On) the Dock of the Bay" and other songs of his famous father.
RACHEL MCADAMS TURNED DOWN 'IRON MAN,' 'CASINO ROYALE' ROLES FOR THIS REASON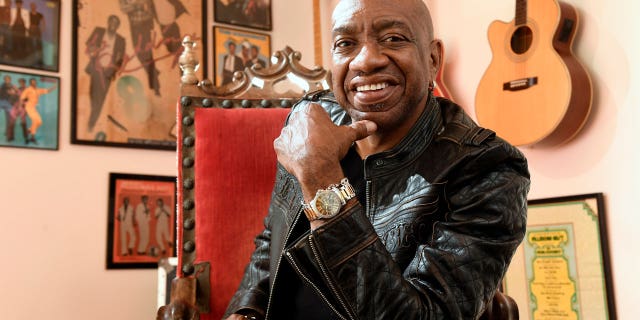 Otis Redding III appears at his home in Macon, Georhia, in 2017. (Woody Marshall/The Macon Telegraph via AP)
CLICK HERE TO GET THE FOX NEWS APP
"He said, `You can play guitar with me, but you're going to have to sing a few of your dad's songs,'" Redding recalled in a 2018 interview with WCSH-TV in Portland, Maine. "I was like, `Huh? I don't sing,' you know. And he was like, `Well, you're going to sing "Dock of the Bay" with me tonight.'"
Redding worked with his family's foundation to organize summer camps that teach children to play music, and served as board president for the local chapter of Meals on Wheels.
He continued to perform his father's songs for audiences large and small, according to his website, from appearing onstage at Carnegie Hall for a 2018 Otis Redding tribute concert to singing at weddings and private parties. Redding said he was grateful for the enduring legacy even if it overshadowed efforts to make music of his own.
"No matter how hard I try to do my own thing, you know, it's like … 'sing one of your daddy's songs,'" he told the Maine TV station. "So I go ahead and do what people want, and I live with it. But I'm not under any pressure and I don't put myself mentally under any pressure to go begging for record deals."