A welfare check on an animal welfare worker's home in Mantua, Ohio, resulted in the discovery of 146 dead dogs last week, according to a humane nonprofit investigating the incident.
Barbara Wible, co-founder of nonprofit rescue organization Canine Lifeline of Macedonia, Ohio, had a pending animal cruelty charge in another jurisdiction, according to the Portage Animal Protective League's Humane Investigations Department.
"Inside the home, the Humane Agent discovered 146 deceased dogs in varying stages of decay. No dogs were found alive. Many of the dogs were found confined within their crates," the Portage Animal Protective League said.
Authorities had responded to the home on June 2 after Wible collapsed, according to a statement from Canine Lifeline posted to the organization's website. The collapse "triggered" investigations into "evidence of ongoing fatal animal neglect" at Wible's "current" home in Parma, as well as the Mantua home.
"Please know that the volunteers of Canine Lifeline are grieving this tragedy and are cooperating with the appropriate authorities. Canine Lifeline has been an all-volunteer network of animal rescue volunteers. Since its founding, it has matched over 6,000 dogs with their forever families," the organization said.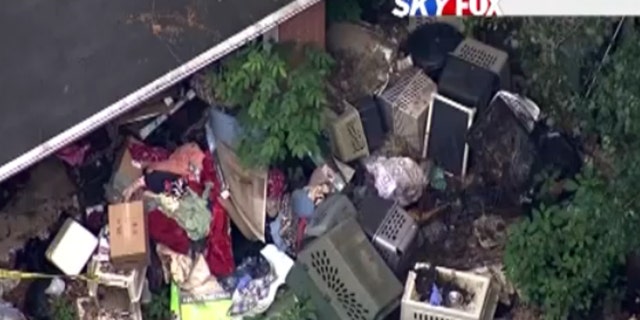 Canine Lifeline said the organization and its staff were "shocked and horrified" to learn about the gruesome discovery at their co-founder's home. (FOX 8 Cleveland)
Canine Lifeline added that Wible "was a very private person who appeared … to be devoted to these rescue animals; it appeared to be her life's passion." The organization is "sickened and blind-sighted to learn this was a facade."
"Volunteers and adoptive families that gave their time and energy to the cause of animal welfare are now navigating feelings of bewilderment, betrayal, and grief in light of what has been learned about Wible's secret treatment of animals," Canine Lifeline continued.
An investigation into the discovery is active and ongoing. The Portage Animal Protective League is asking anyone with information about the home or Wible to contact humane agent Holly Ebner at humaneofficer@portageapl.org. Canine Lifeline is encouraging the public to make donations to Parma Animal Shelter.