The New York GOP ripped Democrats Eric Adams and Kathy Hochul on Wednesday, amid reports that homeless veterans had been "displaced" from hotels to make room for migrants to be bussed upstate.
State Sens. William Weber, a lifelong resident of Rockland County, and Rob Rolison, who previously served as the mayor of Poughkeepsie, cosponsored state Senate Bill 6995, which "authorizes a county, city, town or village to override a governor's declaration of a state disaster emergency in all or part of the territorial limits of such local government."
The bill comes in response to reports that homeless veterans were being "displaced" from hotels in upstate New York to make room for migrants.
Weber said the bill "will prohibit hotels and homeless shelters from displacing vulnerable people in favor of non-U.S. citizens and non-lawful permanent residents of the United States."
The state budget recently cleared $1 billion to New York City to assist with the migrant crisis, and state Senate Republicans have since called on Democrat Gov. Kathy Hochul to more fairly allocate such funding now that Adams' office announced that hundreds of adult male migrants would be relocated outside to Orangeburg, Rockland County, and the town of Newburgh in Orange County.
BIDEN ADMIN, NY OFFICIALS SLAMMED AFTER HOMELESS VETERANS BOOTED FROM MIGRANT HOTELS: 'SLAP IN THE FACE'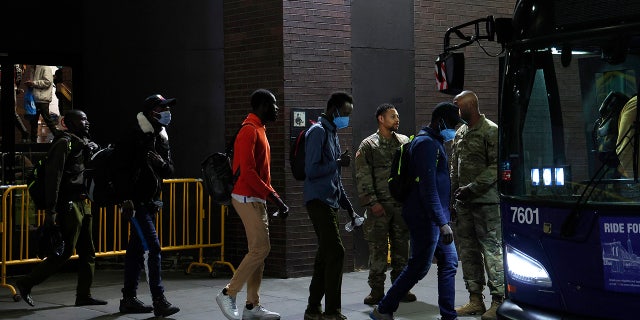 U.S. military personnel keep watch as asylum seekers are transferred via city bus from Port Authority bus terminal to housing facilities in the Bronx and Queens on May 15, 2023, in New York City. ( John Lamparski/Getty Images)
"No one made them a sanctuary city," state Sen. Rob Ortt said at the press conference Wednesday. "I don't think anyone ever thought that was for transportation costs so they could bus these folks to other places in New York state. Ironically, or maybe not so coincidentally, to two places at this point, both governed by Republican County executives. I find that hard to believe that that is a coincidence."
"It's not about Brown people, not about Mexicans or South America. It's about we can't handle it. Every country deserves to be able to protect themselves. Every state can protect themselves. Every community should be able to provide some sort of law and order and protection and public safety," Ortt added. "That includes for the people who are coming across the border. And we can't even do that. So the idea that we're just going to shut them around, I think that's where our conference maybe certainly is different from my colleagues. We're saying this is enough. Mayor Adams has said it's enough and I'm saying it's enough. But we need leadership from the governor and others to help make that happen."