Democratic Minnesota senators, holding firm despite only a one-vote majority, successfully passed sweeping gun control legislation in an effort to keep guns out of the hands of people in crisis and criminals.
The public safety and judiciary finance and policy agreement passed early Tuesday, May 16 by a vote of 69-63, after passing the Senate 34-33 on Friday, May 12.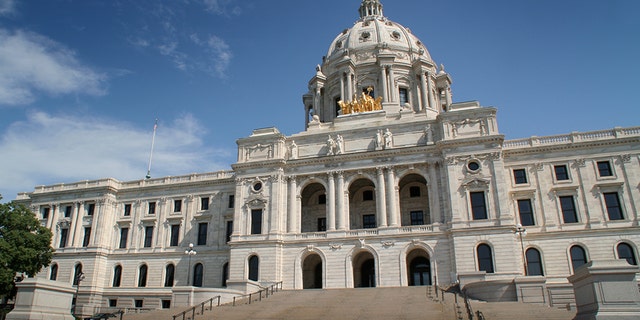 The Minnesota state capitol building exterior, it houses the State Senate, House of Representatives, Attorney General, the office of the Governor, and the Minnesota Supreme Court. (iStock)
The proposals included the controversial "red flag law" that would allow authorities to ask courts for "extreme risk protection orders" to temporarily take guns away from people deemed to be an imminent threat to others or themselves.
"What we are going to be providing — finally — is a path forward for families and law enforcement who know that someone's exhibiting signs of crisis and danger," said Democratic Sen. Rob Latz of St. Louis Park, chairman of the Senate public safety committee. "And it will give them lawful tools to separate people in crisis from the firearms that are around them."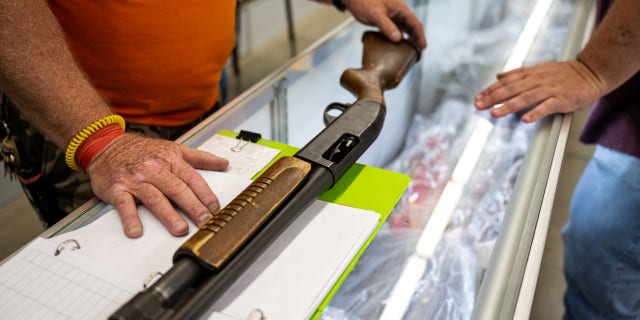 A worker shows a shotgun for sale to a customer at Knob Creek Gun Range in West Point, Kentucky, U.S., on Thursday, July 22, 2021. (Jon Cherry/Bloomberg via Getty Images)
MINNESOTA RECREATIONAL POT BILL GOES TO CONFERENCE COMMITTEE, GOV. WALZ PLEDGES TO SIGN
Minnesota Governor Tim Waltz is expected to sign the bill into law, after sharing his thoughts on the legislation in a Twitter post on Tuesday.
"As a veteran, gun-owner, hunter, and dad, I know that basic gun safety isn't a threat to the Second Amendment. It's about our first responsibility to our kids: Keeping them safe," Waltz wrote in a Twitter post. "When the bill reaches my desk, I'm going to sign a red flag law and background checks into law."