Otto Rohwedder gave the world an innovation by which all others are compared.
Rohwedder, a native of Davenport, Iowa, invented sliced bread.
It's the greatest thing since … Well, it's the greatest thing, according to popular acclaim.
"Sliced bread is the standard of all innovation, past, present and future," said Ed Douglas, a businessman, local historian and county commissioner from Chillicothe, Missouri.
MEET THE AMERICAN WHO FIRST RECORDED THE BLUES, NATION'S ORIGINAL POP DIVA MAMIE SMITH
The world's first loaves of bread — sliced and packaged right out of the oven by Rohwedder's unique innovation — rolled out of Chillicothe Baking Co. in 1928.
Sliced bread changed American consumer culture and household habits with shocking speed.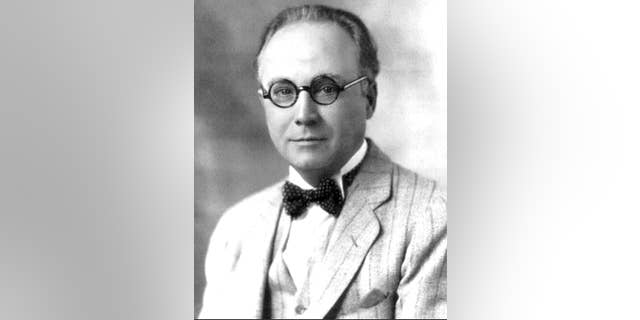 Otto Frederick Rohwedder (1880-1960), American inventor of the first automatic bread-slicing machine. (Pictorial Press Ltd/Alamy Stock Photo)
Douglas, nicknamed "Sliced Bread Ed," has helped lead recent efforts by his community to declare itself the "Home of Sliced Bread" — and champion the memory of Rohwedder.
All corners of the world
Humans began baking bread long before recorded history. It is enjoyed in myriad forms by all cultures in all corners of the world.
Bread literally fueled the rise of civilization.
ALABAMA FATHER AND SON CATCH RECORD-BREAKING, 162-POUND ALLIGATOR GAR
"For 15,000 years the epic of grain has been one with the epic of man," author Heinrich E. Jacob wrote in his celebrated 1944 tome, "Six Thousand Years of Bread: Its Holy and Unholy History."
Yet it took a hard-luck hawkeye to challenge all known history and write a better version of the "epic of man."
"Sliced bread is the standard of all innovation, past, present and future." — "Sliced Bread" Ed Douglas of Chillicothe, Missouri
Rohwedder had no background as a baker, engineer or inventor.
But he had a preposterous dream to make bread better, even as the baking industry belittled his vision.
"Like any paradigm-changing invention, people could not conceive of sliced bread at the time," bread industry executive Allen Wright said in the inventor's American Society of Baking Hall of Fame biography.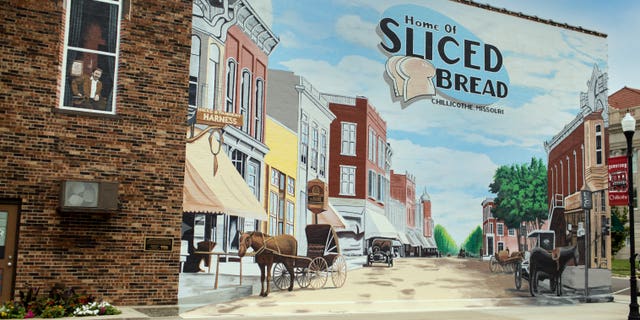 Chilicothe Baking Co. in Chillicothe, Missouri, introduced sliced bread on July 7, 1928. The "Home of Sliced Bread" honors its legacy with a giant mural today.  (Charity Trotter, Clicks By Charity Photography)
Rohwedder outwitted 10,000 years of bread-making tradition — which is why sliced bread has entered the cultural lexicon as the ultimate superlative of innovation.
Television, said comedian Red Skelton in 1951, "is the greatest invention since sliced bread."
The comparison by the celebrated entertainer stuck.
"For 15,000 years the epic of grain has been one with the epic of man." — Author Heinrich E. Jacob
Sliced bread is so mundane today we assume it's as old as fire or the wheel.
We forget it's a recent invention in the annals of mankind. We certainly forgot the man who invented it.
'The epic story of man'
Otto Frederick Rohwedder was born in Des Moines, Iowa, on July 7, 1880. His family made its way to Davenport at some point when he was a small child.
His father, Claus, was born in Kreis Dithmarschen, Schleswig-Holstein, Germany, in 1845. He arrived in Iowa in 1866 and worked as a stone mason contractor. He "designed the stone work on many of Davenport's prominent business buildings of former years," according to a 1922 obituary.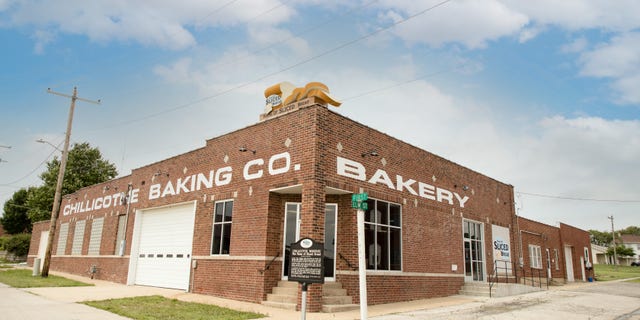 Chilicothe Baking Co. in Chillicothe, Missouri, where sliced bread was introduced on July 7, 1928.  (Charity Trotter, Clicks By Charity Photography)
Rohwedder's mother, Elizabeth Margaretha Margaret (Jannssen), known as Margaret, was also born in Schleswig-Holstein and arrived in Iowa in 1868.
She and Claus wed the following year. They had four sons, including Otto, and one daughter.
MEET THE AMERICAN WHO SAVED THE CHAMPAGNE INDUSTRY: MISSOURI SCIENTIST CHARLES VALENTINE RILEY
Rohwedder graduated from the Illinois College of Optometry in 1900 with a degree in optics. He ended up in the jewelry business, reportedly apprenticing in the trade as a teenager.
He operated three jewelry shops in St. Joseph, Missouri. The business struggled, by many accounts.
"Television is the greatest invention since sliced bread." — Red Skelton in 1951
Nobody knows how or why, but at some point in his 30s, Rohwedder conceived the idea of devising a way to slice bread at a commercial level. He returned to his hometown of Davenport in 1916 and used the funds from the sale of his jewelry business to pursue his dream.
It was a disaster.
"He spent all his time raising money, building a factory and working on his designs," said "Sliced Bread" Ed.
Rohwedder's mission to rewrite the epic story of man and bread appeared to end when fire destroyed his factory in nearby Monmouth, Illinois, in November 1917 — and with it his prototype bread slicer and the blueprints for it.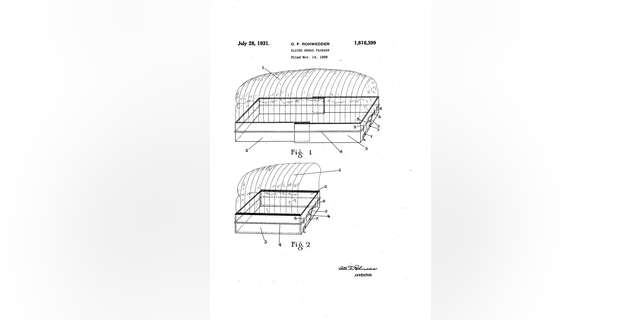 Otto Rohwedder sold his first commercial bread-slicing machine in July 1928 and filed the patent in November. He had begun working on the project more than a decade earlier.  (US Patent and Trademark Office)
Rohwedder suffered one other setback, according to Douglas. He suffered a respiratory illness that doctors said might be fatal.
"They told him to give it up and get his affairs in order," Douglas said.
He ignored the advice. Instead, he went back to the drawing board, recreating his invention and soliciting the financing to produce it.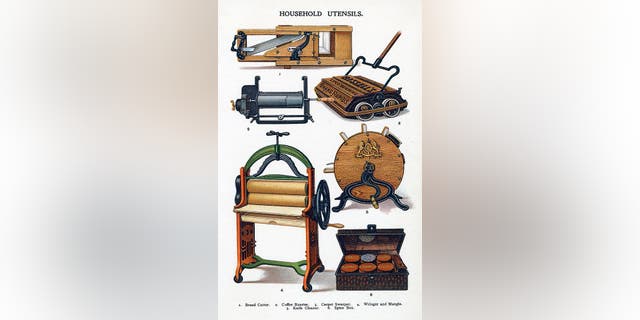 Bread was historically baked at home or bought by whole loaf and cut at home. Household utensils are shown in 1906 — bread slicer, coffee roaster, Bissell carpet sweeper, mangle, knife sharpener, spice box — from "Mrs. Beeton's Household Management." The book, first published in 1861, was an outstanding popular success, selling 61,000 copies in its first year.  (Ann Ronan Pictures/Print Collector/Getty Images)
His health improved. And so did his inventive fortune.
Finally, by 1928, he had a prototype — a machine that could slice and package bread right out of the oven.
It proved harder to convince people of sliced bread's potential.
MEET THE AMERICAN WHO INVENTED BAND-AIDS: COTTON BUYER AND DEVOTED HUSBAND EARLE DICKSON
The baking industry cast off Rohwedder as a crackpot, as preposterous as this seems in hindsight.
People baked their own bread at home or bought it by the loaf and cut it at home. The system worked well for thousands of years.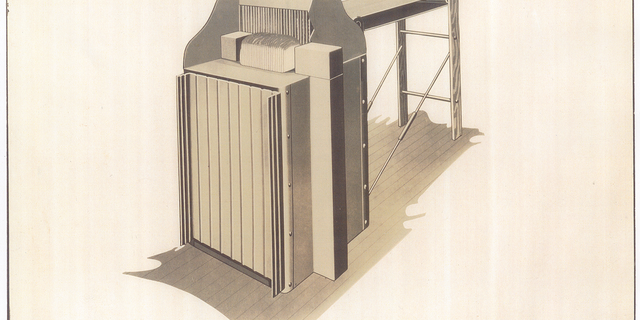 A drawing of Otto Rohwedder's innovative commercial bread slicer, which reinvented the bread business in 1928.  (Courtesy Visit Chillicothe)
Nobody but Rohwedder thought there was a better way to sell bread.
"Few people in the industry believed that bread could be automatically sliced as it came off the assembly line," Aaron Bobrow-Strain wrote in his 2012 book, "White Bread: A Social History of the Store-Bought Loaf."
"Bread was too unruly … Most bakers actively opposed factory slicing."
Rohwedder "found no takers for the idea and had almost given up hope," the author added.
Instant sensation
Yet Rohwedder finally found someone willing — perhaps equally desperate — to take a chance on his scheme to reinvent the staff of life.
His name was Frank Bench. He ran the struggling Chillicothe Baking Co. — and he was looking for a Hail Mary.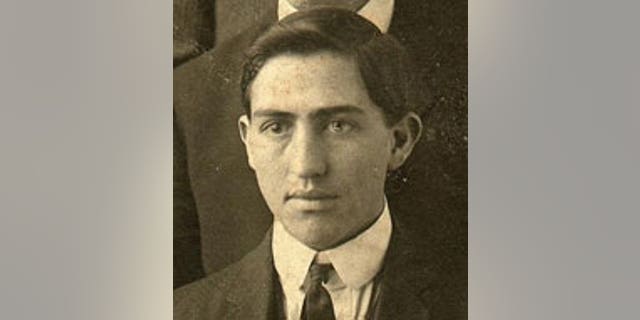 Frank Bench ran the struggling Chillicothe Baking Co. in Missouri when he installed Otto Rohwedder's commercial bread slicer in 1928. It produced the first packaged sliced bread in history on July 7, 1928 — and proved an instant sensation.  (Visit Chillicothe)
He ordered one of Rohwedder's slicing machines on July 1, 1928, and touted the news in the local Constitution-Tribune on July 6.
"The idea of sliced bread may be startling to some people," the story read, attempting to reassure customers who were surely shocked by the concept.
M&M'S DITCHES SPOKESCANDIES – FOR NOW – AFTER STEPS TO PROMOTE INCLUSIVITY DEEMED TOO POLARIZING
"The Chillicothe Baking Company has installed a new multi-bladed bread slicer, which performs a feat which heretofore had been considered by bakers as being impossible — namely the slicing of fresh loaves."
Sliced Kleen Maid Bread, the first loaves of pre-sliced bread in human history, rolled out of Chillicothe Baking Co. a day later, on July 7, 1928 — which just happened to be Rohwedder's 48th birthday.
The bakery claimed "the distinction of being the first bakers in the world to sell sliced bread to the public."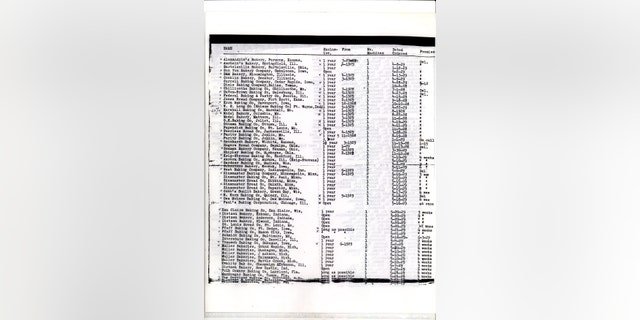 Otto Rohwedder sold his first bread-slicing machine to Chillicothe Baking Co. of Missouri, which introduced sliced bread on July 7, 1928. After its stunning success, company records show sales quickly followed in the Midwest and then farther across the nation in 1928 and 1929. (Courtesy Visit Chillicothe)
It was an instant sensation.
"Sales at the bakery shot up 1,000% in two weeks," Chillicothe tourism director Amy Supple told Fox News Digital.
Word quickly spread throughout the industry. Rohwedder's records show orders for his machine began to flow in from across the Midwest.
By early 1929, he was selling slicing machines to bakeries and other businesses as far away as New York and Florida.
ON THIS DAY IN HISTORY, JAN. 18, 1943, GOVERNMENT BANS SLICED BREAD AMID WORLD WAR II RATIONING
The impact of sliced bread on the American household is evident by public reaction in 1943, at the depths of World War II, when the government announced it would begin rationing sliced bread.
The Roosevelt administration had already rationed sugar, meat and coffee.
But sliced bread proved too much to handle. The news incited a vocal rebellion among American homemakers.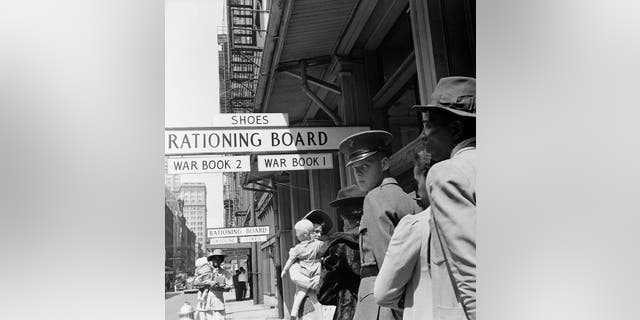 A line at a New Orleans, Louisiana, rationing board. March 1943. American homemakers revolted in 1943 when the government began to ration sliced bread. Just 15 years earlier, sliced bread hadn't existed. (Photo by © CORBIS/Corbis via Getty Images)
"I should like to let you know how important sliced bread is to the morale and saneness of a household," distraught mother Sue Forrester of Fairfield, Connecticut, claiming to speak on behalf of America's housewives, lamented in a New York Times letter to the editor.
In 1928, the man who imagined sliced bread was treated as a crackpot. Fifteen years later, his invention was a necessity that people couldn't live without, even in wartime.
Writes Bobrow-Strain, "Otto Rohwedder, unappreciated and down on his luck, had achieved something nearly every member of the industrial baking establishment thought impossible."
A community rediscovers its legacy
Otto Frederick Rohwedder died on Nov. 8, 1960 in Concord, Michigan. He was 80 years old.
He's buried beside his wife, Carrie, beneath a humble headstone in Albion, Michigan.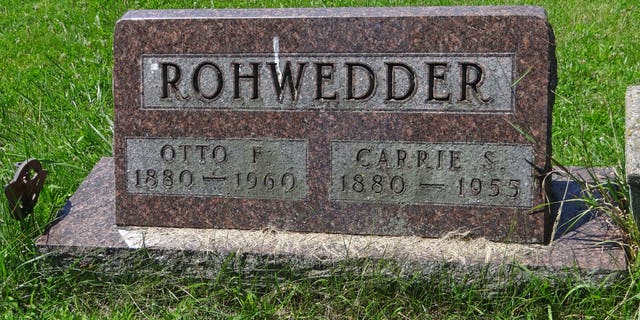 Otto Rohwedder invented sliced bread in Missouri in 1928. He died in Albion, Michigan, in 1960 at age 80. (Photo by Kate Keller)
He sold the invention by which all others are judged to Micro-Westco of Bettendorf, Iowa, in 1933, during the depths of the Great Depression, according to the American Society of Baking.
He worked for the company for the rest of his professional life as sales manager of its Rohwedder Bakery Machine Division — a sort of Johnny Appleseed of sliced-bread making. He retired in 1951.
The world continues to marvel at Rohwedder's achievement. The phrase "the greatest thing since sliced bread" has become deeply ingrained in our language.
But it largely forgot the man.
"This is a very family-oriented community," Chillicothe Mayor Theresa Kelly told Fox News Digital. "We're very proud to be the home of sliced bread."
"You know 1928 was just prior of the Great Depression and World War II. It was that Greatest Generation," said Supple. "And they were really great but humble people."
Chillicothe, Missouri, has recently rediscovered its history as the birthplace of the invention by which all others are compared. The community houses its visitors' bureau in the former bakery where sliced bread was born.
A large new mural touting it as the "Home of Sliced Bread" has quickly become the city's most recognizable landmark and most popular Instagram attraction.
MEET THE AMERICAN WHO MADE US FLIP FOR FAST FOOD: WHITE CASTLE FOUNDER BILLY INGRAM
"This is a very family-oriented community," Chillicothe Mayor Theresa Kelly told Fox News Digital. "We're very proud to be the home of sliced bread."
The state assembly declared July 7 to be Sliced Bread Day in Missouri in 2018.
The 2023 Sliced Bread Day Festival in Chillicothe is scheduled this year for Saturday, July 8. The community hopes that Rohwedder will be rediscovered and earn his place among the great inventors in human history.
CLICK HERE TO SIGN UP FOR OUR LIFESTYLE NEWSLETTER
Perhaps it's asking too much. Bread, and now sliced bread, is so ingrained in human existence, we instinctively assume it's always been there, like the oceans or the stars. Surely something so essential to life could not be invented by man.
"History celebrates the battlefield whereon we meet our death, but scorns to speak of the plowed fields whereby we thrive," influential 19th-centuryFrench naturalist Jean-Henry Fabre wrote philosophically of bread.
CLICK HERE TO GET THE FOX NEWS APP
"It knows the names of kings' bastards but cannot tell us the origin of wheat. That is the way of human folly."
To read more stories in this unique "Meet the American Who…" series from Fox News Digital, click here.