Massachusetts House leaders unveiled a $56.2 billion state budget plan Wednesday that proposes spending on universal school meals, an expanded scholarship program for in-demand jobs, and competitive grants to encourage renewable energy projects in public schools.
The plan also outlines how the state would spend an estimated $1 billion in additional revenue from the new "millionaire's tax" approved by Massachusetts voters last year.
The $1 billion would be split evenly between education and transportation initiatives.
MASSACHUSETTS HOUSE SPEAKER UNVEILS $654M TAX CUT PLAN
The $500 million for education would include $161 million for the universal school meal program, $100 million for the installation and maintenance of "clean energy" infrastructure projects in schools, and $50 million for Massachusetts students looking to work in high-demand jobs.
The students would have to study at community colleges or state colleges or universities and commit to working in their chosen industry for five years.
Half of the $500 million dedicated to transportation — $250 million — would go to capital investments at the beleaguered Massachusetts Bay Transportation Authority, while another $100 million would go toward highway bridge repairs.
The budget plan would also continue to stash away money in the state's stabilization or "rainy day" fund. The account currently has about $7.1 billion. The proposed budget would bring the total to just over $9 billion, according to Democratic House Ways and Means Chair Aaron Michlewitz.
Building up the state's rainy day account will keep the state's bond rating strong, which will in turn let the state borrow money at a lower interest rate, officials said.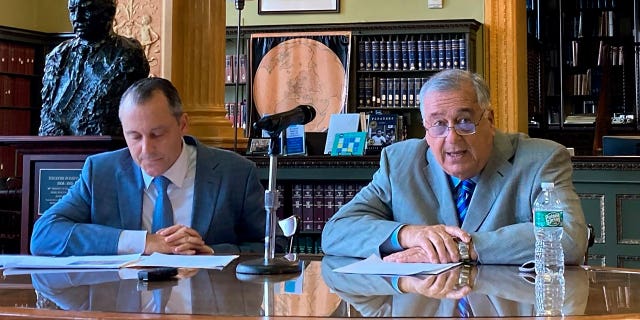 Massachusetts lawmakers, including House Ways and Means Chair Aaron Michlewitz, left, and Speaker Ronald Mariano, unveiled a $56.2 billion budget proposal for the coming fiscal year. (AP Photo/Steve LeBlanc)
The budget proposal also includes $100 million in rate increases for child care providers, $180 million in rental assistance for families, additional eviction protections for renters, and a two-year pilot program to expand eligibility to ConnectorCare, the state's subsidized health insurance program.
The plan calls for the creation of online lottery tickets and games to compete with the introduction this year of online sports betting, with a portion of the funds going to early eduction.
The House budget plan follows the release last month of Democratic Gov. Maura Healey's own $55.5 billion state budget proposal.
Democratic House Speaker Ronald Mariano, a former teacher, said the push for universal school meals would make Massachusetts the fifth state to enact such a program.
"Having spent 12 years in a classroom, I can't stress how important this is," he said. "To know that every student in Massachusetts will not go to school hungry or spend a school day without anything to eat has to ease the minds of all the teachers out there."
GROWING NUMBER OF DEMOCRATIC STATES ARE STOCKPILING ABORTION DRUGS
Healey had called for funding for universal school meals in two supplemental budget proposals to cover the program for the current school year and the next. The program was supported by federal funding during the pandemic. That funding has since dried up.
House lawmakers are expected to begin debate on the spending package near the end of the month.
The unveiling of the budget plan comes a day after Democratic House leaders detailed a $654 million tax relief package for the 2024 fiscal year that begins July 1 aimed at helping seniors, renters, businesses and wealthier homeowners while rewriting the law that sent about $3 billion back to taxpayers last year.
CLICK HERE TO GET THE FOX NEWS APP
The plan, which would increase to $1.1 billion in tax relief for the 2026 fiscal year, followed Healey's release in February of her own proposed $742 million tax relief package.