Maine's largest city is seeking donations to help mitigate the migrant surge after it reopened its historic basketball arena, the Portland Exposition Building, to house hundreds of asylum seekers.
But some residents are not happy with the city's action to overextend its already-limited housing resources as homeless Americans continue to line the streets.
Portland activist Richard Ward suggested Wednesday the municipal priorities may be upside down after claiming the city gave vagrants sleeping bags and tents while migrants were housed in the Expo Center.
NEW HOMELESS SHELTER OPENS IN PORTLAND, MAINE, AFTER YEARS OF PLANNING
"Last year they told the people that were Mainers, Americans that were homeless – they gave them tents and sleeping bags and they kind of did the same thing," Ward told "Fox & Friends First." "The Expo Center was opened up for asylum seekers and then Americans that were homeless were given tents and sleeping bags."
Ward agreed that the city "essentially" told Americans to fend for themselves as officials placed migrants seeking asylum in shelters with access to personal necessities.
The city's spokesperson, Jessica Grondin, told the Portland Press Herald that the cost of running the Expo Center will likely exceed $100,000, and that is why they are seeking donations to help mitigate the cost.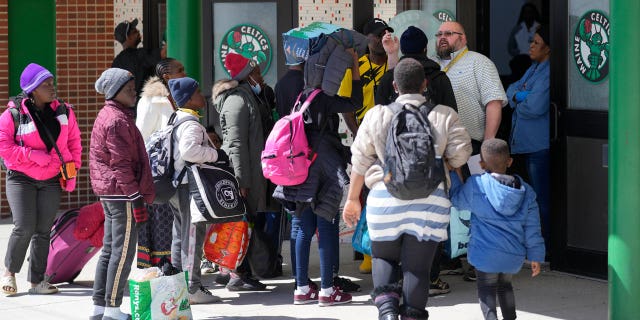 Maine's Portland Exposition Building is being opened to migrants for the second time in recent years amid an immigration surge and concurrent housing shortage. (AP Photo/Robert F. Bukaty)
That same report also alleged it cost the city around $400,000 to run the arena as a migrant shelter back in 2019, and it raised more than $900,000 for the cause in private donations.
The Expo Center reopened Monday and will shelter up to 300 people per night, offering them a bed, three meals a day, health care screenings and immunizations.
DENVER TO SPEND UP TO $20 MILLION ON MIGRANTS IN JUST SIX MONTHS, OFFICIALS SAY
But the city is reaching its maximum capacity for housing migrants, accounting for both the reopening of the arena and another emergency shelter that hit its 208-person capacity on opening night last month, according to Kristen Dow, Portland's director of Health and Human services.
Ward suggested that although the cause to aid those seeking asylum is well-intentioned, Americans battling housing challenges should come first.
"I think we should be taking care of Americans first," Ward said. "It's not that the asylum seekers are bad people. Some of them are great people. But we have Americans here sleeping under bridges, people sleeping in tents. There's just no shelter for them."
"There's not enough housing here for people that even live here, a thousand people is just a huge strain on a city… when there's just no housing available already," he continued.
More than 1,000 migrants have traveled to Portland since the beginning of the year, and the city has provided space and personal essentials for around 1,200 asylum seekers every night through its shelters and hotels.
Many of the migrants are from Angola and Democratic Republic of the Congo.
CLICK HERE TO GET THE FOX NEWS APP
Dow claimed that once the temporary emergency shelter fills to capacity, there will be no more space the city can utilize to accommodate additional asylum seekers.
Nevertheless, Ward demanded action from the governor, urging her to take action to alleviate the housing crisis facing American families in the city.
"The governor, Janet Mills, should go out and see with our own eyes how bad Americans have it here and the homeless crisis that's here in Portland," Ward said. "The city just kind of like lets them go. And as long as they set their tents up, not where, you know, people can really see them all day, then nobody cares."
"The Democratic government here and the Democratic socialists care more about abortion rights and expanding abortion to nine months than they do care about helping homeless people," he continued.
The arena is planned to remain open through August.