A Kentucky facility built to dispose of deadly Cold War-era chemical weapons is nearing the end of its mission to destroy its 520-ton stockpile, a milestone that will likely mark the end of chemical weapons destruction projects in the U.S., officials said Wednesday.
The facility at the Blue Grass Army Depot is weeks away from eliminating the last of a stockpile of 51,000 M55 rockets with GB nerve agent that have been stored at the depot since the 1940s. The GB nerve agent, also known as sarin, a colorless and tasteless toxin, can cause respiratory failure leading to death. It is outlawed under international rules of warfare.
Another stockpile is being eliminated at an Army facility in Colorado, but that effort is expected to conclude before the Kentucky one. The two sites have the country's last remaining chemical weapons that must be disposed of according to a 1997 worldwide treaty.
Military and civilian officials gathered Wednesday at Eastern Kentucky University to speak about the end of the project.
Reif said the weapons are "heinous" and "the suffering they can inflict is unimaginable."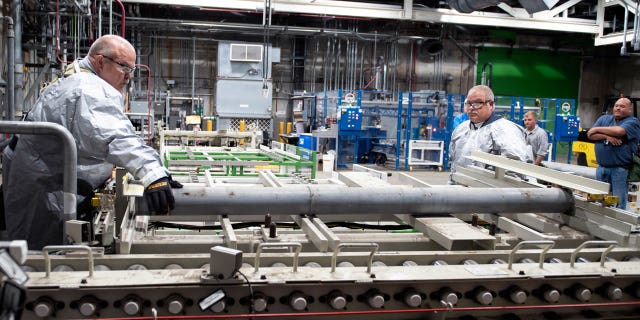 In this photo provided by the U.S. Army, workers at the Blue Grass Chemical Agent Destruction Pilot Plant in Richmond, Kentucky.  (U.S. Army via AP, File)
"Which makes what's being done here in Kentucky all the more important," he said.
Destruction of the Kentucky stockpile began in 2019 after decades of planning and debate over how to dispose of the deadly war weapons.
The neutralization process was settled on in 2006 after outcry from residents and environmental groups that objected to the weapons being burned to eliminate the deadly chemicals.
The weapons kept in Kentucky and an Army facility in Pueblo, Colorado, represent the last 10% of the nation's original stockpile of more than 30,000 tons of chemical weapons.