President Joe Biden's administration on Tuesday pledged an improved effort to combat drug overdoses that claimed the lives of about 100,000 Americans last year, using a White House summit to tout a multifaceted approach to tackle synthetic and illicit drugs such as the powerful opioid fentanyl.
"Today's summit is needed because the global and regional drug environment has changed dramatically from just even a few years ago," Rahul Gupta, director of the White House Office of National Drug Control Policy, told the summit, being held jointly with public health officials from Mexico and Canada.
Gupta added that "synthetic drugs have truly become a global threat."
CALIFORNIA LAWMAKERS ADVANCE OVER A DOZEN BILLS TO COMBAT STATE'S FENTANYL CRISIS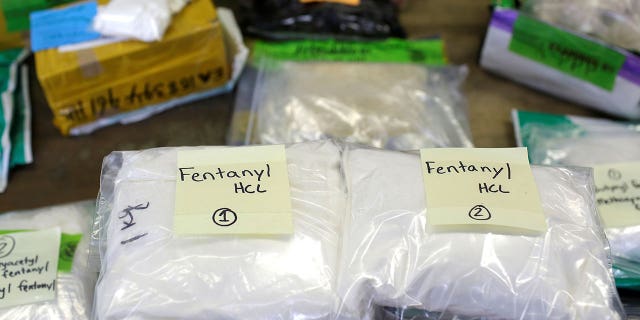 Plastic bags of fentanyl are displayed on a table at a U.S. Customs and Border Protection area in Chicago, Illinois, on Nov. 29, 2017. REUTERS/Joshua Lott (REUTERS/Joshua Lott)
An unprecedented number of people are dying from overdoses and poisonings in the United States, Mexico and Canada every year, Gupta said.
U.S. Health and Human Services Secretary Xavier Becerra said a regional approach to deal with the overdose and addiction crisis is critical.
WHAT IS FENTANYL? HERE'S MORE TO KNOW ABOUT THE DANGEROUS DRUG
The White House in April said the Unites States planned to expand efforts to disrupt illicit financial activities by drug traffickers involved in the fentanyl trade by increasing the use of sanctions.
Some U.S. lawmakers have been calling on the Biden administration to take a harder line and ratchet up pressure on Mexico to crack down on fentanyl trafficking. A handful of Republican legislators have called for the U.S. military to bomb Mexican cartels and their labs inside Mexico – a proposal the Biden administration has not embraced.