Israeli forces killed two Palestinian militants in a flashpoint city in the occupied West Bank Friday, days after Israel concluded a major two-day offensive meant to crack down on militants.
The persistent violence raised questions about the effectiveness of the raid earlier this week in the Jenin refugee camp, which saw Israel launch rare airstrikes on militant targets, deploy hundreds of troops and cause widespread damage to roads, homes and businesses. As a result of the raid, 12 Palestinians and one Israeli soldier were killed.
The Israeli domestic security agency Shin Bet said Friday the two men, who it said were behind a shooting attack this week on a police vehicle, were killed in a gun battle with Israeli forces in the heart of the city of Nablus, the West Bank's commercial capital.
The Palestinian Health Ministry said two men were killed by Israeli fire, identifying them as Khayri Mohammed Sari Shaheen, 34, and Hamza Moayed Mohammed Maqbool, 32. Two militant groups, the Popular Front for the Liberation of Palestine and the Al-Aqsa Martyrs Brigade, claimed the men as members.
"There will be no loop that isn't closed and there won't be a terrorist who doesn't pay the heaviest price," he said.
Friday's deaths are part of a year-long spiral violence that shows no signs of abating, despite the fierce Israeli operation this week in the Jenin refugee camp. They follow a shooting on Thursday by a Hamas militant near an Israeli West Bank settlement that killed an Israeli soldier.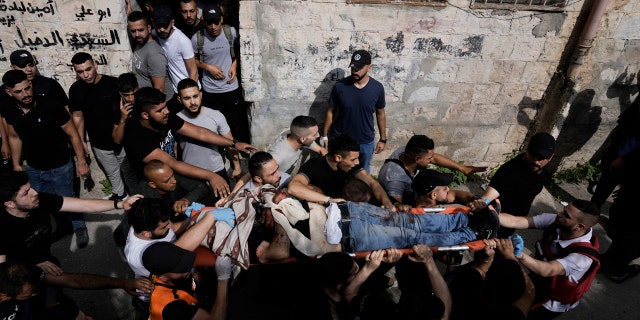 Palestinians carry the body of a man killed during an Israeli military raid in the West Bank city of Nablus, on July 7, 2023. 
Israel has been staging raids in the West Bank for 16 months, in response to a spate of Palestinian attacks against Israelis last spring. The northern West Bank, which includes Nablus and Jenin and where the Palestinian Authority has less of a foothold, has been a major friction point during that period.
CLICK HERE TO GET THE FOX NEWS APP
Over 150 Palestinians have been killed this year in the West Bank, and Palestinian attacks targeting Israelis have killed at least 27 people, including a shooting last month that killed four settlers.