EXCLUSIVE: Republican Rep. Andy Barr is rolling out legislation that would prohibit banks from denying fair access to financial services under the standards of "woke corporate cancel culture," and prevent financial institutions from being weaponized for political purposes.
Fox News Digital exclusively obtained the text of his bill, the "Fair Access to Banking Act," before Barr, R-Ky., introduced it in Congress.
"Banks should make lending decisions relying on objective, risk-based metrics, not the standards of woke corporate cancel culture," Barr told Fox News Digital. "My legislation codifies the Fair Access Rule to ensure that Radical environmentalists, gun control advocates, crypto antagonists and other political activists cannot weaponize financial institutions in their fight to achieve their political agenda."
Barr's bill is a companion bill to one introduced in the Senate by Sen. Kevin Cramer, R-N.D.
REPUBLICAN STATES ARE PLANNING AN ALL-OUT ASSAULT ON WOKE BANKS: 'WE WON'T DO BUSINESS WITH YOU'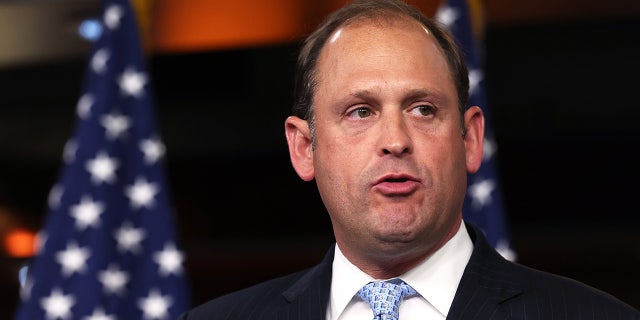 Rep. Andy Barr, R-Ky., is preparing legislation aimed at fighting 'woke' guidelines at U.S. financial institutions. (Photo by Kevin Dietsch/Getty Images) (Kevin Dietsch/Getty Images)
"I am proud to partner with Senator Cramer on this crucial bill to stop the politicization of access to capital that threatens jobs and compromises our nation's values," he said.
The "Fair Access to Banking Act" would require banks with more than $100 billion in total consolidated assets to provide fair access to bank services, capital and credit. It would also require covered banks to "provide written justification for why it is denying a person financial services to avoid ambiguity" and to ensure that banks are "not basing their denial of service solely on reputational risk."
21 STATES THREATEN BANKS WITH LEGAL ACTION OVER WOKE POLICIES: 'STAY IN YOUR LANE'
The bill would prohibit those banks from using discount window lending programs and would terminate their status as an insured depositary institution, with FDIC backing, if they refuse business with any individual. It could also lead to penalties against credit unions that refuse to do business with any person in compliance with the law.
The legislation comes in response to U.S. banks and financial institutions allegedly using their economic standing to exclude the fossil energy and firearms industries, among others, from accessing services. Republicans have been fighting back against these sorts of environmental, social and governance (ESG) goals that more companies are taking on.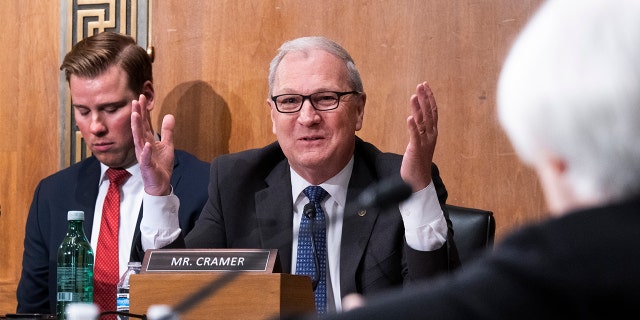 Sen. Kevin Cramer, R-N.D., has proposed the same bill in the Senate. (Photo by Tom Williams-Pool/Getty Images) (Tom Williams-Pool/Getty Images)
Fox News Digital also obtained a "Dear Colleague" letter Barr wrote to Republicans in the House explaining the measure to garner support for the bill that would "stop the politicization of capital allocation."
"Over the last several years we have witnessed financial firms publicly commit not to do business with certain legal companies in politically unpopular industries (e.g., fossil energy, firearms, crypto)," Barr wrote. "These decisions often were not based on the creditworthiness or financial soundness of the customer, but rather were driven by a number of non-pecuniary factors."
Barr said "political pressure from vocal critics on the left, public relations pressure from activist groups, or the moral judgment of company leadership all contributed."
PNC BANK ENDS BUSINESS RELATIONSHIP WITH DONALD TRUMP JR'S MXM NEWS APP COMPANY 'WITHOUT CAUSE'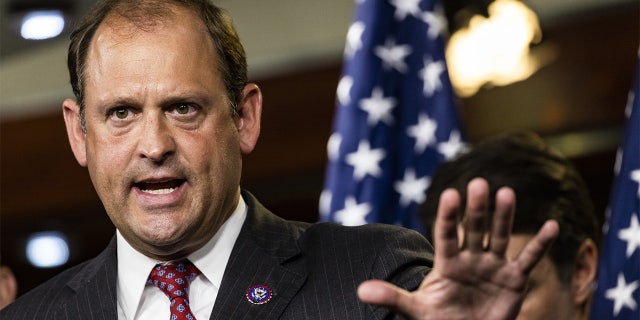 Barr and other Republicans have been fighting back against ESG policies at companies. Photographer: Samuel Corum/Bloomberg via Getty Images (Getty Images)
"None of those factors should play a role in determining which legally operating business receives financial services," Barr said. "Any decision should rely on objective, risk-based underwriting standards.
He added: "The politicization of access to capital threatens jobs and compromises entire industries based on the opinions of a select few."
Barr currently has more than three dozen co-sponsors in the House, including House GOP Conference Chair Elise Stefanik, Reps. Guy Reschenthaler, Debbie Lesko, Don Bacon, Dan Bishop, Kat Cammack, Beth Van Duyne, Carlos Giménez, Darrell Issa, Ryan Zinke, Buddy Carter, among others.
CLICK HERE TO GET THE FOX NEWS APP
The bill is also supported by the National Shooting Sports Foundation (NSSF), Kentucky Coal Association, National Rifle Association (NRA), and the Blockchain Association.