A woman in Germany was dubbed a "brutal blonde" by European media after she dragged a climate change activist from blocking traffic as the public's patience wears thin with the frequent protests on roadways.
The video showed a woman screaming at a climate change protester to "get up" from blocking a road in Bottrop, Germany, according to a video posted by an activist group.
Then, the woman grabbed the activist by her hair and dragged her to the side of the road. When the girl returned to block the road, the German woman dragged her by the hair a second time.
The activist was lightly injured in the altercation, police in Recklinghausen said. Police said they were looking into videos and photos of the incident to determine if criminal proceedings were necessary against those who dragged the protesters off the road. They also said the climate activists were taken into custody.
The activist methods also included gluing their hands to the road, so they cannot be removed without the fire department chipping out the cement underneath their hands. One activist screamed in pain as a responder tried to free his hand, according to a video that circulated on Twitter.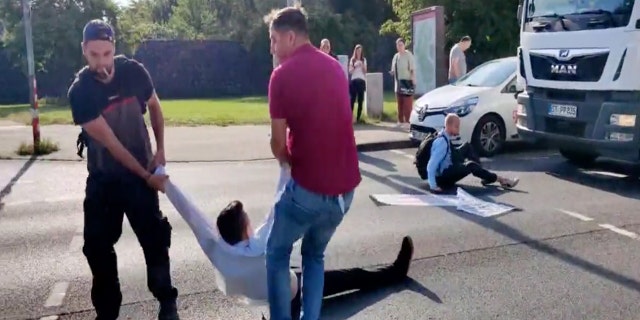 Climate change activist group called "The Last Generation" posted a video on Twitter of an activists being dragged off of a road.  (Twitter/screenshot)
Activists from the group blocked plane traffic at two airports on Thursday by gluing themselves to the runways in protest against mass transit pollution, causing hours of delays and dozens of cancelations.
UTAH SCHOOL GIVES KIDS 'DISGUSTING' INSECTS TO EAT IN CLASS FOR CLIMATE ASSIGNMENT ON COWS KILLING THE EARTH
CLICK HERE TO GET THE FOX NEWS APP
"Instead of presenting a concrete plan to prevent this and to reach the emissions-reduction target called for by law, the Transport Ministry is relying on 'technological flexibility,'" the group wrote in a statement following the airport protests.
Peter Aitken contributed to this report.