As Congress considers ways to avoid defaulting on the nation's debt, the latest Fox News survey finds most voters see the national debt situation as a major problem, if not a crisis. And while majorities also see the funding of Social Security as a problem or crisis, they would rather continue funding entitlement programs than reduce the federal budget deficit.
While a large majority call the debt situation a major problem (50%), if not a crisis (28%) – fewer feel that way than did a decade ago. That 28% describing it as a crisis is down from 40% in 2013 (when the question was last asked). The drop is driven more by Republicans: 39% call it a crisis, while 54% did in 2013. Among Democrats, 17% say it's a crisis now vs. 25% previously.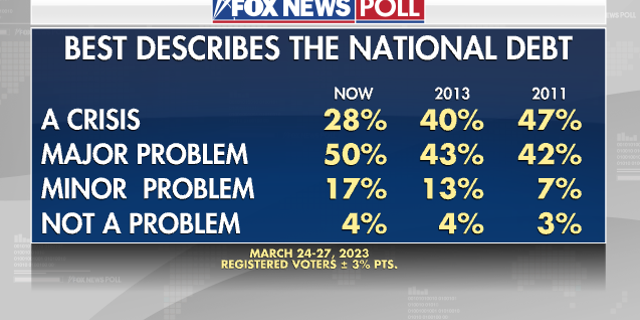 Fox News Poll on the national debt (Fox News Poll)
Overall, two-thirds describe the funding of Social Security as a crisis (21%) or major problem (43%), which is about the same as in 2013.
FOX NEWS POLL: MORE VOTERS FEEL STING OF INFLATION
Moreover, the poll finds 71% think it is more important to fund the entitlement programs at their current levels than reduce the deficit (26%).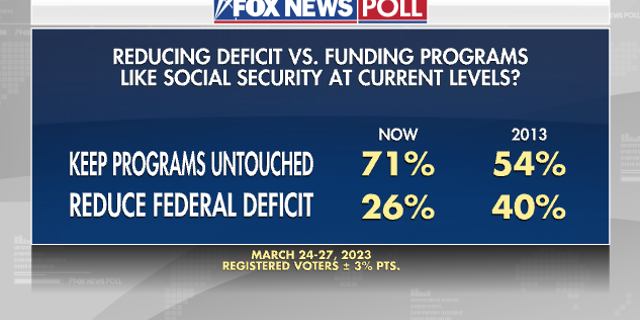 Fox News Poll on the deficit and social security (Fox News Poll)
That's a major change from a decade ago, when a slim majority (54%) said continuing funding programs was important and 40% preferred cutting the budget (April 2013).
Key groups across the board are all more inclined to subsidize Social Security and Medicare than they were 10 years ago, including double-digit surges among Democrats (+12 points), Republicans (+19 points), and independents (+25).
On a big picture question about the role of government, a quarter of voters (25%) think the government provides about the right amount of services, but over a third (36%) feel there are too few services — up 13 points since 2015 (last time this question was asked). That shift is powered by Democrats (+10), Republicans (+12), and independents (+20).
Alongside that, there is a decrease in those saying Uncle Sam gives too many services (37% vs. 49% in 2015), and that includes similar decreases among the partisans.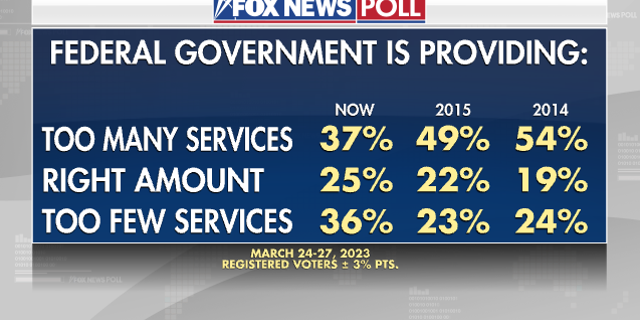 Fox News Poll on entitlement services (Fox News Poll)
When it comes to specific measures to help reduce the budget deficit, voters are clear: don't touch entitlement programs or raise my taxes.
Majorities, including Democrats, Republicans, and independents, oppose reducing Social Security benefits for some future retirees (82% oppose), increasing income tax rates for all Americans (80%), and raising the age for Medicare from 65 to 67 (66%).
On the other hand, majorities favor offering private retirement account options for younger Americans (70% favor) and increasing taxes on incomes over $400,000 a year (68%) and businesses and corporations (63%). Majorities of Democrats and independents support all three proposals, and while majorities of Republicans support private accounts and increasing income tax on the wealthy, fewer than half support increasing taxes on businesses.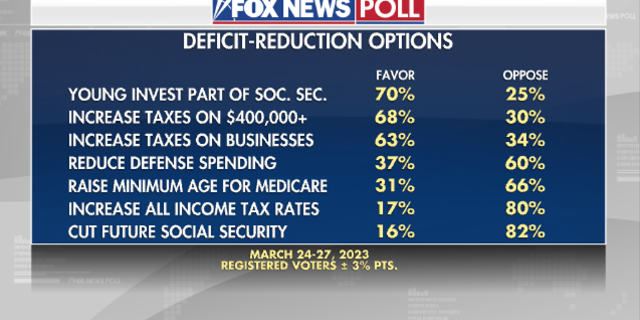 Fox News Poll on reducing the deficit (Fox News Poll)
FOX NEWS POLL: TOP 5 TAKEAWAYS ON BIDEN'S ECONOMY PROBLEMS
"It's clear that any proposals to reduce entitlement benefits will be met with fierce bipartisan resistance," says Democratic pollster Chris Anderson who conducts the Fox News Poll with Republican Daron Shaw. "There is some tinkering that could be done around the edges, but the proposition that entitlements need to be reduced to decrease the deficit is a non-starter."
CLICK HERE TO GET THE FOX NEWS APP
There's disharmony on reducing defense spending: 52% of Democrats favor the idea while 73% of Republicans are opposed. Overall, 60% oppose the option (37% favor).
CLICK HERE FOR TOPLINE AND CROSSTABS
Conducted March 24-27, 2023, under the joint direction of Beacon Research (D) and Shaw & Company Research (R), this Fox News Poll includes interviews with 1,007 registered voters nationwide who were randomly selected from a voter file and spoke with live interviewers on both landlines and cellphones. The poll has a margin of sampling error of plus or minus 3 percentage points for all registered voters.