A federal judge granted a request Wednesday from a coalition of 24 states and several industry groups to block environmental regulations redefining how water sources are protected.
Judge Daniel Hovland of the U.S. District Court for the District of North Dakota ruled that the so-called Waters of the United States (WOTUS) rule announced by the Environmental Protection Agency (EPA) in late December poses "great" risks to states. The judge also ruled that the federal government should wait until the Supreme Court soon rules on a related case pending before it.
"A balancing of the harms and an analysis of the public interest supports a finding that the risk of harms to the States is great," Hovland wrote. "There is little public interest or any efficiency gained by implementing a new rule which codifies the 'significant nexus' test before the United States Supreme Court issues a decision in Sackett."
"Common sense dictates that it only makes sense to wait," he continued in his decision. "There is no urgency to implement the 2023 Rule. The Supreme Court's decision in Sackett will be issued by June 2023 and will likely address many of the unresolved legal issues and jurisdictional determinations at the heart of this lawsuit."
FARMERS SLAM BIDEN OVER LATEST ECO REGULATION TARGETING BUSINESSES: 'FEDERAL OVERREACH'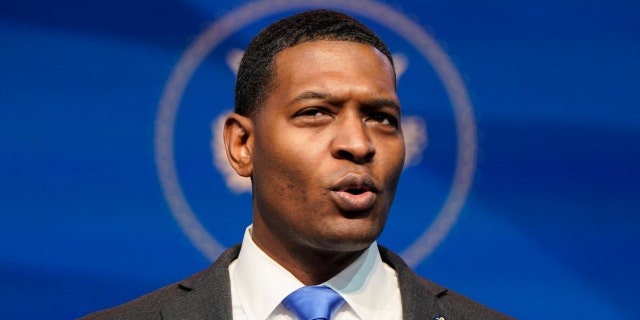 Environmental Protection Agency Administrator Michael Regan said in December that the WOTUS regulation "safeguards our nation's waters." (Joshua Roberts/Getty Images)
On Dec. 30, the final working day of 2022, the EPA and the U.S. Army Corps of Engineers quietly announced they had approved the WOTUS regulation and that it would be implemented in March. After announcing it, EPA Administrator Michael Regan said the rule "safeguards our nation's waters."
The rule ultimately opens the door for the federal government to regulate wetlands, lakes, ponds, streams and "relatively permanent" waterways, largely mimicking a pre-2015 environmental rule set during the Obama administration which implemented the changes in an effort to curb water pollution. The regulation is a broad interpretation of which water sources require protection under the Clean Water Act.
NEARLY 200 GOP LAWMAKERS BLAST BIDEN'S EPA FOR TARGETING FARMERS, RANCHERS: 'EGREGIOUS FEDERAL OVERREACH'
However, in its lawsuit filed in February, the 24-state coalition — led by West Virginia, Georgia, Iowa and North Dakota — argued the regulations were an example of federal overreach and an attack on their sovereign authority regulating bodies of water and surrounding land.
"This is a victory for the states because this rule, if allowed to be implemented, will upset the balance of power between the states and the federal government without clear statement from Congress," West Virginia Attorney General Patrick Morrisey said Wednesday in a statement. "It's a decades-long effort by the EPA to regulate purely intrastate waters without the explicit consent of lawmakers. It creates unneeded delays and costs for farmers, contractors, ranchers and anyone who cares about economic activity."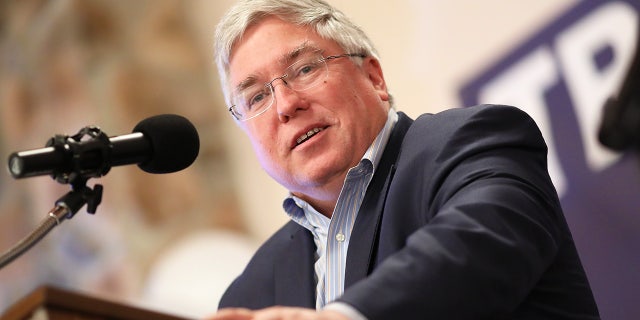 West Virginia Attorney General Patrick Morrisey speaks in Inwood, West Virginia, on Oct. 22, 2018. (Win McNamee/Getty Images)
"You cannot regulate a puddle as you do a river and doing so will never give us cleaner water, which is what we all want," Morrisey continued. "This rule would harm jobs and economic growth by taking jurisdiction from states and asserting federal authority over nearly any body of water, including roadside ditches, short-lived streams and many other areas where water may flow only once every 100 years."
A series of industry groups — including the American Farm Bureau Federation, American Petroleum Institute, National Association of Realtors, National Cattlemen's Beef Association, National Corn Growers Association and National Mining Association — also entered the lawsuit as intervenor-plaintiffs.
Meanwhile, the Senate and House both passed a bipartisan resolution earlier this year overturning the WOTUS regulation. President Biden vetoed the bill on April 6.
And in October, the Supreme Court heard arguments in Sackett v. EPA, a case concerning a property owner in Idaho whose home construction was denied by the EPA due to a WOTUS violation. The high court is expected to hand down a ruling in the case by June.