The European Union unveiled a massive $55 billion, multi-year proposal to rebuild Ukraine this week as the war with Russia still rages on.
On the eve of the Ukraine Recovery Conference in London Wednesday, the European Commission announced a proposal for a dedicated financing instrument to foresee up to €50 billion ($55 billion) from 2024 to 2027, "to help Ukraine resist the aggression and rebuild a modern, prosperous country."
The European Commission, the executive arm of the EU, said the new "Ukraine Facility" will support "Ukraine's efforts to sustain macro-financial stability, promote recovery as well as modernize the country whilst implementing key reforms on its EU accession track," as well as, "support the transition towards a green, digital and inclusive economy that is progressively aligned with EU rules and standards."
The facility also opens the possibility to use contributions from other donors as well as revenue generated by frozen and immobilized Russian assets as a contribution to Ukraine's recovery and reconstruction, according to the commission, which noted, "work is ongoing on the possible use of Russian assets for Ukraine's recovery and reconstruction."
Meanwhile, Ukraine's allies pledged several billion dollars in non-military aid on Wednesday to rebuild its war-ravaged infrastructure, fight corruption and help pave the membership in the European Union.
Stressing the vast scale of the task, diplomats and political leaders at the Ukraine Recovery Conference in London urged private-sector companies to invest and revive an economy battered by almost a year and a half of war. Delegates from more than 60 countries attended the conference, which is both a fundraising forum and a message to Russia that Ukraine's allies are in it for the long haul.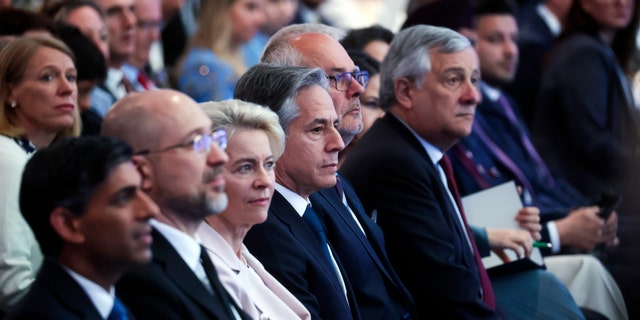 President of the European Commission Ursula von der Leyen, U.S. Secretary of State Antony Blinken and others attend the Ukraine Recovery Conference in London, Wednesday, June 21, 2023. (Leah Mills/Pool Photo via AP)
Secretary of State Antony Blinken said the U.S. would give more than $1.3 billion in new aid, including more than $500 million to restore and improve Ukraine's battered energy grid.
Ukraine President Volodymyr Zelenskyy, who addressed delegates by video, said his country needed action.
"We must move from vision to agreements and from agreements to real projects," he said. "We are only waiting for the courage of the alliance leaders to recognize this reality, politically."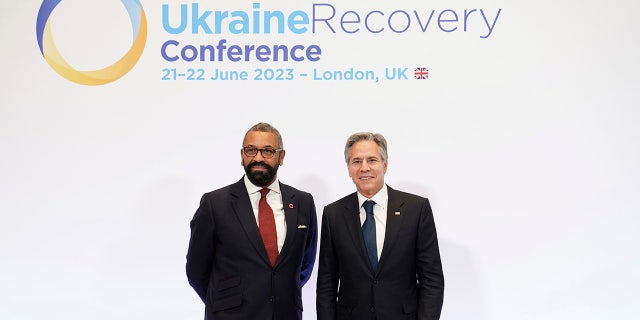 British Foreign Secretary James Cleverly, left, welcomes Secretary of State Antony Blinken at the Ukraine Recovery Conference in London, Wednesday, June 21, 2023. (Stefan Rousseau/Pool Photo via AP)
Many say Ukraine needs the equivalent of the Marshall Plan that helped rebuild Europe after World War II. Its infrastructure had been decimated by Russian attacks even before the collapse of the Kakhovka dam this month after an explosion flooded some 25,000 acres of land and displaced thousands of people.
"Reconstruction is already happening. It's part of our resistance," Oleksandra Azarkhina, Ukraine's deputy minister for communities, territories and infrastructure development told Politico. "Ukraine needs help — not just on the battlefield, but in terms of private and public investment."
The Associated Press contributed to this report.