Former Colorado state senator Mike Johnston claimed victory as opponent Kelly Brough conceded Tuesday night in a runoff election to become Denver's next mayor.
Unofficial results showed Johnston with 54.05% of the vote to 45.95% for Brough late Tuesday night. Johnston was ahead by 8,000 votes shortly after polls closed and that lead grew to nearly 11,000 votes as the night went on.
Johnston will be the city's first new mayor in more than a decade, replacing Michael Hancock, who was elected in 2011 and was term-limited.
DENVER'S MORE MODERATE MAYORAL CANDIDATES PULL FAR AHEAD IN PROGRESSIVE FIELD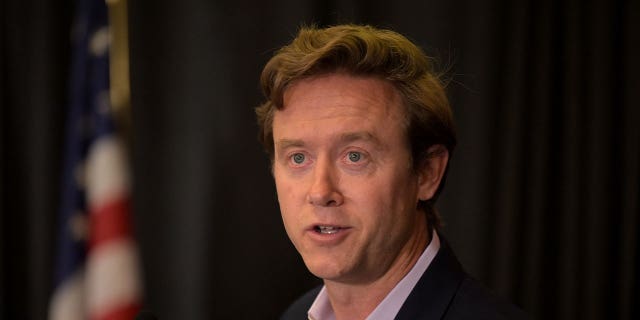 Former state Sen. Mike Johnston speaks in Denver, Colorado, on May 11, 2023. Residents of Denver have elected former state Sen. Mike Johnston as the city's first new mayor in more than a decade. (Hyoung Chang/The Denver Post)
The job of Denver mayor has launched careers, notably that of John Hickenlooper, a Democrat who went on to become Colorado's governor and is now a U.S. senator. Another Democratic mayor, Frederico Peña, went on to become U.S. Energy Secretary under former President Bill Clinton.
Peña endorsed Johnston, who also had a larger warchest, including nearly $5 million raised from outside contributions.
A tech and aerospace hub, the Denver metro area's population has almost doubled over the past three decades, reaching 3 million. Fears that rapidly growing Denver is lurching toward a fate like other major cities defined the race.
Johnston, who got slightly more votes than Brough in the April election, has said voters want the next mayor to do a good job of taking multiple approaches to problems.
"We do have the same problems that San Francisco and Seattle face," he said in April. "If we get that wrong, you end up like a lot of other big cities where no middle class people can live."
CLICK HERE TO GET THE FOX NEWS APP