Democrats in the House and Senate on Thursday introduced a bill that would give immigrants immediate access to a range of federal benefits instead of making them wait five years.
Congress passed legislation in 1996 requiring most immigrants to wait five years after obtaining their official immigration status before they can access Medicaid, food stamps and other federal programs. That requirement was passed as part of the Personal Responsibility and Work Opportunity Reconciliation Act, which the House and Senate passed by 3-to-1 margins and President Bill Clinton signed into law.
But under the bill from Reps. Pramila Jayapal, D-Wash., and Tony Cardenas, D-Calif., and Sen. Mazie Hirono, D-Hawaii, that five-year waiting period would no longer apply. Democrats said the "arbitrary" five-year waiting period makes it harder for immigrants to obtain "critical benefits and services."
CALIFORNIA BORDER PATROL CHIEF SLAMS 'SANCTUARY' LAW AFTER ILLEGAL IMMIGRANT TAKES LIFE DURING DUI
"As an immigrant who came to this country alone at the age of 16, I'm proud to be leading this legislation to finally eliminate cruel, xenophobic, and unreasonable barriers to health care, nutrition assistance, and other life-changing public benefits," Jayapal said in a statement about her bill, the LIFT the BAR Act. "Immigrants and families should not have to wait to access these basic services."
"For more than 25 years, unjust policies have prevented millions of lawfully present immigrants from accessing critical services and programs, including quality health care, food and housing assistance, economic support, and more," added Hirono.
TEXAS CONGRESSMAN PROPOSES DNA TESTING TO DETERMINE ILLEGAL ALIEN'S FAMILY TIES TO A MINOR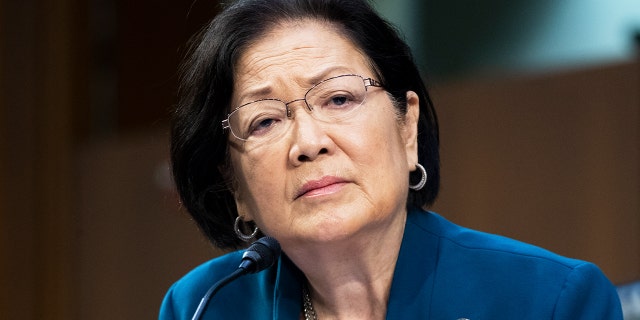 Sen. Mazie Hirono, D-Hawaii, said immigrations need access to "critical" federal benefits in order to survive in America.   (Tom Williams-Pool/Getty Images)
Groups that support the Democrat bill, however, say ending the five-year wait for federal benefits is needed to ensure these migrants succeed in America.
"Removing arbitrary barriers to health, nutritional support, housing assistance and other important public programs would bring us closer to a society in which all of us have the freedom to thrive," said Kica Matos, president of the National Immigration Law Center.
CLICK HERE TO GET THE FOX NEWS APP