President Biden on Wednesday awarded the Medal of Valor, the highest award the U.S. can bestow on a public safety officer, to nine recipients for 2021 and 2022, including posthumously to two NYPD officers shot and killed in the line of duty while responding to a 911 call.
"There's no greater responsibility of government than assure the safety of the American people and those who serve and protect us all. We're incredibly proud of all of you. And I mean that, incredibly proud, all of you. And we're going to have your back as long as we need to. As long as you're engaged," Biden said in the East Room of the White House.
In the past two weeks, the president noted how the country observed a National Fallen Firefighters Memorial Weekend, National Police Weekend, and National Peace Officers' Memorial Day. Biden said he has hosted the Medal of Valor event several times as president and vice president and co-sponsored the bill that created the Medal of Valor when he was a U.S. senator.
"These are some most meaningful things that I do as president, because knowing you, meeting your families, looking in your eyes, seeing your courage gives me so much hope for the country." Biden, who recently announced he'd seek re-election in 2024, said. "You represent – this is not hyperbole – represent the very best of us. You represent the best of who we are as Americans. God bless you all. May God protect public safety officers and families."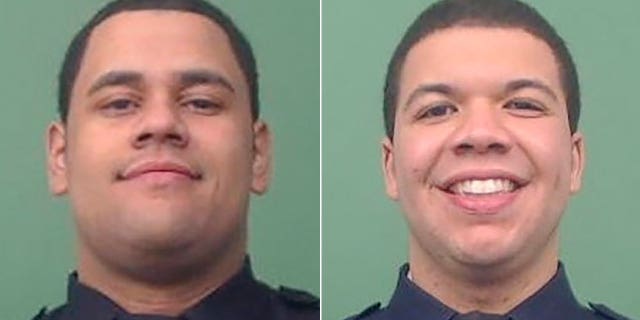 NYPD Officers Wilbert Mora, left, and Jason Rivera. The two officers were shot while responding to a call in the Harlem neighborhood of New York, Jan. 21, 2022. (NYPD via AP, File)
The funerals for Mora and Rivera drew a sea of blue mourners who demanded Democratic Mayor Eric Adams, a former police officer himself who had newly taken office at the time, address surging violent crime in the Big Apple since 2020.
Rivera, 22, had been a police officer for barely a year. Mora, 27, was in his fourth year on the job. All three were promoted to detective – the fallen officers posthumously and Sulan in a ceremony where he was given detective shield No. 332, a symbol of the three from the 32nd precinct where they worked in Manhattan.
The other Medal of Valor recipients awarded Wednesday were Lt. Jason Hickey, Lt. Justin Hespeler and Firefighter Patrick Thornton, all of the New York City Fire Department; as well as Cpl. Jeffrey Farmer, of the Littletown, Colorado, Police Department; Deputy Bobby Pham of the Clermont County Sheriff's Office in Ohio, and Sgt. Kendrick Simpo of the Houston, Texas, Police Department.
Thornton, aboard an FDNY boat, saved a man trapped under a capsized vessel in the waters off the coast of Staten Island. Hickey was on the FDNY's marine training unit when he got a distress call of a man in the Harlem River, a tidal strait that flows swiftly between the Hudson and East Rivers. He jumped in and saved the man from drowning.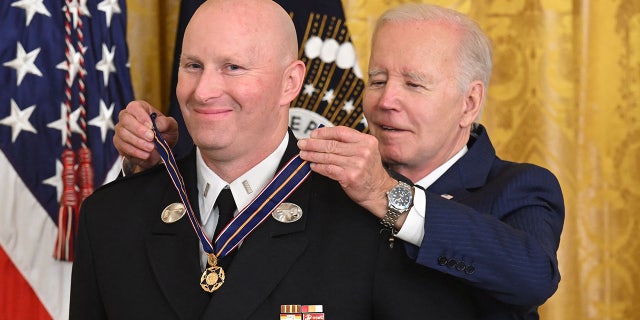 President Joe Biden awards the Medal of Valor to FDNY Lt. Justin Hespeler during a ceremony in the East Room of the White House on May 17, 2023. (Saul Loeb/AFP via Getty Images)
Farmer was responding to a call of shots fired possibly out of a car window, and chased the suspect to the door of an apartment, where the man opened fire, hitting Farmer's partner. Farmer worked to fend off the shooter, then, realizing an ambulance was too far away, dragged his partner into his police car and drove him to the hospital himself, saving his life.
CLICK HERE TO GET THE FOX NEWS APP