"Squad" member Rep. Alexandria Ocasio-Cortez, D-N.Y., was blasted as a "total fraud" online after her infamous "accent" video re-emerged.
Ocasio-Cortez caught flak in 2019 for appearing to use an "accent" at the Rev. Al Sharpton's National Action Network convention that year.
The Democratic socialist congresswoman was responding to critics who pointed to her past employment as a bartender that she called attempts at delegitimizing her as a lawmaker.
AOC MOCKED FOR 'ACCENT' AT SHARPTON EVENT; COMPARED TO HILLARY CLINTON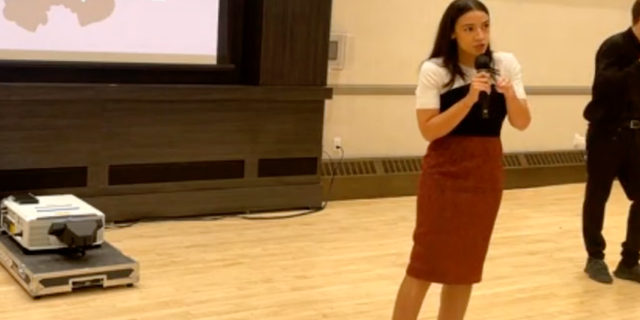 Ocasio-Cortez caught flak in 2019 when she used an "accent" at the Rev. Al Sharpton's National Action Network convention that year. (RepAOC/Youtube )
The footage of her speech made its way around the internet again on Tuesday when the Twitter account End Wokeness reposted the video cut with a recent video she made about former President Donald Trump where she was not using the accent.
End Wokeness blasted Ocasio-Cortez as a "total fraud" and pointed out her "accent before and after."
"When Donald Trump tapped into this idea of Make America Great Again, there was times of economic opportunity," Ocasio-Cortez said in the recent video. "Wages rose until the 1970s."
"I'm proud to be a bartender. Ain't nothing wrong with that," Ocasio-Cortez said in 2019. "There's nothing wrong with working retail, folding clothes for other people to buy. There is nothing wrong with preparing the food that your neighbors will eat. There is nothing wrong with driving the buses that take your family to work. There is nothing wrong with being a working person in the United States of America and there is everything dignified about it."
She added that she feels "encouraged" when people remind her of her past because it shows that if she can "work in a restaurant and become a member of the United States Congress, so can you."
Other users reacted to the video, with former GOP congressional candidate Kimberly Klacik quipping, "Was this an SNL skit, [Ocasio-Cortez]?"
"Fox and Friends Weekend" co-host Will Cain said Ocasio-Cortez's "pander is on point."
Other users defended the congresswoman, with NK News editor Oliver Jia tweeting that he is "no AOC fan but this is petty nonsense to be making a case about."
"Politicians from both parties change the cadence of their voice all the time depending on the audience," Jia wrote. "It's also common for people from certain backgrounds to code switch depending on who they're with."
Fox News Digital reached out to Ocasio-Cortez's office for comment on the video but received no response.
Ocasio-Cortez's speech was not well-received in 2019, with the congresswoman being compared to failed Democratic presidential candidate Hillary Clinton, whose dialect appeared to change for different audiences on the campaign trail.
CLICK HERE TO GET THE FOX NEWS APP
Amid the negative reaction to her speech, Ocasio-Cortez took to Twitter to respond to the criticism, pointing to her upbringing in the Bronx and explaining that she talks differently when she's "fired up."
"As much as the right wants to distort & deflect, I am from the Bronx. I act & talk like it, *especially* when I'm fired up and especially when I'm home," Ocasio-Cortez tweeted. "It is so hurtful to see how every aspect of my life is weaponized against me, yet somehow asserted as false at the same time."
Fox News Digital's Joseph Wulfsohn contributed to this report.