The White House said there have been "other intercepts" of U.S. aircraft by Russian aircraft in the last few weeks, in addition to the collision that led to the downing of a U.S. drone after it was hit by a Russian plane.
A Russian Su-27 fighter plane collided with a U.S. MQ-9 Reaper drone, which was conducting "routine operations" over the Black Sea on Tuesday. The jet in question was one of two Su-27's flying in tandem when the collision occurred in international airspace over international waters.
John Kirby, White House National Security Council director of strategic communications, said President Joe Biden has been briefed on the matter but admitted that Russian intercepts are nothing new.
"It is not uncommon for there to be intercepts by Russian aircraft of U.S. aircraft over the Black Sea, and so this is not an uncommon occurrence," Kirby told reporters Tuesday. "And there have been even in just recent weeks, there have been other intercepts."
RUSSIAN JET COLLIDES WITH US DRONE IN INTERNATIONAL AIRSPACE OVER BLACK SEA, OFFICIAL SAYS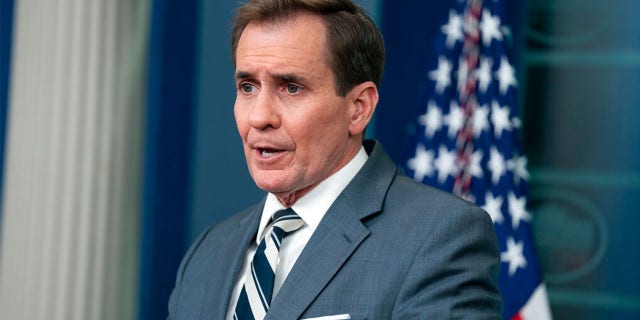 National Security Council spokesman John Kirby speaks during a press briefing at the White House on March 2, 2023. (AP Photo / Evan Vucci)
Tuesday's intercept, though, according to Kirby, is "noteworthy because of how unsafe and unprofessional it was."
The drone's propeller was damaged in the collision, forcing the unmanned aerial vehicle to ditch in the Black Sea, west of Crimea, a U.S. defense official told Fox News.
Kirby said this intercept was "reckless" and caused the "downing of one of our aircraft."
RUSSIA SACRIFICING MERCENARY FORCES AS 'LIVE MEAT' AFTER WAGNER GROUP WARLORD LOSES 'PUTIN'S TRUST'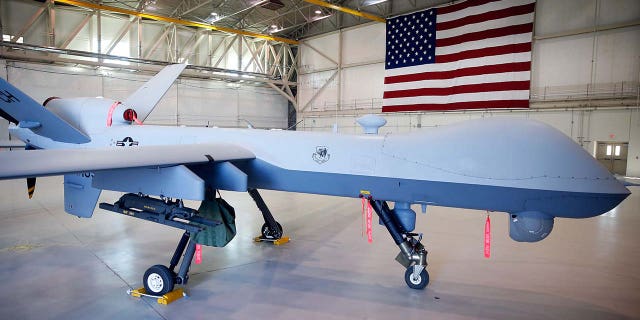 A MQ-9 Reaper drone (Isaac Brekken / Getty Images)
"So, it's unique in that regard," Kirby said.
Kirby said the U.S. drone "was operating in international airspace over international waters and posed a threat to nobody."
"And it was an unsafe and unprofessional intercept," he added.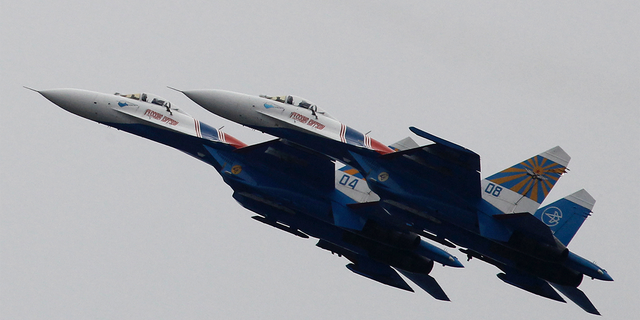 A pair of Su-27 fighter planes (Reuters / Sergei Karpukhin / File)
US INTEL COMMUNITY WARNS OF 'COMPLEX' THREATS FROM CHINA, RUSSIA, NORTH KOREA
U.S. European Command and U.S. Air Forces in Europe – Air Forces Africa (USAFE-AFAFRICA) issued a statement on the incident, reporting the events leading up to the collision and admonishing the Russian military for "a pattern of dangerous actions" in international airspace.
"At approximately 7:03 AM (CET), one of the Russian Su-27 aircraft struck the propeller of the MQ-9, causing U.S. forces to have to bring the MQ-9 down in international waters," the statement said. "Several times before the collision, the Su-27s dumped fuel on and flew in front of the MQ-9 in a reckless, environmentally unsound and unprofessional manner. This incident demonstrates a lack of competence in addition to being unsafe and unprofessional."
"This incident follows a pattern of dangerous actions by Russian pilots while interacting with U.S. and allied aircraft over international airspace, including over the Black Sea. These aggressive actions by Russian aircrew are dangerous and could lead to miscalculation and unintended escalation," the statement continued.
CLICK HERE TO DOWNLOAD THE FOX NEWS APP
"Our MQ-9 aircraft was conducting routine operations in international airspace when it was intercepted and hit by a Russian aircraft, resulting in a crash and complete loss of the MQ-9," said Gen. James B. Hecker, commander, USAFE-AFAFRICA. "In fact, this unsafe and unprofessional act by the Russians nearly caused both aircraft to crash.
"U.S. and allied aircraft will continue to operate in international airspace, and we call on the Russians to conduct themselves professionally and safely."
Fox News' Liz Friden and Timothy H.J. Nerozzi contributed to this report.