An innocent-sounding character named "Huggy Wuggy" may be used to scare young kids, according to media reports.
Huggy Wuggy is a character from the October 2021 video game "Poppy Playtime," described as a "horror/puzzle adventure" in which the player attempts to "survive the vengeful toys waiting for you in the abandoned toy factory," notes the Steam page for "Poppy Playtime."
During gameplay in the first chapter, players realize they are being followed by Huggy Wuggy, one of the toys that was created in the now-abandoned factory.
KIDS PLAYING 'SQUID GAME' ON PLAYGROUND WITH HITTING, KICKING, SCHOOLS WARN
The character became popular on YouTube after the initial release of "Poppy Playtime."
Many Huggy Wuggy fans made videos that garnered millions of views.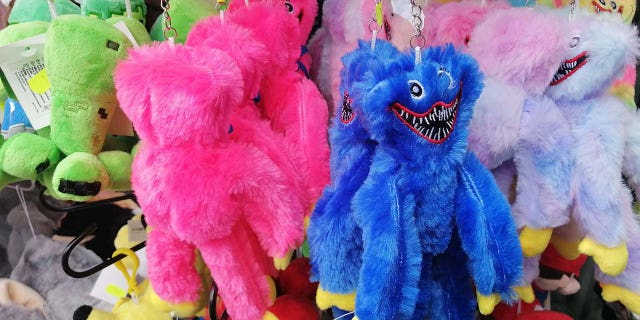 Stuffed Huggy Wuggy toys of various colors are shown for sale in Poland.  (iStock)
Knockoffs of the toy based on the video game character can now be found on the streets of New York City at souvenirs stands and around the world at street vendors, according to The New York Times.
Fox News Digital reached out to Playtime Co., the official Huggy Wuggy merchandise retailer, for comment regarding questions about the product.
Huggy Wuggy also stars in many fan videos on TikTok and other social media sites, the publication Level reports.
Parents were warned their kids may be harassed at school with Huggy Wuggy-related pranks. 
The name of the doll can fool parents, who may assume "Poppy Playtime" is just as innocent as "Peppa Pig" when they see it on YouTube and TikTok, according to media reports.
One YouTube edit appeared to show a scene from the kid's show "Peppa Pig," Newsweek reported in 2022.
"One song includes the lyrics 'I could hug you here forever, till you breathe your last breath together,'" that outlet reported about a Huggy Wuggy song.
KIDS MAY LIKE VIDEO GAMING, BUT HEALTH EXPERTS FRET ABOUT THE 'FUEL' THEY MAY BE USING TO 'WIN'
Huggy Wuggy was also a popular Halloween costume choice in 2022, just over a year after "Poppy Playtime" debuted.
Recently, parents were warned their kids may be harassed at school with Huggy Wuggy-related pranks.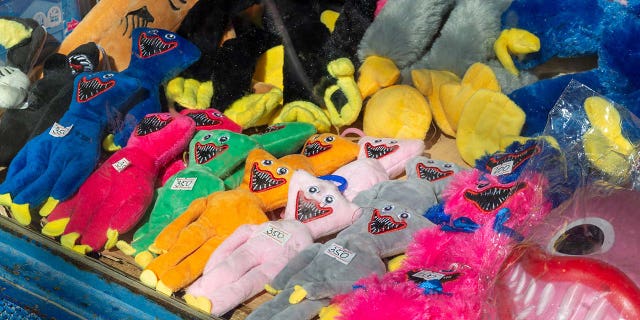 Samples of Huggy Wuggy-inspired stuffed animals are shown on a table. (iStock)
A primary school in England warned parents last year that "a sinister character going by the name of 'Huggy Wuggy' is being viewed by our children online, some as young as Year 2."
Wrote Justine Brown, head of Deal Parochial Primary School in Walmer, United Kingdom, "The character can be easily viewed on YouTube channels and is a rather sinister looking bear with razor sharp teeth that sings worrying songs about hugging and killing."
NEW JERSEY GRANDMOTHER GOES VIRAL FOR RANKING HER 10 GRANDKIDS: 'JUST BE CAREFUL!'
"We are seeing children recreating a game on the playground with hugging and whispering nasty things in the recipient's ear," Brown continued. She called Huggy Wuggy "a very deceiving character, as hugs should be seen as something kind and loving."
Huggy Wuggy's "cute name" enables products with the character "to infiltrate [parental] firewalls and filters" online, she also said.
"Please be vigilant about what your children are watching as children can become upset and confused by what they see," said Brown.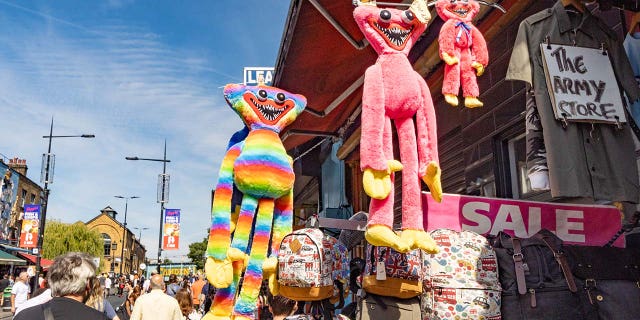 Huggy Wuggy toys are shown for sale on Camden High Street in Camden, London.  (iStock)
A New York City-based clinical psychologist said that it's important for children, if they're old enough to understand, to be informed that characters like Huggy Wuggy are "just pretend."
It is also important for kids to "understand that it's something meant to scare them in a fun, playful way," said Dr. Jayme Albin.
"This will help them reframe any experiences they have with the toy," Albin added.
"But it's also important for them to know that they're not to use the toy to scare other children."
A "Huggy Wuggy Song" inspired by the game has over 10 million views. The song is not found in the game; it was written by YouTuber TryHardNinja.
'STRAY' NEW CAT VIDEO GAME IS HELPING THE ANIMALS IN REAL LIFE
In a pinned comment on his video, the songwriter explained that the song was never intended for children and that he went out of his way to ensure that it was not made available on YouTube Kids.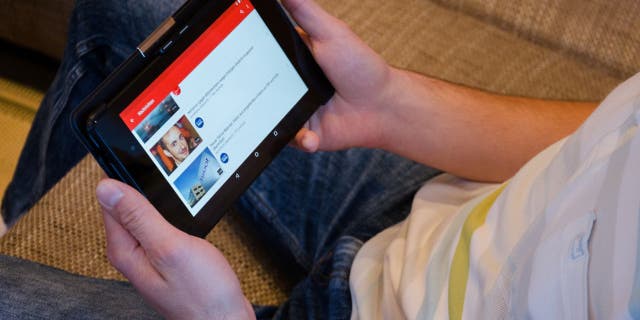 Parents should watch YouTube with their children in order to better control the choice of content that is consumed, said one child safety website.  (Cyberguy.com)
"Most importantly, I have marked this video 'Not for Kids' upon upload and it does not appear in the YouTube Kids app," he said.
"There is no 'bait and switch' in this video to try to mislead kids into thinking they are clicking on a video of a cute character to be surprised by an indie game monster," he continued in his pinned comment.
"The video solely exists on the general YouTube platform, which by default isn't intended for a very young audience," he added. "This is the only content I have control over and I have already made sure it's not on YouTube kids."
The company that created the "Poppy Playtime" video game urged caution when considering warnings and threats about the character Huggy Wuggy and how it may be used to scare children.
CLICK HERE TO SIGN UP FOR OUR LIFESTYLE NEWSLETTER
"The vast majority of the controversy we are seeing regarding warnings from schools about the Huggy Wuggy character are completely untrue and/or grossly exaggerated," Zach Belanger, president and CEO of Enchanted Mob, told Forbes.
"As far as we are aware, all of these warnings from schools are originating from fan made content based off our game," he continued.
There are ways that parents can protect their children from inappropriate content on YouTube, says the website SafetyDetectives.com.
In addition to YouTube's own products, YouTube Kids and Restricted Mode, there are other apps that can be purchased to screen out offensive or suggestive content, said the site.
CLICK HERE TO GET THE FOX NEWS APP
Parents should also watch content with their children, or consider disabling the search feature entirely on YouTube Kids, the site noted.