Climate protesters in Washington, D.C. were handcuffed on Thursday after they dragged paint on a glass cover protecting an art sculpture.
The incident happened at the National Gallery of Art by the activism group Declare Emergency in an attempt to bring attention to climate change, according to the Washington Post.
After two people from the group smeared their hands across the glass covering of Edgar Degas's "Little Dancer Aged Fourteen," they were removed by police in handcuffs.
One of the individuals taken into custody wasn't issued any criminal charges but is banned from the museum for life, according to a tweet from the group.
CLIMATE ACTIVISTS DEFACE CONSTITUTIONAL MONUMENT IN GERMANY WITH BLACK PAINT, POSTERS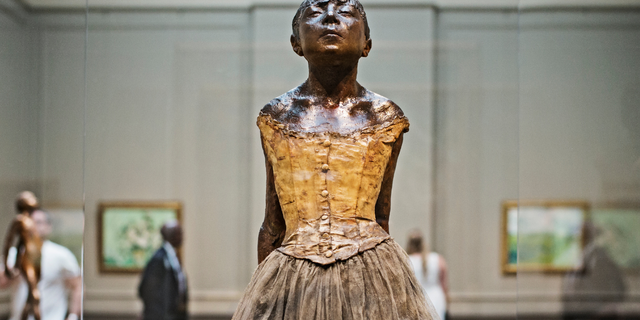 "The Little Dancer," a sculpture by French artist Edgar Degas, is on display at the National Gallery of Art's East Building, seen Wednesday, July 16, 2014. The piece was inspired by Marie von Goethem.  (Photo by Nikki Kahn/The Washington Post via Getty Images)
The group tweeted that they wanted to send a message about climate change.
"Around 11 am today two parents who are terrified about their children's futures (as well as all children) made a statement at the National Gallery in DC. Climate change will cause famine, floods, droughts and destruction unless we act now," Declare Emergency tweeted.
Declare Emergency told Fox News Digital in a statement that it understands the importance of art, but also needs to show how urgent the climate change issue is.
"We understand the value and importance of art in our society, and we also know that it and everything we love is at stake if we don't tackle the climate emergency with the urgency that it deserves," the group said. "We have to convey how dire this situation is, in whatever nonviolent way that we can. We need to engage with the climate emergency emotionally, and actions such as this one draw that out in us. They bring us to the emotional state that we need to be in to realize how bad things really are. Only after getting to that place will we find the motivation and the resolve to truly save ourselves."
In response to criticism on Twitter, the group tweeted that it's a "complete moral failure of our government to protect its own citizens."
Tuesday's climate protest is hardly the first time that an activism group has defaced artwork in attempts to bring attention to their cause.
In March, German climate activists defaced a work of art near the country's parliament.
TEXAS MAN TOOK BREAK FROM DATE TO KILL FAKE PARKING ATTENDANT OVER $40 SCAM, POLICE SAY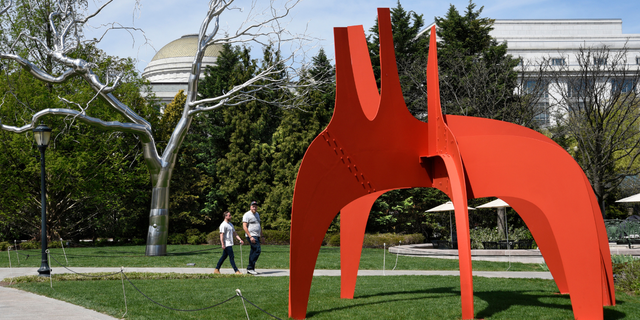 A 1974 steel sculpture by Alexander Calder titled 'Cheval Rouge (Red Horse)' is among the artworks on display in the National Gallery of Art Sculpture Garden in Washington, D.C.  (Photo by Robert Alexander/Getty Images)
Members of The Last Generation appeared to have thrown black liquid over glass plates which displayed 19 articles of the German Constitution.
In a statement, the German group said that its government wasn't protecting citizens' "fundamental rights" because of the country's use of fossil fuels.
Parliament Speaker Bärbel Bas harshly criticized the protest.
CLICK HERE TO GET THE FOX NEWS APP
"Those are the fundamental rights on which the demonstrators from Last Generation themselves base the justification for their actions," Bas said in a statement. "I can only hope that the glass plates of the artwork were not permanently damaged."
Fox News Digital reached out to Declare Emergency for comment.
Fox News' Timothy Nerozzi contributed to this report.