A Utah state lawmaker's home was vandalized this week with messages that indicate he was targeted because of his opposition to transgender medical treatments for minors.
Messages in red spray-painted on Republican state Sen. Mike Kennedy's door read "fash" — short for fascist — and "These trannies bash back," a phrase that uses a slur for transgender people. Kennedy shared a photograph of the vandalism in a post on Facebook.
Earlier this year, Kennedy sponsored SB16, legislation that bans transgender surgeries and puberty blockers for minors. The bill was signed into law by Gov. Spencer Cox in January.
In his Facebook post, Kennedy said he would not be intimidated by "cowardly actions."
UTAH GOVERNOR SIGNS GENDER-AFFIRMING HEALTH CARE BAN, SCHOOL CHOICE BILLS INTO LAW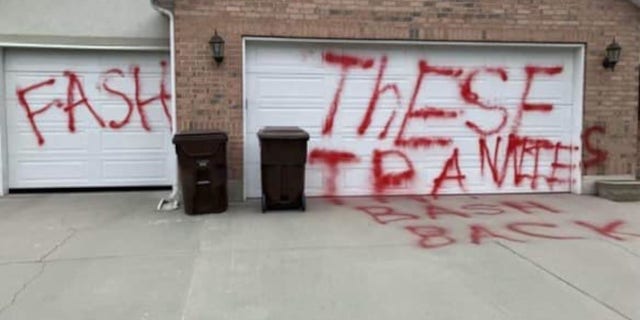 Utah state Sen. Mike Kennedy's home was vandalized with messages written in red spray paint.  (Sen. Mike Kennedy)
"To those who seek to use violence, vandalism, and intimidation to deter me from standing up for what is right, let me be clear: you will not succeed. I will not be deterred by your cowardly actions," Kennedy wrote.
"The recent vandalism to my family's home was not just an attack on me, but on the very principles our state stands for. We will not let fear and violence control our destiny," he continued. "As Utahns, we will always stand up and push back against radicals who seek to push their agenda in our state. I am more determined than ever to work with the good people of Utah to make our state a better place for all, especially our children, and I won't back down.
UTAH ELEMENTARY SCHOOL CANCELS SLAVERY REENACTMENT AFTER PARENT OUTRAGE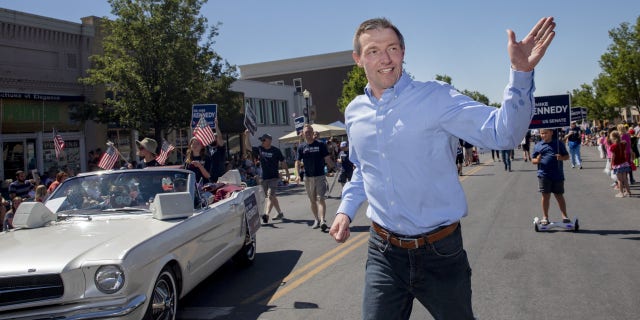 State Sen. Mike Kennedy campaigned in the 2018 Republican senate primary against Sen. Mitt Romney, R-Utah. In January 2023, he introduced legislation banning transgender medical treatments for minors in Utah.  (Kim Raff/Bloomberg via Getty Images)
Legislation similar to Utah's SB16 has been enacted in at least 11 states as part of a nationwide movement led by conservatives who say transgender medical treatments are unproven and potentially dangerous for children. These controversial bills have been opposed by LGBTQ advocacy groups and medical professionals who say so-called "gender-affirming care" is considered best practice by medical groups including the American Medical Association, the American Academy of Pediatrics and the American Psychiatric Association.
Equality Utah, the state's leading LGBTQ advocacy group which opposed Kennedy's bill, issued a statement condemning the vandalism of his home.
MINNESOTA LEGISLATURE PASSES 'TRANS REFUGE' BILL OPPONENTS SAY WOULD STRIP CUSTODY FROM NON-CONSENTING PARENTS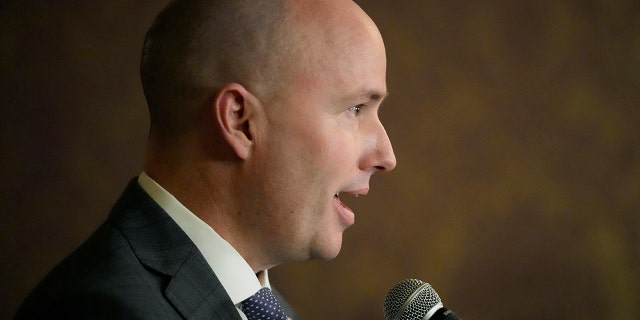 Utah Gov. Spencer Cox speaks during a news conference at the state Capitol on Friday, March 3, 2023, in Salt Lake City. In January, Cox signed legislation introduced by state Sen. Mike Kennedy that bans transgender surgeries and puberty blockers for children.  (AP Photo/Rick Bowmer)
"We do not know who participated in this action, but we have been informed this may have been an act of retaliation for his sponsorship of SB 16. To the extent this, or any other act of violence or vandalism against our public officials, is related to LGBTQ advocacy, we want to make it clear that Equality Utah condemns these tactics in the absolute strongest terms," the group said.
"These heinous acts do not help LGBTQ Utahns. They do not advance a climate of equality," Equality Utah added.
CLICK HERE TO GET THE FOX NEWS APP
The Lone Peak Police Department did not immediately respond to a request for comment.