The United States is the latest country to join in on Ukrainian President Ukrainian President Volodymyr Zelenskyy's "fighter jet coalition."
President Biden informed his fellow G7 leaders on Friday in Japan that the US will be helping train Ukrainian pilots on high-tech, modern aircraft — the latest member of the loosely-defined "coalition."
The term has been used by US and Ukrainian media to describe Zelenskyy's international call for ally nations to help train Ukrainian pilots on modern military aircraft.
The U.S. has thus far not committed to providing aircraft directly, only promising to train the Ukrainian airmen. The hypothetical training is expected to take place in Europe.
"I welcome the historic decision of the United States and POTUS to support an international fighter jet coalition," Zelenskyy said on social media.
UKRAINE SET TO RECEIVE LONG-RANGE CRUISE MISSILES FROM THE UK: 'WE WILL NOT STAND BY'
UKRAINE CLAIMS IT SHOT DOWN RUSSIAN HYPERSONIC MISSILE WITH US PATRIOT SYSTEM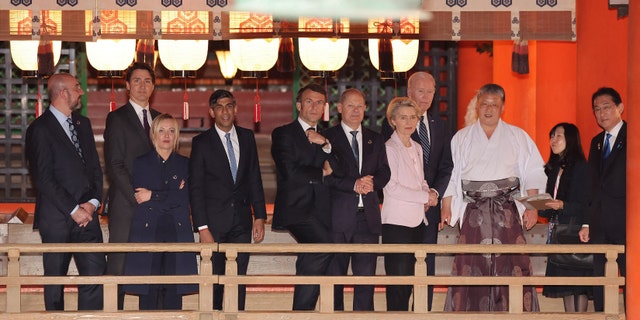 (L to R) European Council President Charles Michel, Canada's Prime Minister Justin Trudeau, Italy's Prime Minister Giorgia Meloni, Britain's Prime Minister Rishi Sunak, France's President Emmanuel Macron, Germany's Chancellor Olaf Scholz, European Commission President Ursula von der Leyen, US President Joe Biden and Japan's Prime Minister Fumio Kishida (R) pay a visit to Itsukushima Shrine on Miyajima island, near Hiroshima, during the G7 Summit Leaders' Meeting on May 19, 2023.  (Japan Pool/Jiji Press/AFP via Getty Images)
The U.K. has similarly not thus far agreed to provide aircraft for battle but has committed to help train Ukrainian pilots.
Zelenskyy met with British Prime Minister Rishi Sunak at Chequers, the leader's official country residence. Sunak greeted his counterpart warmly, hugging and shaking hands before ushering him inside.