FIRST ON FOX: A group of 27 House Republicans is calling on President Biden and Agriculture Secretary Tom Vilsack to disavow Special Presidential Envoy for Climate John Kerry's recent comments targeting food emissions.
The Republicans — led by Rep. Mark Alford, R-Mo., and joined by Agriculture Committee Chairman Glenn Thompson, R-Pa., and Transportation Committee Chairman Sam Graves, R-Mo. — are sending a letter to Biden and Vilsack Monday, highlighting comments Kerry recently made. Kerry lamented earlier this month that the agriculture industry has a large carbon footprint and called for "innovation."
"We strongly urge you to denounce Kerry's remarks. These comments are a blatant slap in the face to the hardworking individuals that spend their lives sustainably producing our world's food, fuel, and fiber," the GOP lawmakers state in the letter. "Although the world agriculture industry accounts for 22 percent of global GHG emissions, Kerry's alarmist narrative does not tell the full story of American agriculture."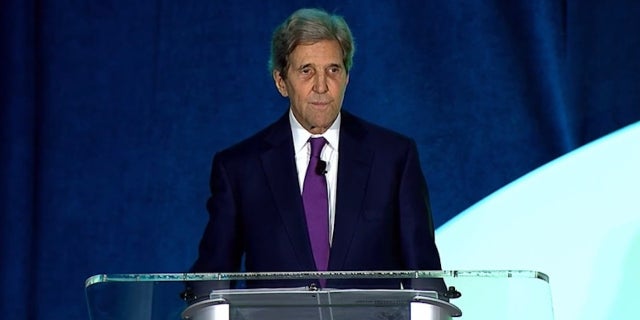 Special Envoy for Climate John Kerry speaks during the AIM for Climate Summit in Washington, D.C. on May 10. (AIM for Climate Summit)
On May 10, during the AIM for Climate Summit hosted by the Department of Agriculture, Kerry stated that "net-zero" energy goals were impossible without addressing greenhouse gas emissions from the agriculture sector. He said the industry creates 33% of the world's total carbon emissions and argued that reducing those emissions must be "front and center" in the quest to defeat global warming.
The special presidential envoy for climate added that food emissions alone are projected to cause an additional half degree of warming by 2050, noting that the global population is increasing and recently surpassed eight billion people.
GOP OVERSIGHT CHAIRMAN PROMISES 'INTENSE SCRUTINY' OF JOHN KERRY'S SECRETIVE CHINA TALKS
"This sector needs innovation now more than ever," Kerry stated. "We're facing record malnutrition at a time when agriculture, more than any other sector, is suffering from the impacts of the climate crisis. And I refuse to call it climate change anymore. It's not change. It's a crisis."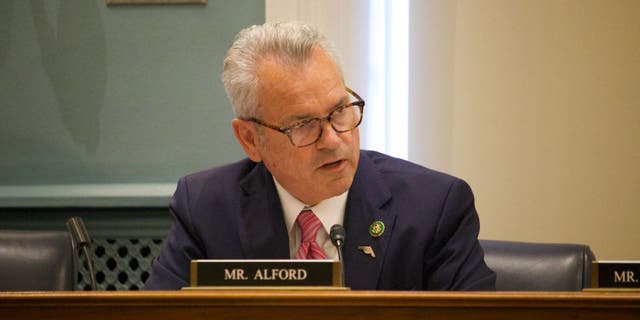 "Since assuming his post as 'climate czar', John Kerry has done nothing but fly his private jets around the world and preach his radical gospel for the climate cult," Rep. Mark Alford, R-Mo., tells Fox News Digital. (Office of Rep. Mark Alford/Fox News Digital)
Overall, the global food system — which includes land-use change, actual agricultural production, packaging and waste management — generates about 18 billion tons of carbon dioxide per year, the equivalent of 34% of total worldwide emissions, according to a March 2021 study published in the Nature Food journal.
In the U.S., though, agriculture generates about 10% of total greenhouse gas emissions, federal data showed.
The letter Monday noted that America's agriculture sector accounts for just 1.4% of global emissions and that domestic industry has implemented a wide range of solutions to achieve climate benefits, making it the nation's lowest-emitting economic sector. The Republicans also referred to federal data showing U.S. land management practices alone removed 764 million metric tons of carbon dioxide from the atmosphere in 2018.
Rep. Mary Miller, R-Ill., who also signed the letter Monday, said the Biden administration's "assault on farmers" was unacceptable and vowed to push for defunding Kerry's office.
"John Kerry's tenure as 'climate czar' has been marked by extravagant private jet travels to lecture farmers about the environment," Miller told Fox News Digital. "As a fellow farmer, I am proud to join my colleagues in the House in demanding that the Biden Administration denounce John Kerry's offensive comments about the agriculture industry."
"I will relentlessly push to defund Kerry's office, allocating $0 for the Biden-Kerry war on farmers, and ensure that our hardworking livelihoods are protected from their radical climate agenda. It is time for John Kerry to take his private jet back to Martha's Vineyard for good."