Alexander Graham Bell made the first telephone call from a downtown Boston laboratory on this day in history, March 10, 1876.
"Mr. Watson, come here — I want to see you," Bell wrote in his own account of the first words transmitted via the new technology.
"To my delight he came and declared that he had heard and understood what I said," Bell added.
ON THIS DAY IN HISTORY, MARCH 9, 1959, BARBIE MAKES FASHIONABLE WORLD DEBUT AT NEW YORK TOY FAIR
"I asked him to repeat the words. He answered, 'You said 'Mr. Watson — come here — I want to see you.' We then changed places and I listened at S [the speaker] while Mr. Watson read a few passages from a book into the mouthpiece M. It was certainly the case that articulate sounds proceeded from S. The effect was loud but indistinct and muffled."
The site of his world-changing work is memorialized with plaques in downtown Boston.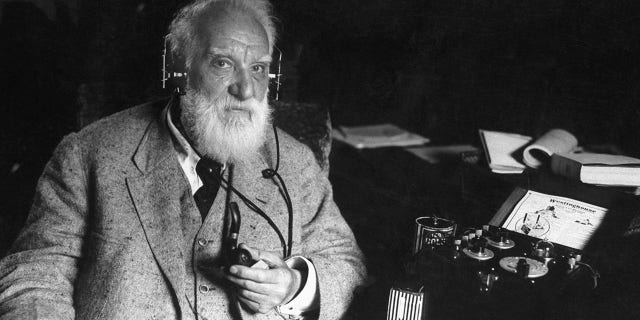 American inventor Alexander Graham Bell (1847-1922) with one of his inventions, circa 1910. Bell engineered the first intelligible electronic transmission of voice and patented the telephone, and was a founding member and president of the National Geographic Society.  (Photo by © CORBIS/Corbis via Getty Images)
His assistant, Thomas Watson, offered a slightly different version of the first words ever spoken by telephone: "Mr. Watson, come here, I want you," one of the world's most famous sidekicks wrote in his journal.
"Mr. Watson, come here — I want to see you." — Alexander Graham Bell in first phone call
Regardless, the world suddenly became a much smaller place.
Bell's personal history, innate curiosity and talent made him uniquely qualified for what's gone down as a landmark moment in human history.
"The Scottish-born Bell had a lifelong interest in the nature of sound," wrote Wired.com.
"He was born into a family of speech instructors, and his mother and his wife both had hearing impairments."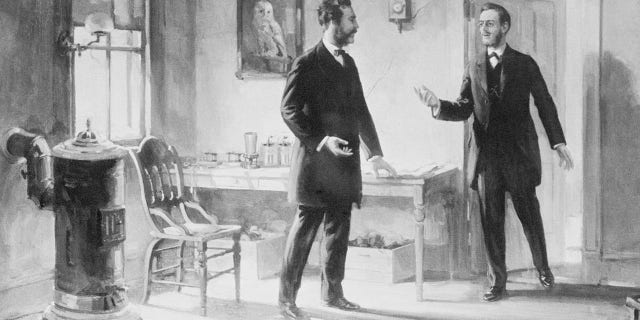 Alexander Graham Bell and Thomas Watson at 5 Exeter Place, Boston, in March 1887. (Getty Images)
His background, coupled with a rapidly changing world of technology, made Bell the right person at the right time.
"While ostensibly working in 1875 on a device to send multiple telegraph signals over the same wire by using harmonics, he heard a twang," adds Wired.
"That led him to investigate whether his electrical apparatus could be used to transmit the sound of a human voice."
ON THIS DAY IN HISTORY, JAN. 9, 2007, STEVE JOBS INTRODUCES APPLE IPHONE AT MACWORLD IN SAN FRANCISCO
While Bell is known to have made the first phone call, the title of inventor of the telephone has long been disputed.
Elisha Gray of Ohio competed feverishly with Bell on the same technology.
"On Feb. 14, 1876, Gray filed with the U.S. Patent Office a caveat (an announcement of an invention he expected soon to patent) describing apparatus 'for transmitting vocal sounds telegraphically,'" writes Oberlin College of its alumnus.
Bell earned the title of telephone inventor after years of litigation, though the determination remains "debatable." — Oberlin College
"Unknown to Gray, Bell had only two hours earlier applied for an actual patent on an apparatus to accomplish the same end. It was later discovered, however, that the apparatus described in Gray's caveat would have worked, while that in Bell's patent would not have."
Bell earned the title of telephone inventor after years of litigation, though the determination remains "debatable," writes Oberlin.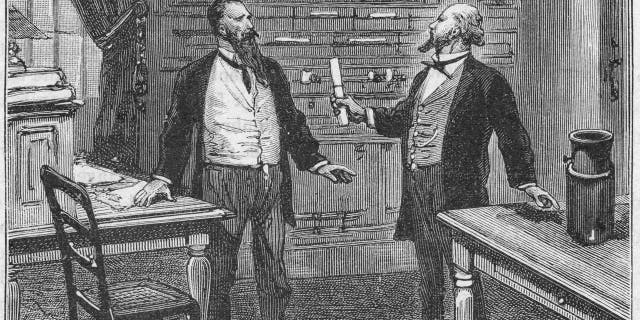 Elisha Gray, American inventor, presenting the caveat for his telephone, 1876, (circa 1890). Gray (1835-1901) arrived at the US Patent Office at 4pm on 14 February 1876, just two hours after Alexander Graham Bell (1847-1922) had presented his own caveat for a telephone. From Les Nouvelles Conquetes de la Science by Louis Figuier (Paris, circa 1890). (Oxford Science Archive/Print Collector/Getty Images)
The technology pioneered by Bell and Gray quickly exploded across the country, and around the world, with electrifying speed.
The Bell Telephone Company was founded in Boston on July 9, 1877, with the inventor's father-in-law, Gardiner Greene Hubbard, as partner.
MEET THE AMERICAN WHO REPORTED THE FIRST SENSATIONAL UFO ENCOUNTERS, PURITAN LEADER JOHN WINTHROP
The first outdoor telephone wire was installed between the office of Boston businessman Charles Williams Jr. to his home in Somerville, three miles away, also in 1877.
Phone numbers replaced individual names in 1879, according to the Independent Telecommunications Pioneer Association.
The first pay phone was installed in Hartford, Connecticut, in 1900. The association estimates that approximately 10 million Bell system telephones were in service throughout the U.S. by 1918.
CLICK HERE TO SIGN UP FOR OUR LIFESTYLE NEWSLETTER
The first transatlantic calls from New York to London were made in 1927 using radio waves. Telephone cables were laid across the ocean in 1955.
Cell phone technology made wired phones obsolete.
But easy live communication across vast distances remains the foundational appeal shared by Bell and Watson in 1876, even if the novelty has been lost.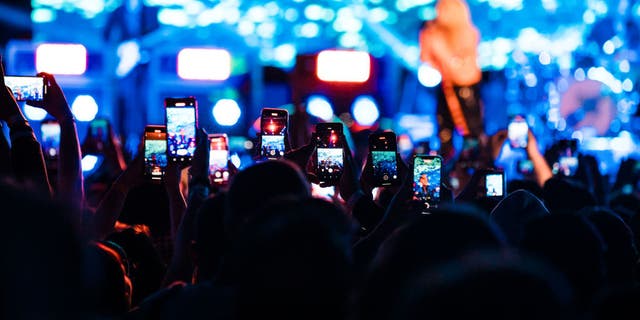 A general view of the audience during Avril Lavigne concert with smartphones at Espaco Unimed on Sept. 7, 2022 in Sao Paulo, Brazil. (Mauricio Santana/Getty Images)
Industry sources estimate that there are about 6.5 billion smartphones in operation today — more than 80% of the global population — used for far more than just phone calls.
Yet hearing another voice over the phone is an experience now deeply embedded in human culture.
Verizon in 2020 estimated that Americans alone made 800 million phone calls each day, or 292 billion per year.
CLICK HERE TO GET THE FOX NEWS APP
"Some people believe the impact of the telephone has had on our lives is negative," states the Independent Telecommunications Pioneer Association.
"Whatever your beliefs, it is un-doubtable that the invention and development of the telephone has had a massive impact on the way we live our lives and go about our everyday business."