Tampa is strutting these days with pride, purpose and freedom.
The largest city on Florida's Gulf Coast has enjoyed an economic and popularity surge at least a decade in the making.
The lid blew off the top of Tampa's simmering ascendancy three years ago.
NFL legend and gossip-page headline maker Tom Brady landed in Tampa in 2020, shining a bright new spotlight on the city. His arrival was followed by unprecedented pro sports success for Tampa franchises on the gridiron and on the ice.
TERRIFIC TAMPA: 5 FAVORITE SPOTS FROM 'POLITICS FOR PATRIOTS' IG CELEBRITY ROGAN O'HANDLEY
A wave of domestic refugees — first-time tourists and new residents — began arriving in Tampa in 2020, too. They were seeking freedom in Florida from onerous COVID-19 policies that crippled other cities around the country.
"I was in Manhattan during the lockdowns of COVID and it was just insufferable, and the oppression I truly felt was enough to make me leave," Devon Langston, a social media executive who now calls Tampa home, told Fox News Digital.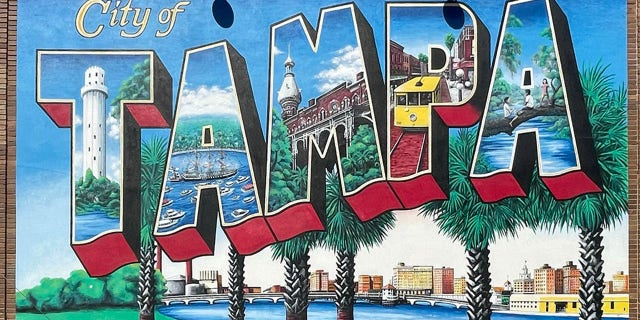 A mural outside downtown Tampa. Tampa is clean, sunny and booming. Population in the Florida Gulf Coast city surged 15% from 335,000 in the 2010 U.S. Census to the 385,000. Tampa continues to grow.  (Kerry J. Byrne/Fox News Digital)
She was enjoying a sun-splashed winter day on Sparkman Wharf, a new outdoor venue of shipping-container food stalls with a bustling beer garden and family activities next to Tampa's busy cruise ship terminal.
Added Langston, "I picked Florida. I had never been here before in my life. But I knew it was free. I know I could live my life irrelevant of my vaccination status."
"I picked Florida. I had never been here before in my life. But I knew it was free."
The combination of sunshine and freedom is proving hard to resist.
Tampa's population rose from 336,000 to 385,000 between 2010 and 2020 censuses.
Recent estimates say the city will top 400,000 residents in 2023 — a 20% surge since 2010.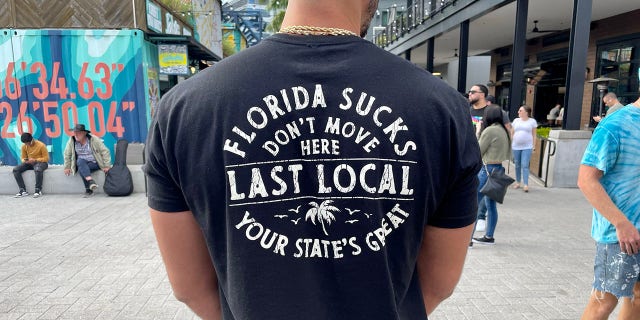 A man at Sparkman Wharf in Tampa wears his fears of Florida losing its freedoms as newcomers flood the state. "Don't move here. Your state's great." (Kerry J. Byrne/Fox News Digital)
Some longtime locals fear newcomers will bring stifling outside politics and ideas.
"Florida sucks. Don't move here. Your state's great," said the sarcastic T-shirt of one young man on a recent Saturday on the Tampa waterfront.
Water Street Tampa reimagines the city
Sparkman Wharf is an early-phase highlight of the ambitious Water Street Tampa project from Strategic Property Partners.
It's a joint venture between Jeff Vinik, owner of the NHL powerhouse Tampa Bay Lightning, and Cascade Investment, the capital development company of Bill Gates.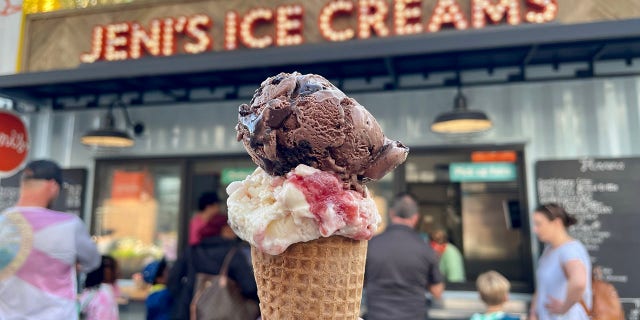 Jenni's Ice Cream at Sparkman Wharf, a waterfront haven of food stalls, beer garden and family activities on the Tampa waterfront. Sparkman Wharf is an early-phase development of the ambitious Tampa Water Street project. (Kerry J. Byrne/Fox News Digital)
The vision is to dramatically reshape 56 acres downtown Tampa waterfront; with an investment of about $3.5 billion, according to multiple sources.
Plans include 600,000 square feet of new office space, a trophy new office tower, 1,300 new residences, new hotels, a University of South Florida campus extension and an array of waterfront activities and amenities.
DESANTIS STRIPPING FLORIDA HOTEL'S LIQUOR LICENSE AFTER HOSTING 'LEWD' DRAG SHOW WITH CHILDREN PRESENT
"Water Street Tampa has truly embraced everything Tampa has to offer, from its waterfront and city views to its culinary scene and booming tourism," Strategic Property Partners executive Brad Cooke told Fox News Digital.
The project surrounds Tampa's gleaming Amalie Arena, the home of the three-time Stanley Cup-champion Lightning, and a venue for top performers and events.
Disney on Ice, The Eagles and the NCAA's Frozen Four are all coming to Amalie Arena in the days ahead.
How to get around
Tampa is a driving city with limited public transportation. Wide avenues, a largely gridded street plan, and low-density development make traffic jams rare.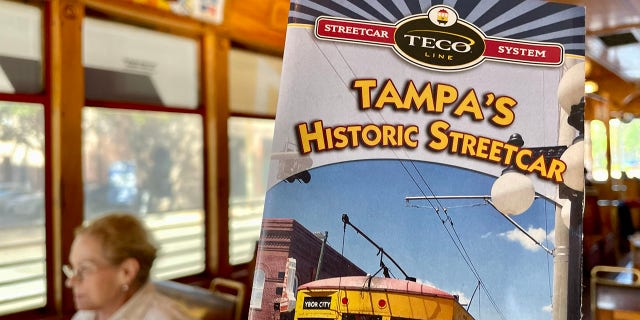 Tampa's TECO streetcar is a tourist-friendly vestige of the city's former sprawling trolley network. TECO is free to ride and follows a 2.7-mile route with 11 stops from downtown Tampa to Ybor City.  (Kerry J. Byrne/Fox News Digital)
Tampa International Airport, just a 10-minute drive from downtown, offers a sprawling auto-rental complex. A tram from the terminal drops visitors off right inside the rental center. It's fast and easy in Tampa to get off the plane, get your car and hit the town.
Once in the city center, TECO streetcars offer a pleasant 2.7-mile circuit with 11 stops from downtown Tampa to historic Ybor City, where visitors can explore the city's Spanish, Cuban and Italian heritage by foot.
TECO is a tourist-friendly vestige of a once-sprawling network of Tampa streetcars. It's free to ride.
The Pirate Water Taxi provides a sun-splashed, family-friendly way to see the city from its scenic, placid inland waterways.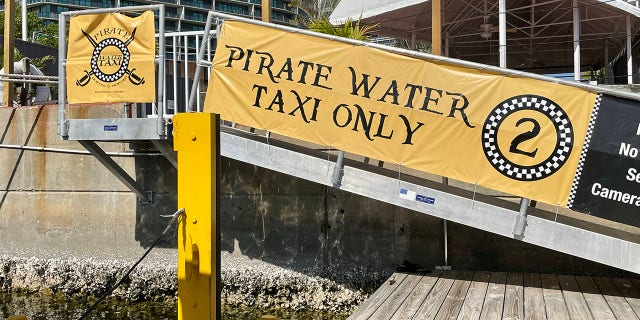 Tampa's Pirate Water Taxi is ferry with 17 stops that delivers passengers to key attractions throughout the city, from Florida Aquarium at one end to Armature Works, a family entertainment hub, at the other. (Kerry J. Byrne/Fox News Digital)
It offers 17 stops at the city's top waterfront locations — including the Florida Aquarium, Amalie Arena and Tampa Convention Center. Tickets can be purchased online or right on the boats.
Where to stay 
Tampa's newfound popularity among tourists is evidenced by its hotel boom.
Tampa hotel revenue more than doubled over the last decade, from $423 million in 2013 to $1 billion in 2022, according to Visit Tampa Bay.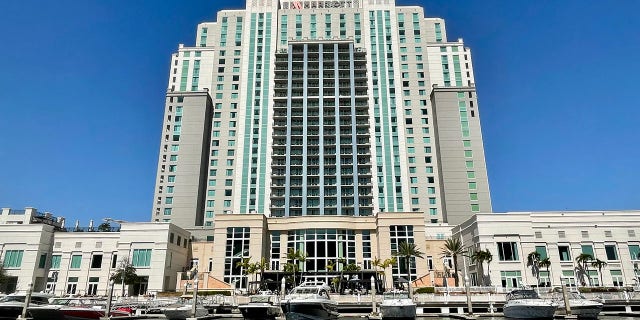 The Tampa Marriott Water Street sits in a trophy waterfront location in downtown Tampa. (Kerry J. Byrne/Fox News Digital)
Tampa Edition, the city's first five-star hotel, recently opened downtown, as did extended-stay Roost Tampa, which offers short-term apartments with boutique hotel amenities.
The Tampa Marriott Water Street and the Westin Tampa Waterside are sprawling, modern hotels with dramatic waterfront views and easy access to the Convention Center and downtown amenities.
The Tampa Riverwalk boasts convenient hotels across price ranges, including the Aloft, Barrymore and the aptly named Hotel Tampa Riverwalk.
The area around Tampa International and Raymond James Stadium, west of downtown, offers a long list of lodging options for business travelers and families across a range of price points.
Where to eat
Tampa touts a bounty of landmark legacy restaurants, joined in recent years by a proliferation of hip new eateries.
Venerable Bern's Steak House has been a Tampa tradition since 1956. Reservations are often booked half a year in advance.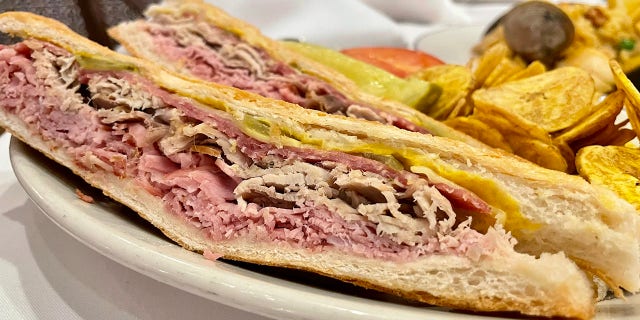 Columbia Restaurant's "Original" Cuban sandwich. Columbia is a beloved Tampa landmark founded in 1905 by Spanish-Cuban immigrant Casimiro Hernandez Sr. He is reportedly the inventor of the Cuban sandwich. (Kerry J. Byrne/Fox News Digital)
Diners at Bern's get not one table, but two.
There is an entire separate dining room dedicated to desserts and digestifs. Guests retire to the posh upstairs retreat after dinner.
Guests retire to the posh upstairs retreat after dinner.
Columbia Restaurant is a colorful landmark in historic Ybor City that opened in 1905, specializing in festive Cuban-Spanish fare. It's the home of the original Cuban sandwich, among other claims to fame. Columbia is a must-taste Tampa dining experience.
TAMPA IS BIRTHPLACE OF THE CUBAN SANDWICH, AMERICAN CULINARY CLASSIC FLAVORED BY MANY CULTURES
Ulele in Tampa Heights boasts upscale indoor/outdoor dining in a lively space, featuring house-brewed beers and fare inspired by Florida's indigenous peoples.
Tampa's fishing legacy is best experienced at Big Ray's Fish Camp, a no-frills cinder-block seafood shack with incredible Buffalo grouper cheek nuggets and signature blackened grouper sandwich.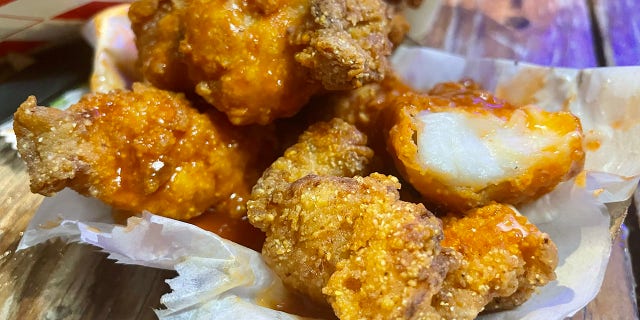 Big Ray's Fish Camp in Tampa is a no-frills seafood shack famous for its Buffalo grouper cheeks (pictured) and blackened grouper sandwiches. (Kerry J. Byrne/Fox News Digital)
Armature Works, located in a former trolley garage, is Tampa's most exhilarating food hall — and more.
It features dozens of casual-dining options, a nightclub, live performers and family-friendly entertainment and activities along Hillsborough River.
Tampa enjoys a network of neighborhood villages, each one bursting with new eateries. Hyde Park Village is one of the best. Try new champagne boite Bouzy, casual Goody Goody Burger or Forbici for some of Tampa's best Italian fare.
Where to bring the kids
A haven now for families from far and wide, Tampa offers plenty of ways to entertain children.
The city's raucous Gasparilla festivities, a "pirate invasion" tradiiton dating back more than a century, is preceded each year by an alcohol-free children's Gasparilla.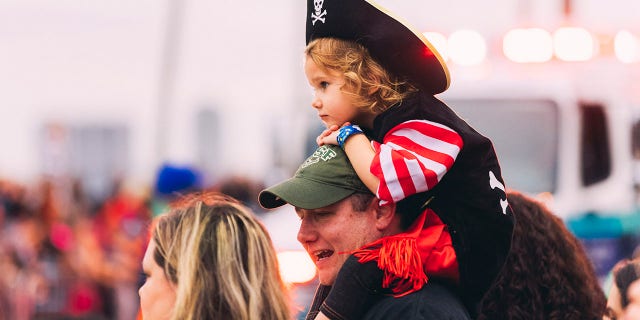 A child attends the Gasparilla parade in Tampa, an annual "pirate invasion" that dates back to 1904 and has become one of the largest parades in the nation.  (Keir Magoulas/Visit Tampa Bay)
Busch Gardens has been a Tampa landmark since 1959, boasting sprawling amusement park rides and zoo with more than 200 species of exotic animals.
"It's a great family attraction and an incredible theme park," social media celebrity and recent Tampa transplant Rogan O'Handley (@dc_draino on Instagram), told Fox News Digital.
"(Busch Gardens) is a great family attraction and an incredible theme park." Instagram influencer, Tampa resident Rogan O'Handley
Families in downtown Tampa can explore wetlands, seashores and coral reefs at the Florida Aquarium; learn about pirate life and nautical skills at the Tampa Bay History Center; and meet Big John, the world's largest triceratops, at the Glazer Children's Museum.
PIRATES ROAM SEAS AND STREETS OF TAMPA, OFFERING FAMILY-FRINEDLY ENTERTAINMENT TODAY
ZooTampa offers a global collection of animals and educational experiences; Adventure Island next to Busch Gardens is one of Florida's premier water parks.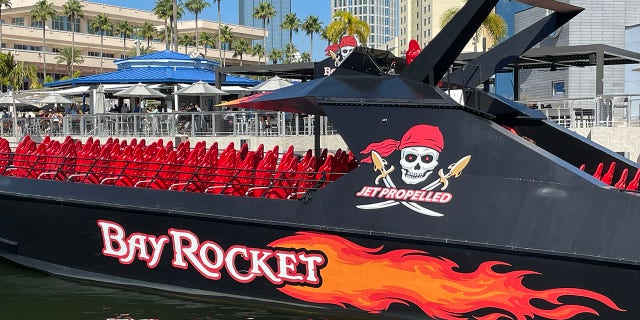 The Bay Rocket is a jet-propelled thrill ride that departs from Downtown Tampa aboard a pirate-themed speed boat. (Kerry J. Byrne/Fox News Digital)
The Bay Rocket offer families an exhilarating jet-boat thrill ride across Tampa Bay.
Where to smoke cigars
Tampa was once the world's top cigar producer — its factories rolled as many as 500 million cigars each year — before the industry moved to other countries for cheaper labor.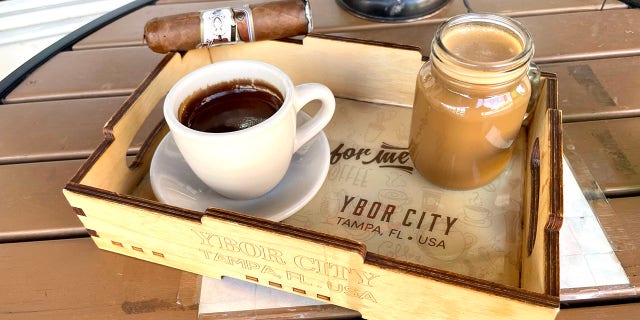 Cigar culture still thrives in Tampa. Tabanero Cigars is one of several Ybor City cafés that serve hand-rolled cigars and strong Cuban coffee in a relaxed, civilized environment (Kerry J. Byrne/Fox News Digital)
Only one producer, J.C. Newman, remains. But cigars are still a cherished way of life in Tampa – even as cigar smoking has been outlawed in public establishments in many American cities.
Ybor City boasts a bounty of cigar cafés, where tobacco is rolled by hand by local craftsman while guests enjoy strong Cuban coffee in a relaxed environment.
Recline in the faux-leather sofas at Tabanero Cigars with a robusto and cortadito for a ritualistic and civilized Tampa experience.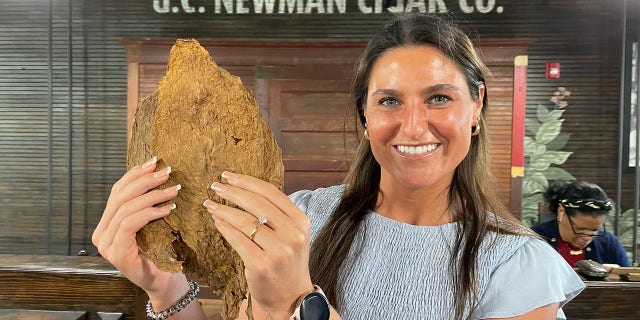 J.C. Newman is the last cigar-maker in Tampa. The Florida city was once the center of the cigar-making world, producing 500 million cigars each year.  (Kerry J. Byrne/Fox News Digital)
J.C. Newman, the city's last cigar maker, offers tours — essentially a museum of Tampa cigar history and lore — and cigar-rolling classes.
The company is currently working to bring a small tobacco farm to Ybor City as a living museum of American agricultural history.
Where to enjoy nightlife
Ybor City is an idyllic place to explore Tampa history and culture, by day.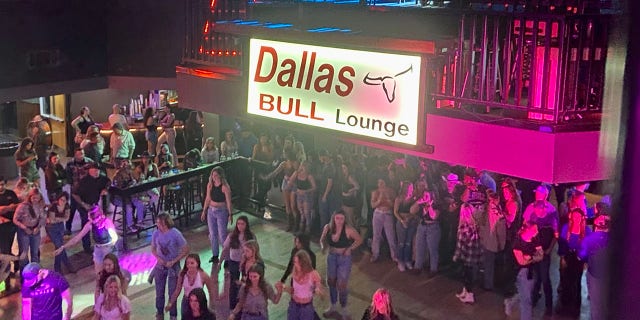 Dallas Bull is a sprawling two-floor honky-tonk minutes outside downtown Tampa.  (Kerry J. Byrne/Fox News Digital)
"At 10:30 (p.m.) the world changes. It looks like New Orleans, and it acts like it, too," one local man said by daylight while puffing on a Churchill outside Tabanero Cigars.
RESTAURANTS IN DEEP-BLUE CITIES STARVED FOR DINERS WHILE FLORIDA IS FEASTING
Ybor City at night is packed with young adults clamoring from behind velvet ropes to get into the raucous nightclubs of East Seventh Avenue.
The main street through Ybor City is closed to auto traffic on weekend nights.
Some clubs pat down guests for weapons before they enter.
The city gives way to country quickly in Tampa.
Dallas Bull is a sprawling two-level honky-tonk, an oasis of country tunes, cowboy boots, Daisy Dukes and line dancing, minutes from downtown Tampa.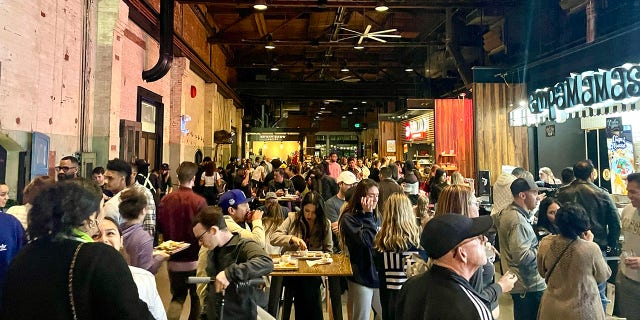 Armature Works once housed workshops to repair Tampa's trolley cars. Today's it a social hubbub of indoor/outdoor eateries, entertainment and family friendly activities. (Kerry J. Byrne/Fox News Digital)
The $20 door charge to Dallas Bull on a recent weekend night came with free — free! — draft beer and well drinks.
Where to watch sports
The Buccaneers won the Super Bowl at the end of the 2020 season; the Lighting added back-to-back Stanley Cups to Tampa's trophy chest in 2020 and 2021.
But they're not the only games in town.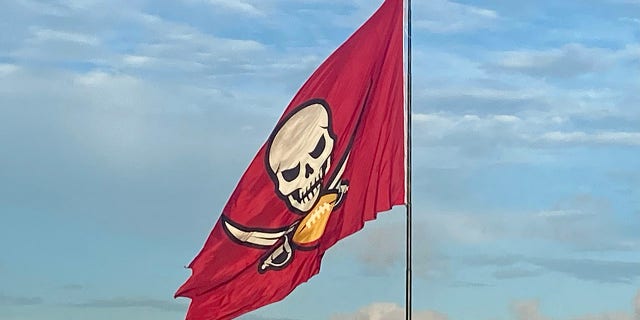 A giant pirate flag with menacing skull-and-swords logo, outside Raymond James Stadium, home of the Tampa Bay Buccaneers. Tampa's NFL franchise, the Buccaneers, is a tribute to the region's pirate lore.  (Kerry J. Byrne/Fox News Digital)
The American League Tampa Bay Rays play baseball just across the bay in St. Petersburg.
The New York Yankees play spring ball at George Steinbrenner Field, next to Raymond James Stadium, home of the Buccaneers.
The Yankees wrap up their Grapefruit League schedule March 26 and 27 with home games against the Blue Jays and Rays.
CLICK HERE TO SIGN UP FOR OUR LIFESTYLE NEWSLETTER
The University of Tampa Spartans are a Division II college baseball powerhouse, boasting eight national championships. They play at a pretty little stadium on the school's stunning palm-tree-lined campus with views of the Tampa skyline.
Tampa is also a hotbed of high-school athletics: IMG Academy in nearby Bradenton not only has a world-famous tennis program, it fields one of Florida's top high-school football teams.
Tampa is a surprising hot-bed of hockey for a warm-weather town. The city's boisterous hockey fan base has grown with the recent dominance of the Lightning.
CLICK HERE TO GET THE FOX NEWS APP
"Go Bolts!" signs hang proudly all around the city.
Can't get tickets to see the Bolts strike? Stop into Hattrick's, a popular sports bar steps from Amalie Arena packed with hockey fans enjoying Tampa's best hot wings.