A Alabama man who is a "danger on the road and off" was arrested last week for a caught-on-video, road rage attack on a 16-year-old girl and her boyfriend at a north Florida gas station, authorities said.
Thomas Keebler, 40, pursued a group of teenagers in a car to the Boggy Bayou Store on Highway 20 in Niceville, where he allegedly assaulted them.
"This is an individual our deputies have encountered numerous times," said Walton County Sheriff Michael Adkinson Jr. "Not to mention his extensive criminal history, which includes driving under the influence, assault, possession of cocaine, terroristic threats, public intoxication and more from jurisdictions across the Southeast. He is a danger on the road and off."
FLORIDA WOMAN ARRESTED IN CONNECTION TO ROAD RAGE INCIDENT WHERE SHE ALLEGEDLY CLIMBED ATOP CAR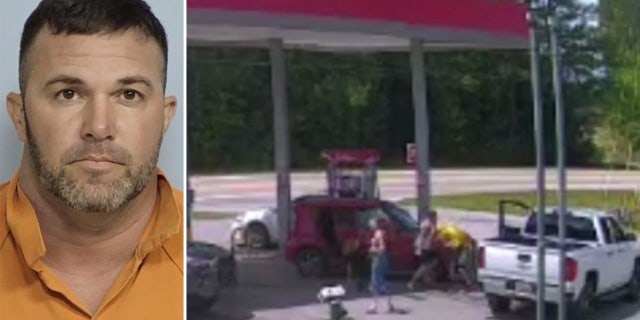 Thomas Keebler, 40, is charged with shoving a 16-year-old girl to the ground during a road rage incident at a gas station in Florida on April 21, 2023. (Walton County Sheriff's Office)
The Walton County Sheriff's Office responded to a report of a fight at the gas station on April 21 and learned that Keebler had tailgated the teenager and her friends, who were in a red car, aggressively passed them then tapped his brakes before following them to the service station.
Video shows that he parked in front of their car to prevent them from leaving and then stormed out of his Chevrolet Silverado truck, shouting expletives and lunging at them.
FLORIDA ROAD RAGE SUSPECTS CLIMB ON TOP OF VEHICLE AFTER MINOR CRASH: 'GET OUT OF THE CAR!'
He allegedly tried to strike a passenger in the back seat through an open window. Another passenger can be seen trying to get out of the car, but Keebler repeatedly kicks the door closed on his leg, according to an arrest report.
The 16-year-old girl can be seen getting out of the car, and Keebler "suddenly and with great force" throws her to the ground, the report says.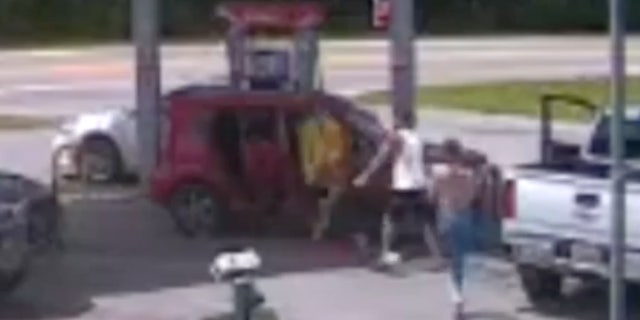 Surveillance footage allegedly shows Thomas Keebler lunging at a group of teenagers in a road rage incident in Florida. (Walton County Sheriff's Office)
The driver of the car is seen trying to intervene, and Keebler puts him in a headlock and repeatedly punches him in the head.
A good Samaritan chased Keebler off, but deputies recognized him in the surveillance footage. After authorities reached out to Keebler on April 25, he turned himself in.
Keebler allegedly admitted he lost his temper and asked multiple times, "Am I going to jail? It's OK if I am, I just want to be prepared," the document says.
READ THE ARREST REPORT AGAINST THOMAS KEEBLER ACCUSED OF DRAMATIC ROAD RAGE ATTACK ON TEENAGER
Deputies asked Keebler if he was aware of the age of the victims.
"I need an attorney, don't I?" he allegedly replied.
CLICK HERE TO GET THE FOX NEWS APP
He is charged with abuse of a child without great bodily harm, battery touch or strike to another person and criminal mischief.
He was released from the Walton County Jail on April 26 after posting a $5,000 bond, records show.
Haley Chi-Sing contributed to this report.