During his rocky Twitter rollout and Fox News interview, Florida Gov. Ron DeSantis didn't mention former President Donald Trump's name.
He made some news – saying he would build a border wall and fire FBI chief Chris Wray – but there were only a couple of allusions to Trump.
But in a conference call with a number of journalists last night, the Florida governor dropped his reluctance to talk about the GOP front-runner.
DESANTIS TO HOLD 'CAMPAIGN KICK-OFF' EVENTS IN IOWA, N.H., S.C., AFTER ANNOUNCING WHITE HOUSE BID
TRUMP'S BIZARRE REACTION TO DESANTIS' ANNOUNCEMENT SPARKS CONFUSION ONLINE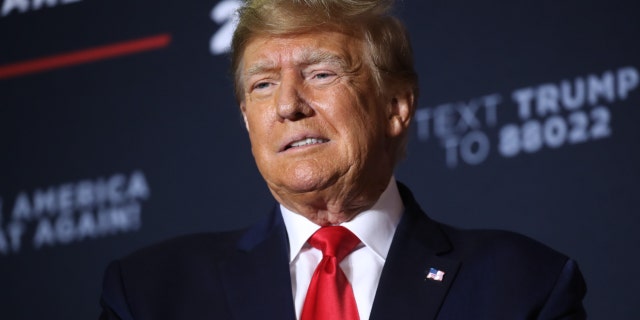 Former President Donald Trump speaks at a campaign rally on April 27, 2023, in Manchester, New Hampshire. (Spencer Platt/Getty Images)
Asked how he would reunite the GOP if he does defeat Trump, DeSantis said: "You struggle to come back together after primaries… It's not like I'm taking positions that are going to alienate people." But some of his culture-war victories in Florida, including restrictions on abortions after six weeks of pregnancy, may not play well in other parts of the country.
DeSantis kept stressing the early stage of the contest, though Trump has been attacking him for months. "I don't think the average Republican primary voter is obsessing yet," he said.
CLICK HERE TO GET THE FOX NEWS APP
Whether the governor now goes after Trump in more public forums, he suggested with a hint of frustration that he didn't have the bandwidth to do so during the Florida legislative session.
"I didn't have the ability to fight all these battles," DeSantis said. "I was the No. 1 target of corporate media."