A roadside bomb targeting a police vehicle in volatile southwestern Pakistan on Monday killed at least four people and wounded 15 others, mostly civilian pedestrians, a government spokesperson said.
The attack happened in Quetta, the capital of Baluchistan province, said Babar Yousafzai, a spokesman for the provincial government. He said the dead included two officers and two civilians.
No one immediately claimed responsibility for the attack, but suspicion fell on the Pakistani Taliban, who have stepped up attacks across the country since November when they ended a monthslong cease-fire with the government.
PAKISTAN BOWS OUT OF US-LED SUMMIT IN POTENTIAL MOVE TO WOO CHINA
Pakistan has also been battling an insurgency in Baluchistan for more than a decade, with separatists in the province demanding complete autonomy or a larger share of the province's gas and mineral resources.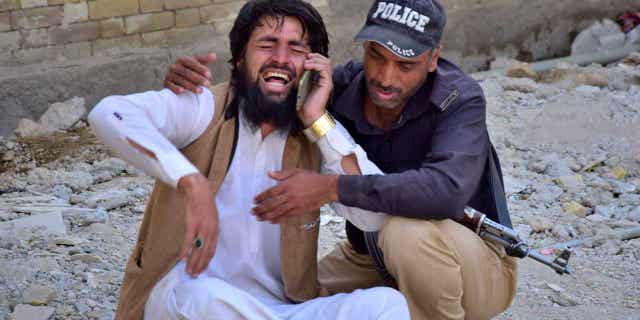 A police officer comforts a man mourning the death of a family member in the bomb blast, at a hospital, in Quetta, Pakistan, on April 10, 2023. A bomb targeting a police vehicle in Pakistan killed at least four people and wounded 15 others, on Monday. (AP Photo/Arshad Butt)
In a statement, provincial chief minister Abdul Qudoos Bizenjo condemned the attack and ordered authorities to provide the best possible medical care to the wounded.
The Pakistani Taliban, who are known as Tehreek-e-Taliban Pakistan, have claimed previous such attacks in Baluchistan and elsewhere. The militant group is separate from, but allied with, the Afghan Taliban.
CLICK HERE TO GET THE FOX NEWS APP
The latest attack comes a day after the TTP shot and killed two police officers in Quetta. One of the assailants was also killed when police returned fire after coming under attack in the city Sunday night.