Toyota has sold over 50 million cars with the Corolla name on them over the years, more than any other model in the history of the automobile, but it's still coming up with new ideas.
The GR Corolla is a high performance version of the Corolla hatchback that was inspired by rally racing.
The GR stands for Gazoo Racing which is Toyota's competition and performance division, the team that's also behind the GR Supra and GR86 two-door sports cars.
The GR Corolla is powered by a 1.6-liter turbocharged, three-cylinder engine that breathes through three exhaust pipes and is rated at 300 horsepower.
REVIEW: THE 2023 TOYOTA BZ4X GOES BEYOND ZERO, BUT HOW FAR?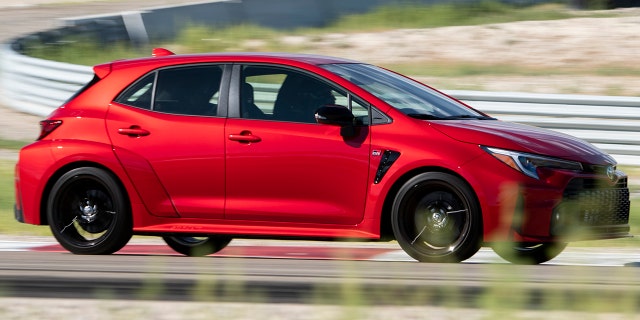 The GR Corolla is inspired by rally racing cars. (Toyota)
That's the same horsepower per liter as the 1,500 horsepower, quad-turbocharged sixteen-cylinder in the $3 million Bugatti Chiron supercar produces.
The entry-level GR Corolla Core starts at $36,995, which makes it the most expensive Corolla, but a pretty good performance deal that comes with a lot more than its little engine that could.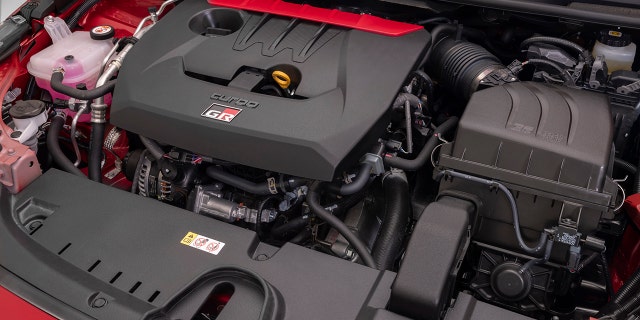 The GR Corolla's turbocharged 1.6-liter three-cylinder engine is rated at 300 hp. (Toyota)
It's been given a widebody makeover to accommodate a wider stance and wheel and tire package that features the same Michelin Pilot Sport 4 tires found on many high-end sports cars.
The GR Corolla is only offered with a six-speed manual transmission to emphasize its fun-to-drive focus, but also has a very advanced all-wheel-drive system.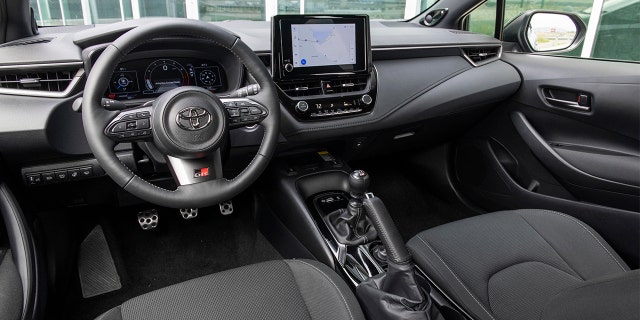 The GR Corolla has sports seats and a leather steering wheel. (Toyota)
It allows you to choose the torque split between the front and rear wheels, with selections of 60/40, 50/50 and 30/70 available to deliver exactly the handling feel you're looking for.
A set of Torsen limited slip differentials aimed at maximizing traction during high-speed cornering driving is available for $1,180 and a worthwhile option if you plan to take the GR Corolla to the track.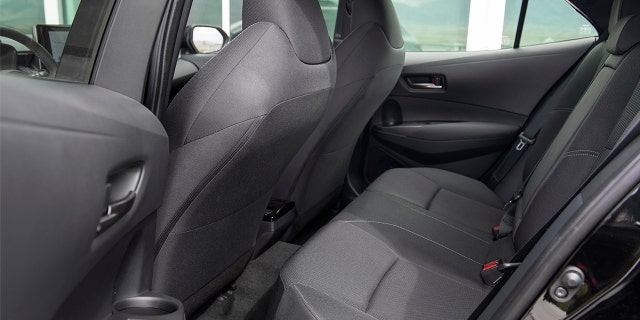 The cabin is mostly identical to the regular Corolla hatchback's. (Toyota)
That is exactly what it was made for, so you should. The suspension is pretty stiff for rough roads and that high-output engine is only rated for 24 mpg combined, so it may not be ideal for the daily commute.
It's otherwise very much a Corolla hatchback. Aside from a pair of deeply-bolstered sport seats and leather-wrapped steering wheel, the interior isn't much different. Unfortunately, that includes its tight second row seats.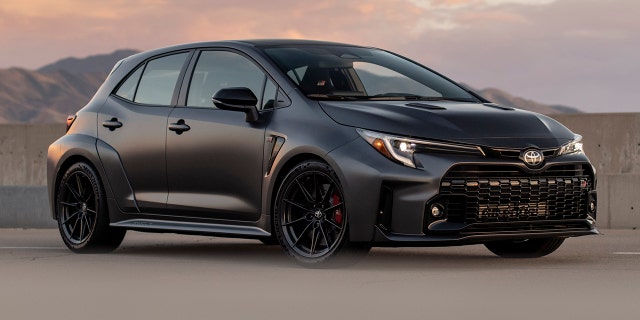 The Morizo Edition gets additional performance upgrades. (Toyota)
That is unless you opt for the special Morizo Edition, which removes the rear seats in the name of weight reduction, turning the GR Corolla into a two-passenger four-door. It also gets a 22 lb-ft torque boost and is equipped with several lightweight carbon fiber body panels plus an updated suspension and brakes for $51,420, for those who need their hot hatchbacks on fire.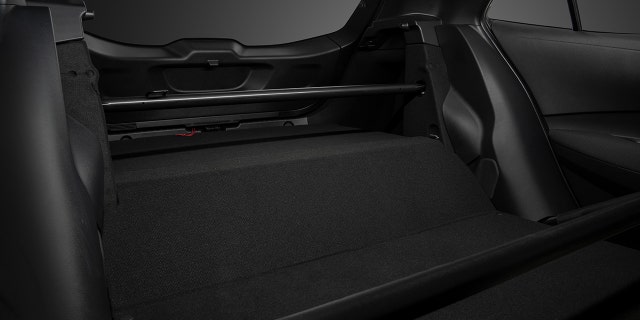 The rear bench seat is removed in the Morizo Edition. (Toyota)
A mid-tier Circuit Edition that features the differentials, a carbon fiber roof, vented bulge in the hood and Ultrasuede/synthetic leather seats splits the difference at $43,995.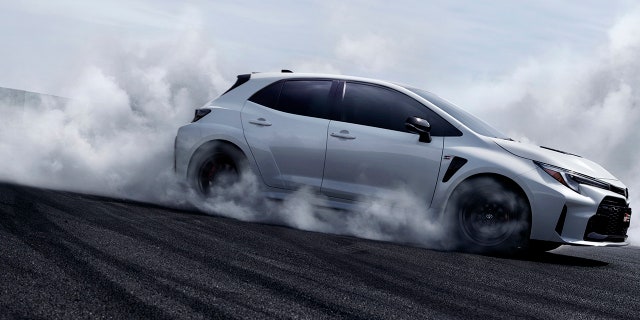 The Circuit Edition features carbon fiber body panels. (Toyota)
They're all capable of accelerating to 60 mph in about five seconds after just a tick of turbo lag when you slam the gas pedal. The pedals are perfectly placed for dancing between the gas, brake and clutch, while the shifter is right where your hand falls from the steering wheel and operates with bolt-action accuracy.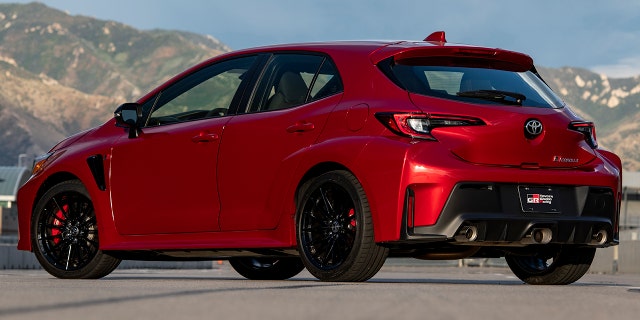 The GR Corolla's engine breathes through three exhausts. (Toyota)
The steering is quick and responsive enough that you might find yourself darting around if you sneeze hard enough. The GR Corolla does come with the latest Toyota Safety Sense package of electronic driver aids, however, which includes a lane-centering adaptive cruise control. There's also a feature that can sense when the car has entered a curve and automatically slow down to an appropriate speed, accelerating out of it on the other side. This can be turned off, of course.
CLICK HERE TO SIGN UP FOR THE FOX NEWS AUTOS NEWSLETTER
I tried the car out on a gravel road to see how big of a difference the all-wheel-drive system adjustments make, and they are noticeable. Left in the default 60/40 setting, the car will understeer or push out of a turn under power, while 30/70 makes it very easy to swing the tail around.
The GR Corolla doesn't have many direct competitors in the U.S., with the Subaru WRX and Volkswagen Golf R really the only ones, and its smaller and a rawer proposition than both. The Honda Civic Type-R might also be cross-shopped, but is only available with front-wheel-drive.
Regardless of how popular it turns out to be, the GR Corolla won't be adding much to the Corolla's record sales tally. There are only 6,600 available this year including 1,500 Circuits and 200 Morizos.
CLICK HERE TO GET THE FOX NEWS APP
It's definitely not a run-of-the-mill Corolla, and I don't think anyone who buys one wants it to be.
———-
2023 Toyota GR Corolla
Base price: $36,995
As tested: $40,159
Type: 5-passenger, 4-door all-wheel-drive hatchback.
Engine: Turbocharged 1.6-liter 3-cylinder
Power: 300 hp, 273 lb-ft torque
Transmission: 6-speed manual
MPG: 21 city/28 hwy