Princess Iman of Jordan and Jameel Alexander Thermiotis are officially married.
The daughter of Queen Rania and King Abdullah II of Jordan said "I do" on Sunday to the New York financier in a lavish royal wedding held on Sunday.
The Royal wedding of Princess Iman Bint Abdullah II and Jameel Alexander Thermiotis took place on March 12, 2023, in Amman, Jordan. (Photo Handout/Jordanian Royal Court/Getty Images)
The 26-year-old was walked down the aisle by her older brother, Crown Prince Hussein. She wore a lace Dior wedding dress featuring a high illusion neckline and long sleeves, along with a sweeping veil adorned with flowers. Her hair was in a delicate updo to showcase her diamond tiara.
The groom, 28, chose a three-piece suit that he completed with a black tie and a matching gray handkerchief.
BEFORE GRACE KELLY, MARILYN MONROE WAS EYED TO BE PRINCE RAINIER'S PRINCESS OF MONACO, DOC SAYS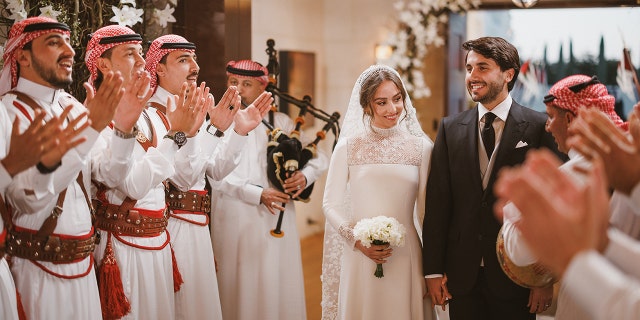 The ceremony was a lavish affair and guests were surrounded by white flowers. (Photo Handout/Jordanian Royal Court/Getty Images)
Iman's family quickly took to social media and gushed over the nuptials.
"Iman, I pray this next chapter in your life brings you as much joy, love, and laughter as you have brought us over the years," Queen Rania, 52, wrote on Instagram. "Congratulations to the bride and groom!"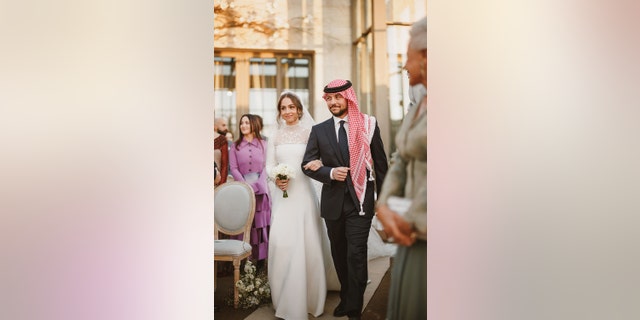 Princess Iman was seen beaming alongside her brother Crown Prince Hussein. (Photo Handout/Jordanian Royal Court/Getty Images)
"Grateful for all the precious memories we share and overjoyed to see you celebrate your wedding today," Hussein, 28, captioned a heartfelt photo from the ceremony. "I wish you, dear Iman and Jameel, a lifetime of blessings and happiness together."
The ceremony took place at Beit Al-Urdon Palace, a private residence of the Jordanian royal family. The event was held outdoors, with blooming white flowered trees surrounding guests. The couple read a verse from the Quran after signing their marriage document and used a sword to cut their cake to the delight of guests.
CLICK HERE TO SIGN UP FOR THE ENTERTAINMENT NEWSLETTER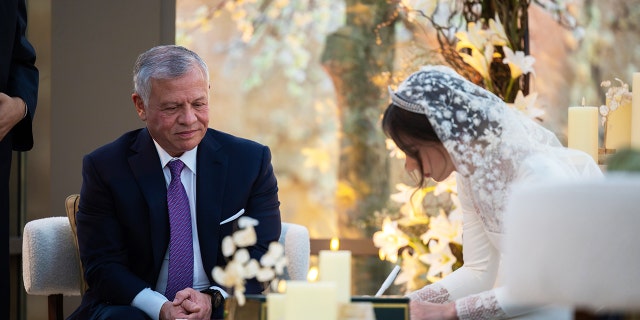 King of Jordan Abdullah II watches as his daughter signs the wedding document during the ceremony. (Photo by Royal Hashemite Court /Handout/Anadolu Agency via Getty Images)
The queen previously shared a montage of photos and videos from the royal's childhood as she reflected on the joyous occasion.
"The first time I held my baby girl, I knew my life would never be the same. In a week, she will be a bride," the queen wrote to her 7.8 million followers. "My precious Iman, I am so happy for you and so proud of everything that you are."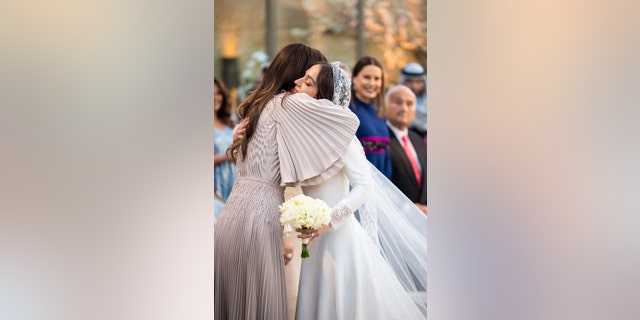 Princess Iman of Jordan, right, has a close bond with her mother, Queen Rania. (Photo Handout/Jordanian Royal Court/Getty Images)
Iman is the eldest daughter of the king and queen, Time magazine reported. She spent her early education years in Jordan, graduating from the International Academy in Amman in 2014. She then embarked on her graduate studies at Georgetown University, before transferring and graduating from the Parson's School of Design in New York.
Over the years, Iman has accompanied her mother on royal outings in Jordan, as well as France, Italy, China, Japan and the U.K., according to reports. Iman has also ridden horses competitively.
MEGHAN MARKLE, KATE MIDDLETON'S ROYAL TAILOR SPEAKS OUT ON FALLOUT AMID PRINCE HARRY'S 'SPARE' RELEASE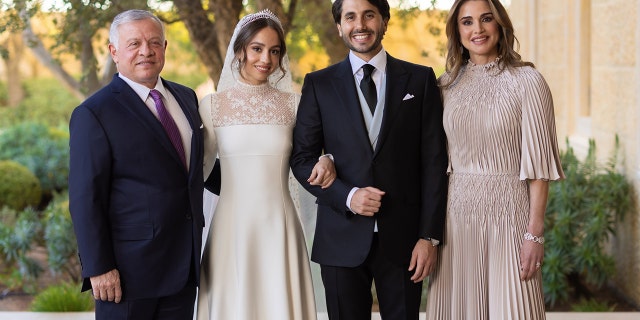 Loved ones immediately took to social media to share heartfelt photos from the ceremony. The king and queen are also parents to Princess Salma, 22, and Prince Hashem, 18. (Photo by Royal Hashemite Court /Handout/Anadolu Agency via Getty Images)
Thermiotis was born in Caracas, Venezuela, and is of Greek descent. According to reports, he holds a bachelor's degree in business administration. He studied at Florida International University and is now a managing partner in a New York City venture capital firm.
The couple's engagement was announced in 2022 by the Royal Hashemite Court.
Before the wedding, Princess Iman hosted a henna party. For the occasion, the royal borrowed her mother's wedding belt. (Photo by The Royal Hashemite Court via Jordan Pix/Getty Images)
"The Royal Hashemite Court is pleased to announce the engagement of Her Royal Highness Princess Iman bint Abdullah II to Mr. Jameel Alexander Thermiotis, on Tuesday, 5 July 2022," wrote the court, "in the presence of Their Majesties King Abdullah II and Queen Rania Al Abdullah, as well as Their Royal Highnesses Crown Prince Al Hussein bin Abdullah II, Prince Hashem bin Abdullah II, and Princess Salma bint Abdullah II, in addition to members of Mr. Thermiotis' family."
"The Royal Hashemite Court extends its sincere congratulations to Her Royal Highness Princess Iman and Mr. Thermiotis on this occasion and wishes them a lifetime of happiness," the announcement shared.
PRINCESS EUGENIE SHARES AN UNSEEN WEDDING PHOTO TO CELEBRATE THIRD ANNIVERSARY WITH HUSBAND JACK BROOKSBANK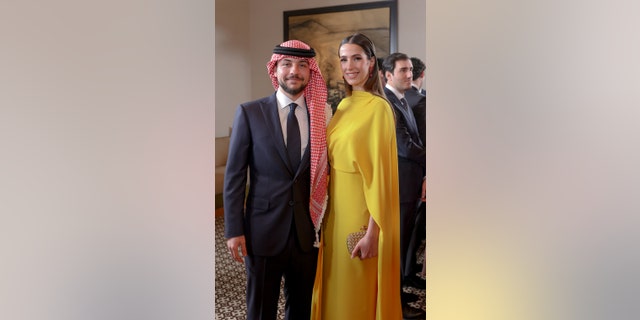 Crown Prince Hussein and his fiancée Rajwa Al Saif at his sister's wedding. (Photo Handout/Jordanian Royal Court/Getty Images)
More celebrations await the royal family. Hussein is expected to marry Rajwa Al Saif, an architect who studied at Syracuse University, in June.