John Simon III was a hungry baby, a "chunky" toddler and a chubby little boy, his mother said. But by age 14, his weight had soared to 430 pounds and was a life-threatening medical condition.
Nine months after weight-loss surgery that removed a portion of his stomach, John has lost about 150 pounds, boosting his health — and his hopes for the future.
"It was like a whole new start," said John, who will start high school in California this fall.
In Minnesota, Edward Kent was diagnosed with fatty liver disease. The 6-foot, 300-pound high school sophomore started using the obesity drug Wegovy in January — just a month after federal regulators approved it for children 12 and older — and has lost 40 pounds.
"John has tried with all of his might," said his mother, Karen Tillman, 46, an accountant. "It's not because he couldn't try. It was getting harder and harder."
Eighty percent of adolescents with excess weight carry it into adulthood, with potentially dire consequences for their health and longevity. Obesity was first classified as a complex, chronic disease a decade ago by the American Medical Association, but meaningful treatments have lagged far behind, said Aaron Kelly, co-director of the Center for Pediatric Obesity Medicine at the University of Minnesota.
"It's a biologically driven disease. It's not a behavioral disease," Kelly said. "We need to get on it early. Don't wait until later in life because it's too late."
"Especially for children, diet and exercise must remain at the forefront of obesity prevention and treatment," he wrote in JAMA.
But medical experts who treat kids with severe obesity say research is clear: Diet and exercise alone aren't enough. More than 240 diseases are associated with excess weight — including liver problems, diabetes and inflammation — and the signs show up early, said Dr. Janey Pratt, a Stanford University surgeon who performed surgery on John Simon.
"It's already affecting major organs by the time they get to me," Pratt said. "You're dealing with a train that's headed over a cliff."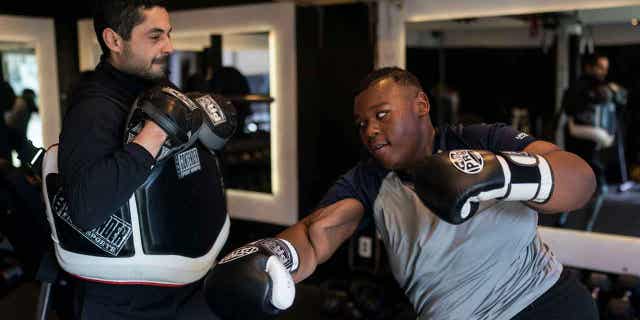 John Simon, a teenager who had a bariatric surgery in 2022, exercises with his trainer Chris Robles in Los Angeles on March 13, 2023. (AP Photo/Jae C. Hong)
John, who has a shy smile and a soft voice, asked for help. He said he wanted to go on a "journey to wellness," Rowe recalled.
"I found that very profound for a 13-year-old. He's an old soul to have that level of insight about what can I do to change my situation?" said Rowe, who referred John to the Stanford Medicine Children's Health weight-loss program.
KIDS AND OBESITY: NEW GUIDELINES RELEASED TO EVALUATE AND TREAT CHILDHOOD, ADOLESCENT WEIGHT ISSUES
John was fortunate; fewer than 1% of children who qualify for metabolic surgery go through with the procedure. Doctors can be reluctant to refer, and families either don't know it's an option or it costs too much, experts said. Fees run upwards of $20,000 and can be as much as $100,000.
John's surgery was covered by Medi-Cal, California's Medicaid program, which paid for 47 operations for kids ages 11 to 17 last year, according to state health records. Across the U.S., Medicaid coverage of weight-loss surgery for kids varies significantly by state.
On average, children who receive weight-loss surgery lose about a quarter to a third of their body weight, studies show. But about 25% of kids regain the pounds and need further treatment, Pratt said.
John's struggle still extends past conquering cravings and improving his health. Attacks by bullies got so bad at his middle school, teachers were assigned to walk with him between classes.
CLICK HERE TO GET THE FOX NEWS APP
"He's going to come out with some type of hurt," said John's pastor, Charles Griffin III of DaySpring Christian Church. "The prayer is that when he does come out of this, he will be stronger."