Montana Governor Greg Gianforte signed a slate of pro-life bills Wednesday intended to protect the unborn as well as medical providers who have ethical objections to abortion.
"Today, we stand together – on the steps of the people's house – to mark another historic day for Montana," Gov. Gianforte said. "Today, we are protecting the lives of the most vulnerable amongst us: unborn children."
The ceremony was broadcast live on the Republican's FaceBook page.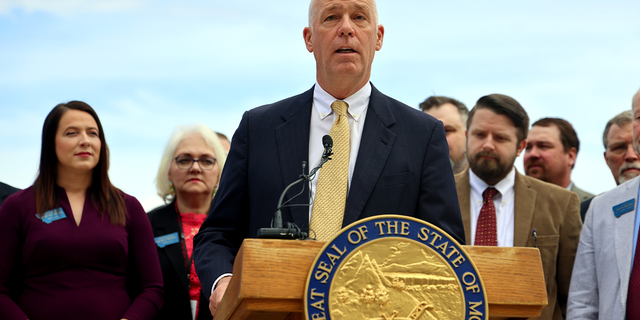 Gov. Greg Gianforte, R-Mont., makes remarks at pro-life bill signing ceremony on Wednesday (Garrett Turner/Office of the Governor)
MONTANA JUDGE HALTS RULE THAT WOULD HAVE RESTRICTED MEDICAID COVERAGE TO SOME ABORTIONS
"Today, we're giving a voice to the voiceless, help to the helpless," the governor said, addressing Montana voters at the bill signing ceremony outside the state capitol.
Prior to signing the legislation, Gianforte touted his, and other conservative Montana lawmakers' pro-life records. He claimed, "You know me and you know how dedicated I am to the cause of life. Like you, I firmly believe that all life is precious and needs to be protected. I've been proud to stand with you for life before I was in public service and now as your governor. And I'm proud to stand with you today."
One notable bill Gianforte signed protects infants born alive following a failed abortion.
House bill 625, The Infant Safety and Care Act, requires medical providers to give life-saving care to these infants. The bill, sponsored by Rep. Kerri Seekins-Crowe, R-Billing, recognizes these infants as legal persons deserving of medical care like any other newborn.
A majority of Montana voters struck down a similar referendum on the 2022 midterm ballot.
The bill addresses some concerns opponents to the referendum had last fall, such as lessening penalties for practitioners who violate the law from criminal to civil, the governor's office said.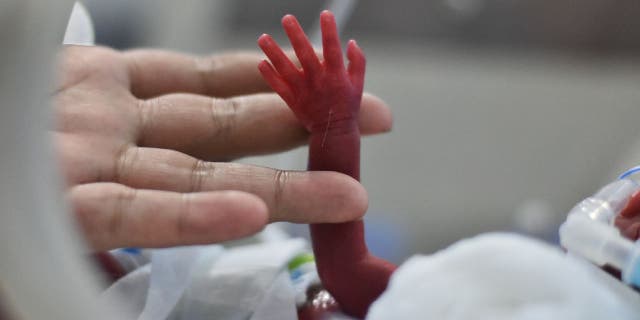 A neonatal intensive care unit (NICU) is a specialized medical branch that provides care ill or premature newborn infants. (iStock)
MONTANA GOV. GREG GIANFORTE SIGNS BILL BANNING TRANSGENDER TREATMENTS FOR MINORS
"A civilized society should never deny lifesaving, medically necessary care to any child born alive, including one who survives an attempted abortion," GOP sponsor Rep. Seekins-Crowe said previously.
Commenting on the bill at the ceremony, Gianforte declared, "We must protect the lives of the innocent – little babies who are born alive following a botched abortion. Today we are giving a voiceless to the voiceless and help to the helpless. We're establishing in Montana law that a baby born alive following an attempted abortion is a patient, a human being who deserves life-saving care and the right to life."
A second bill, HB 303, will protect healthcare workers from being discriminated against if they refuse to assist in an abortion due to ethical, moral, or religious objections.
Another bill signed on Wednesday was Senate Bill 154. The GOP bill clarifies the right to privacy under state law, does not mean the right to an abortion or state funding of abortion.
The governor signed two other pro-life bills on Wednesday – House Bill 786 and House Bill 575. The former requires there to be reporting on all women in the state harmed by abortion drugs, such mifepristone. The governor claimed this bill will "hold those distributing these drugs accountable and shed light on the consequences of this practice."
The latter bill prohibits abortions for unborn children past their point viability date of 24 weeks, unless the mother's life is endangered by the pregnancy.
GOP state Rep. Lola Sheldon-Galloway, who sponsored the last two bills signed by the governor Wednesday, gave a few words at the signing, saying, "I'm a fighter for the unborn. I will always stand on that ground." Commenting on HB 575, she declared, "Our Constitution protects us at viability. That needed to be defined."
Two other bills awaiting the governor's signature prohibit taxpayer funds being used to pay for abortion, through a statewide adoption of the Hyde Amendment and a ban on elective abortions being covered through Medicaid.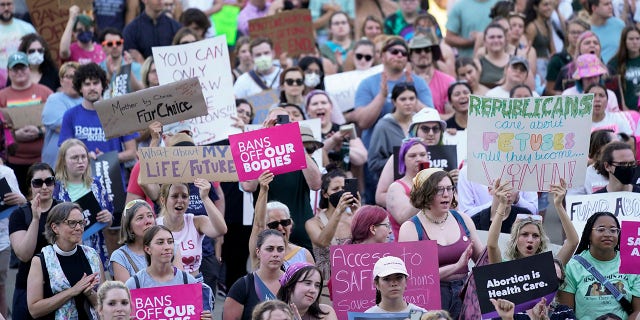 Montana's governor signed a slate of pro-life bills on May 3. (AP Photo/Paul Sancya, File)
MAINE POISED TO ALLOW ABORTIONS AFTER FETAL VIABILITY WITH MEDICAL REFERRAL
While the Hyde Amendment restricts the use of federal dollars for abortion except to save the life of the mother or in cases of incest or rape, it does not prohibit states from using its own funds to cover abortions.
Other pro-life bills passed through the legislature include an adoption tax credit, a ban on dismemberment abortion, and increased oversight of abortion clinics.
Under the proposed tax credit, Montana families would receive a $7,500 tax credit for each child adopted through the state's foster care system and $5,000. for a child adopted outside of it, on or after July 1, 2022.
House bill 721 would ban dismemberment abortion, which is commonly called dilation and evacuation and used in second trimester abortions. The bill was sponsored by Rep. Matt Regier and has already received backlash from the abortion lobby.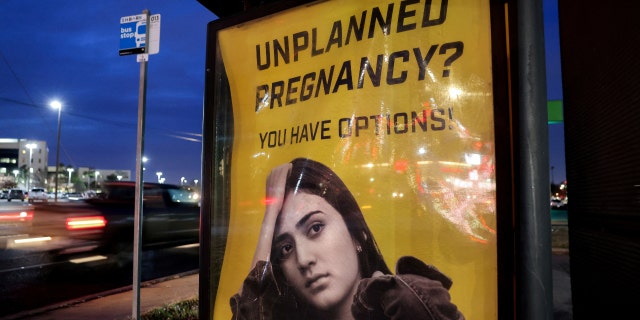 FILE PHOTO: A billboard advertising adoption services targets pregnant women at a bus stop in Oklahoma City, Oklahoma, U.S., December 7, 2021.  (REUTERS/Evelyn Hockstein/File Photo)
MONTANA TRANSGENDER LAWMAKER ZOOEY ZEPHYR SUES AFTER BEING CENSURED BY REPUBLICANS
Planned Parenthood of Montana filed a preemptive lawsuit in April seeking to stop the legislation before it hit the governor's desk. The lawsuit argues that H.B. 721 "violates the Montana Constitution, which as the Montana Supreme Court held more than two decades ago in the Armstrong decision protects Montanans' right to privacy and access to pre-viability abortions," Planned Parenthood argued.
The governor's office blasted the lawsuit in a statement. "The fact that the bill hasn't even come to the governor's desk for his review and Planned Parenthood is already running to court tells Montanans everything they need to know about the far left, pro-abortion group and its extreme tactics," press secretary Kaitlin Price wrote.
Several Republican-led states have enacted bans on abortion following the Supreme Court's 2022 ruling overturning Roe v. Wade.
However, many of these state bans have been held up in the court system following lawsuits from abortion supporters.