New York City parks, schoolyards and sidewalks erupted suddenly in brilliant ribbons of yellow in recent days as millions of daffodils sprang to life across the Big Apple.
The Daffodil Project is a sprawling citywide tribute to the victims of the Sept. 11, 2001 terror attacks.
It has quietly become what former New York City Parks Commissioner Adrian Benape called "the world's largest living memorial."
ON THIS DAY IN HISTORY, MARCH 27, 1912, WASHINGTON D.C. CHERRY TREES PLANTED, GIFT FROM PEOPLE OF TOKYO
The stunning springtime blooms now number more than 8 million daffodils, about one flower for every man, woman and child who lives in America's largest city.
Daffodils have been coveted for centuries for their exquisite appeal. They're also known by their genus, Narcissus, named after the hunter of Greek mythology famed for his unmatched beauty.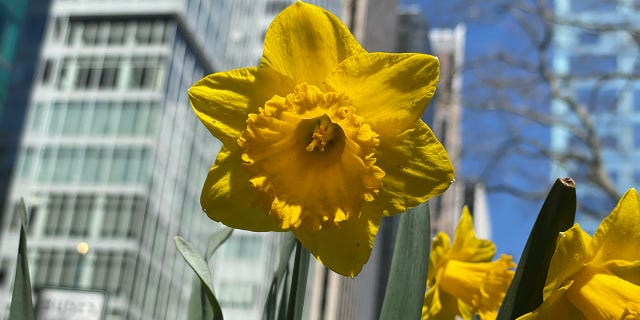 Daffodil in bloom at Bryant Park in New York City, surrounded by the skyscrapers of Midtown Manhattan, March 26, 2023. Millions of daffodils, grown from bulbs donated by Dutch flower merchants, were planted around New York City after 9/11. They bloom each spring in what some call "the world's largest living memorial." (Kerry J. Byrne/Fox News Digital)
The beauty of the often (but not always) lemon-colored perennials is matched only by their hardiness.
Daffodils bloom year after year in conditions still too cold and harsh for most other flowers.
"Daffodils are the perfect flower to represent the resilience of New Yorkers," Benape, now president of the Brooklyn Botanic Garden, told Fox News Digital in an interview this week.
"Daffodils are incredibly strong and resilient. They keep coming back, just like New Yorkers." — Adrian Benape, former NYC Parks commissioner
"They symbolize that, even though terrible things like 9/11 happen, life goes on. We're reminded and refreshed by the first big flower show of spring."
The early bloomers are one of the very first signs that winter is over in northern cities at a time when most trees are still barren of buds.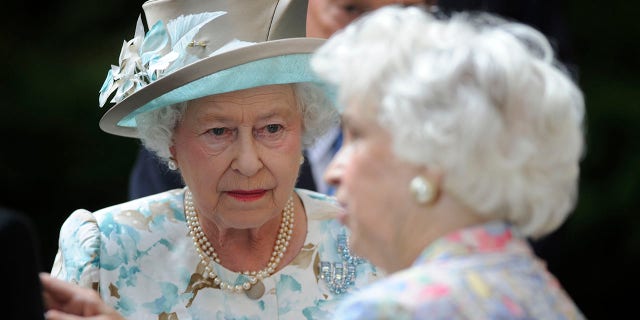 Renowned American public gardens designer Lynden Miller, right, shown here with Queen Elizabeth II during Her Majesty's visit to New York City in 2010. When Dutch flower growers reached out to Miller on Sept. 11, 2001, to express their horror at the NYC terror attacks that day, she asked them to donate daffodil bulbs to be planted in memory of those killed. More than 8 million flowers bloom in NYC each year as part of the Daffodil Project. (HENNY RAY ABRAMS/AFP via Getty Images)
The living tribute to the anguish suffered by the United States, and all of humanity, began with an act of extraordinary kindness from overseas as the World Trade Center Towers burned in Lower Manhattan, the real-time tragedy on television horrifying people around the world.
"Dear Mrs. Miller: Please forgive me for bothering you today," Dutch grower Hans Van Waardenburg of B&K Flowerbulbs in the Netherlands wrote to renowned New York City public garden designer Lynden Miller on Sept. 11, 2001.
MEET THE AMERICAN WHO PLANTED THE FIRST CHRISTMAS TREE FARM: NEW JERSEY ENTPRENEUR W. V. MCGALLIARD
"With this fax I want to express to you my sincere condolences to what has happened today to your country and to New York City in particular. All the American people — and my friends in particular — will be in my prayers."
"We wanted daffodils placed in every corner of the city, in places that hadn't seen color in years." — Lynden Miller
Moved by the heartfelt letter, Miller sent a handwritten response to Van Waardenburg the next day.
"I have an idea that we could plant bulbs all over the city in memory of this in all the parks. Do you think that the Dutch bulb growers would donate any?"
The response from flower growers in Holland, to the city their ancestors founded as New Amsterdam in 1624, was overwhelming.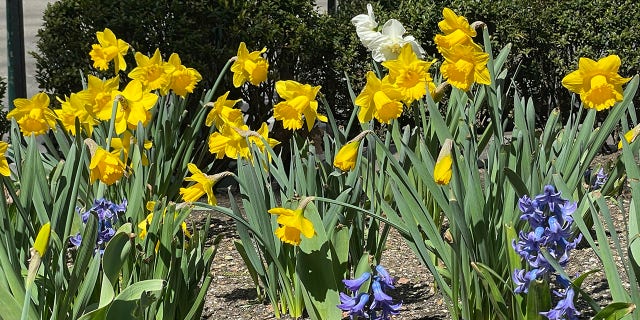 Daffodils in Bryant Park in Midtown Manhattan, March 26, 2023. Millions of daffodils bloom in New York City each spring in memory of those killed in the terror attacks of Sept. 11, 2001. Now topping more than 8 million flowers, the Daffodil Project is considered the world's largest living memorial.  (Kerry J. Byrne/Fox News Digital)
About 1 million daffodil bulbs arrived in New York City weeks later on one of the next ships from the Netherlands, Miller told Fox News Digital.
"Yellow is the color of remembrance," she said. "We wanted them placed in every corner of the city, in places that hadn't seen color in years."
ORANGE LADYBUGS AND THE SPIRITUAL MEANING BEHIND THE INSECT: WHAT TO KNOW
Tens of thousands of volunteers in all five boroughs of New York City planted the bulbs that autumn.
The brilliant golden daffodils began blooming across the city the following spring.
In the years since, volunteers have planted millions more daffodils bulbs. Natural reproduction has added to their proliferation across the city.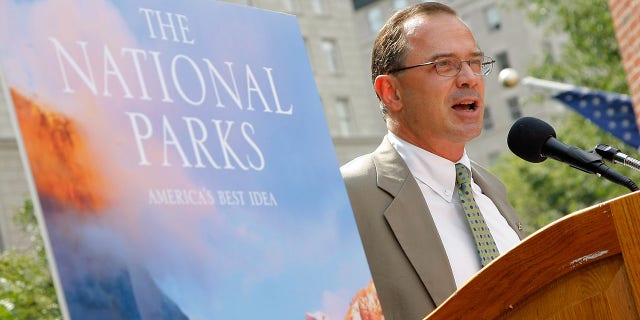 Former New York City Department of Parks & Recreation Commissioner Adrian Benape called the Daffodil Project — a tribute the victims of the Sept. 11, 2001 terror attacks — "the world's largest living memorial."  (Jemal Countess/Getty Images)
Benape estimates there could be as many as 10 million daffodils blooming across New York City right now or in the days ahead.
"To see that kind of sudden shock of color that's so bright is really special," Emily Walker, who oversaw the Daffodil Project for nearly a decade as the former director of programs at New Yorkers For Parks, told Fox News Digital.
GOOD LUCK OMENS! WHY THE PRAYING MANTIS, BUTTERFLY AND LADYBUG ARE THOUGHT TO BRING GOOD THINGS
Walker was moved to tears on Monday morning when she saw that the flowers had bloomed over the weekend outside a public school in East Harlem. She and local volunteers planted bulbs at the schoolyard back in 2016.
"I'm so excited to see them again. I love it. It's something I look forward to each year."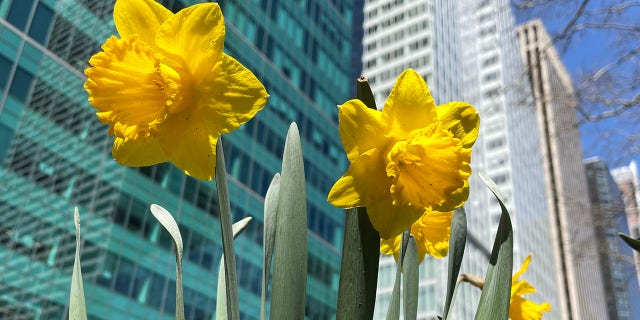 Daffodils have newly bloomed across New York City in recent days, including these flowers in Midtown Manhattan, March 26, 2023. More than 8 million daffodils bloom across New York City each year in memory of those people killed during the terror attacks of  Sept. 11, 2001.  (Kerry J. Byrne/Fox News Digital)
The daffodils can be seen for the next several weeks in obvious and not so obvious places around New York City.
They bloom in the high-profile grandeur of world-famous Central Park in Manhattan, and in neighborhood respites such as Chief Dennis Devlin Park in the Bronx, which is named for a heroic FDNY firefighter killed on 9/11 — and in countless locations in between.
CLICK HERE TO GET THE FOX NEWS APP
"The daffodils are on highways, tree pits, in front of fire houses and at police stations," said Benape.
CLICK HERE TO SIGN UP FOR OUR LIFESTYLE NEWSLETTER
"They're incredibly strong and resilient. They keep coming back, just like New Yorkers."